UN Working Group Finds Serikzhan Bilash's Detention by Kazakhstan Arbitrary
Bilash headed a group advocating for greater attention to the ethnic Kazakhs detained in China's camps in Xinjiang. It got him in trouble with the Kazakh government.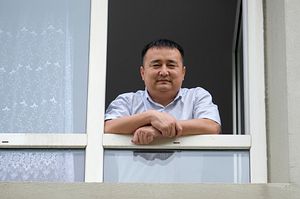 In an opinion issued recently, the United Nations Working Group on Arbitrary Detention determined that Kazakhstan's detention of Serikzhan Bilash in 2019 was arbitrary and concluded that Nur-Sultan "was targeting Mr. Bilash for exercising his rights to freedom of expression and association."
Bilash, an ethnic Kazakh originally from Xinjiang and a naturalized Kazakh citizen, headed Ata-Jurt Eriktileri, a group campaigning to bring awareness to the internment of ethnic Kazakhs in Xinjiang and motivate the Kazakh government to act.
On March 9, 2019 he was arrested at an Almaty hotel. Two days later, on March 11, the authorities informed him that he was under investigation for violating article 174 of the Kazakh Criminal Code. Article 174 outlaws actions aimed at inciting "social, national, generic, racial, class or religious hatred" as well as the "insult of the national honor and dignity or religious feelings of citizens" and "propaganda of exclusivity, superiority or inferiority of citizens on grounds of their relation to religion, class, national, generic or racial assignment." 
If you think that sounds overly broad, the UN Working Group on Arbitrary Detention, in addition to the Human Rights Committee and the Special Rapporteur on the promotion and protection of human rights and fundamental freedoms while countering terrorism, agree. In the recent opinion, the working group writes, "that along with the definitions of 'inciting social or class hatred' and 'religious hatred or enmity', the criminalization of conduct 'promoting social, national, generic, racial, class or religious discord' is also overly broad and lacks the requisite degree of legal certainty."
The petition submitted to the U.N. Working Group on Arbitrary Detention was filed by a Washington-based human rights group, Freedom Now. The petition outlines, in detail, Bilash's ordeal with the Kazakh authorities, which includes several violations of his rights and of due process. For example, Freedom Now states that no warrant was presented for Bilash's arrest; he was harassed by plain clothes officers while under subsequent house arrest; his lawyer was misled several times regarding hearing times and the location of her client; and Bilash was forced to sign blank documents. Ultimately, Bilash was pressured into a plea deal in which he pled guilty to violating article 174 and agreed to refrain from advocacy work for seven years in exchange for his freedom.
The working group's opinion includes the Kazakh government's response, on which it levies this subtly scathing critique: "Mere assertions by the Government that lawful procedures have been followed are not sufficient to rebut the source's allegations." Indeed, the government's response does not contest that Bilash was arrested without a warrant, simply pointing out that "Mr. Bilash's arrest without a warrant was in conformity with Kazakhstan's domestic laws." (The opinion later points out that except in cases where a person is arrested in the actual act of a crime, arrest without a valid warrant violates two articles in the Universal Declaration of Human Rights and another in the International Covenant on Civil and Political Rights, to which Kazakhstan is a party).
The Kazakh government's case is built upon a speech Bilash delivered in early February 2019. The government provided several quotes which it attested experts had determined incited ethnic hatred. According to the Kazakh government, Bilash said: "Every citizen regardless of his nation must stand together against national enemy" and "If my brother works for the Chinese, if my brother sells himself to the Chinese, I would kill him." He also reportedly said he would join forces with his own enemies to "work together against China" and said, "So, if you desire to be worthy of Allah's mercy and compassion, push all [other] matters aside, this is jihad." The final quote the government included was: "China needs to change this history. [Uyghurs'] crime is that they are not Chinese. Their names are not Chinese. For this reason, they are the first to be destroyed."
The petition asserted that Bilash's speech was protected for several reasons. First, the comments were made clearly within the context of "public advocacy directed towards ending large-scale human rights violations in Xinjiang" by Bilash, a human rights advocate, to an limited audience specifically seeking to learn more about the Xinjiang situation. As to the content of Bilash's remarks, the petition states that "the statements are rhetorical devices that employ hyperbole and hypotheticals to make a dramatic point rather than specific calls for imminent violence against identifiable individuals." Finally, the petition notes that there is no evidence that violence or hatred resulted from the speech.
The working group concluded that "it is clear… that in fact the basis for the arrest and detention of Mr. Bilash was the exercise of his freedom of expression and freedom of association." The petition had asserted that when Bilash was arrested a security officer said it was "for engaging in activities harmful to Kazakhstan's relationship with China and for assisting a whistle-blower from the Xinjiang camps obtain legal counsel in Kazakhstan." The government's reply did not comment on that aspect, thus not refuting the petition's claim. 
In its conclusion, the working group calls on the Kazakh government to annul the terms of Bilash's plea agreement, so he is not charged again for advocacy, and accord him all necessary compensation for the violation of his rights. The working group asks for an investigation into the circumstances of the case and also urged the government to address the vagueness of article 174. 
The Kazakh government, as I've written before, faced a significant dilemma when it came to growing awareness that Chinese authorities were detaining Muslims in Xinjiang, mostly Uyghurs but also ethnic Kazakhs, Kyrgyz, and others. Despite a history of urging all ethnic Kazakhs to look to Kazakhstan as home, Nur-Sultan was noticeably nervous about ruffling Beijing's feathers. Bilash, and the group he headed, provided a critical window into what was happening in Xinjiang, much to China's displeasure.