US-Vietnam Relations: Confronting the War Legacy Challenge   
Efforts at Agent Orange decontamination reinforce the work that continues to go into addressing old challenges even as both countries seek to maximize new opportunities.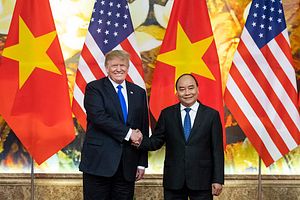 When the director of the U.S. Agency for International Development (USAID) met with Vietnam's deputy defense minister last week, among the aspects that meeting touched on was collaboration on war legacy issues, including ongoing U.S. assistance with Agent Orange decontamination efforts. The interaction underscored the continued importance of addressing war legacy issues within the U.S.-Vietnam comprehensive strategic partnership in spite of the disproportionate focus often placed on new developments in bilateral ties
As I have observed previously in these pages, U.S.-Vietnam relations have come quite far from where they were during the Vietnam War. A gradual normalization of ties that took off during U.S. President Bill Clinton's tenure has continued with successive administrations, including during the Obama years that saw the inking of a new comprehensive partnership and the historic lifting of a decades-old arms embargo. That trend has continued on under the Trump administration with some notable firsts, even amid some lingering concerns about wider aspects of the administration's Asia policy and some challenges Vietnam has been facing in terms of its own domestic and foreign policy that also have effects on the bilateral relationship as well.
But although the focus on ties in the headlines is often disproportionately on kinetic activities such as exercises, one of the key aspects of relations is the issue of addressing leftover war legacy issues. Among these has been dealing with the fallout from the exposure of millions of Vietnamese to the defoliant Agent Orange, which has been traced to a range of health issues and disabilities that citizens are dealing with today. While previous U.S. efforts have been underway in this vein to assist Vietnam, including a five-year program to clean soil contaminated by Agent Orange at Danang International Airport, the magnitude of the challenge is such that much more still remains to be done.
Of particular note has been a larger program focused on Bien Hoa, the largest remaining dioxin hotspot in the country. It would be a much more ambitious and costly undertaking relative to Danang. Last January saw some progress on formal approval of the project, with the signing of a memorandum of intent between USAID and the Military Science Department under the Vietnamese defense ministry. Since then, there has been a bit more visibility on this, in part due to former Defense Secretary Jim Mattis' October visit to the site as part of his trip to Vietnam, where he had reaffirmed the U.S. commitment to clean up dioxin contamination. Though details are still unclear at this point, the first phase of the project is expected to begin in April this year.
Last week we saw this aspect of U.S.-Vietnam relations at play amid broader discussions by the two sides. Per Vietnam's defense ministry, during a meeting between Vietnam's Deputy Defense Minister Nguyen Chi Vinh and Director of the U.S. Agency for International Development (USAID) Michael Greene on March 7, the two sides discussed how they could expand the scope of their collaboration on war legacy issues.
While few specifics were publicly disclosed about what the private deliberations included, there was mention of ongoing and future initiatives, such as a workshop in Washington to discuss war legacy issues within the bilateral relationship. The two sides also discussed the launch of the Bien Hoa project taking place with the visit of U.S. senators led by Patrick Leahy, with Vinh having inspected ongoing dioxin decontamination work there just weeks earlier.
As was noted above, there is still much for the United States and Vietnam to address within the broad conception of "war legacy issues," and how the two sides do so is influenced not just by general agreement about its importance, but other questions as well such as political will and resourcing. Nonetheless, amid the myriad headlines on the relationship often devoted to strategic and defense aspects of U.S.-Vietnam ties, engagements such as the one last week are important reminders about the historical origins of the relationship, its complexity, as well as the hard work that remains in addressing old challenges even as both sides seek to maximizing new opportunities.