Who's Right About the New US-South Korea Joint Military Exercise?
Making sense of the new Dong Maeng drills.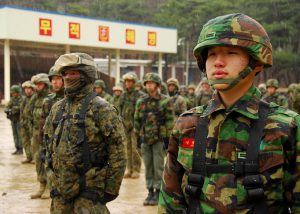 The new military exercise between South Korea and the United States sparked polarized responses among commentators and experts in each country. Reactions have largely fallen into two opposing camps: That it either undermines the alliance or is worthwhile to demonstrate a commitment to talks with North Korea. But there is still too much we don't know to make a definitive judgment just yet. What can be gleaned in the few days since the drills were announced, however, is that there are reasons to be both concerned and optimistic for the future of the alliance.
The new "Dong Maeng" (Korean for alliance) exercise is the successor to the recently terminated Key Resolve and Foal Eagle exercises, which were held each spring. Acting U.S. Defense Secretary Patrick Shanahan and South Korean Minister of National Defense Jeong Kyeong-doo agreed to end the larger drills in favor of the smaller-scale Dong Maeng exercise this past weekend.
Both sides expressed that this was done in close consultation with one another and emphasized "these exercises are crucial in sustaining and strengthening the alliance." They also acknowledged that the decision to scale down exercises was to "support diplomatic efforts to achieve the complete denuclearization of the Korean Peninsula in a final, fully, and verified manner."
Modified spring drills in support of diplomacy were originally announced by then-U.S. Defense Secretary Jim Mattis in November last year. Jeong said he and Mattis would reach a decision on what this would entail by December 1. There was no public announcement that such an agreement was made until this past weekend, though modified exercises to support diplomacy with North Korea were alluded to in U.S. Forces Korea commander General Robert Abrams' testimony to Congress last month.
In South Korea, opposition and support for the new exercise are largely split along party lines.
The editorial boards of the center-right JoongAng Ilbo and right-leaning Chosun Ilbo newspapers were in staunch opposition. JoongAng Ilbo asserted the move "will surely lead to a reduction of the U.S. Forces Korea, which will certainly weaken the combat capability of the Combined Forces Command." They also questioned whether Jeong was hurriedly forced to agree to stop the drills. Chosun Ilbo called Seoul and Washington's claim that they will still maintain readiness "absurd" and criticized U.S. President Donald Trump's continued obsession with the cost of joint exercises. Both painted a dire picture for South Koreans and ultimately laid the blame at the feet of progressive South Korean President Moon Jae-in.
The editorial board of Hankyoreh, South Korea's most prominent left-leaning newspaper, however, welcomed the new arrangement with open arms. They called it a "clear signal" that U.S. efforts to advance diplomacy with North Korea will continue despite the lack of a deal between Trump and Kim in Hanoi. They additionally hope that Moon will play a key role in helping Washington and Pyongyang reach an agreement.
In the United States, the dividing lines are much less clear.
More conservative experts have been critical of Dong Maeng and the Republican president. Thomas Spoehr at the Heritage Foundation has called ending Foal Eagle a "wrong move" that could undermine preparedness for a conflict with North Korea. Robert Manning at the Atlantic Council similarly argues "it really erodes the [U.S.-South Korea] alliance" and is a concession to Pyongyang. Both view the decision as a continuation of Trump's thinking that large military exercises are too expensive. Trump backed up these claims on Sunday and again on Monday after some speculation that the cancellation of exercises were brought up in Hanoi as they were during the first summit in Singapore.
Left-leaning Korea watchers tended to be more supportive of the Hanoi summit than Democratic politicians, but there seems to be less of a consensus on what the military shifts mean than there is among liberals in South Korea. Experts who served in the Obama administration offered their initial takes on Twitter. Frank Aum at the U.S. Institute of Peace viewed the news as a positive sign, echoing South Korean progressives and General Abrams in saying "exercise suspension is prudent risk if it advances diplomacy." The Wilson Center's Abe Denmark mirrored concerns from conservatives, stating, "Why negotiate with the United States when it makes concessions for free? Major implications for readiness and, over time, presence." Van Jackson, author of On the Brink: Trump, Kim, and the Threat of Nuclear War, demurred from commenting on whether the termination of exercises was good or bad, driving home that it was a "Trump bias, cost-obsession move."
Former high-ranking military officials from the both the United States and South Korea have also contributed to the discussion, but are also divided. In January, recently retired U.S. Brigadier Army General and former commander of U.S. Forces Korea Vincent Brooks admitted that the suspension of exercises does downgrade readiness, but argued that the risk is worth taking if it advances diplomacy. Former South Korean Army Lieutenant General Chun In-bum further argued that the new training configuration will not degrade military preparedness, calling on North Korea to respond in kind to the U.S.-South Korea commitment to the peace process. On the other end of the argument, however, there are those such as retired U.S. Navy Vice Admiral Robert Murrett, who is still concerned about the implications for the shared capabilities of the two militaries.
There are still too many unanswered questions for us to know which camp is closer to being right at this point. Some answers we may know soon – such as if North Korea is serious about making more headway in nuclear and peace talks – and some we'll hopefully never know – as the truest measure for gauging conflict readiness is hindsight after a war breaks out. However, looking at how the events surrounding the exercises unfolded and parsing through expert responses presents a few key takeaways.
On the relatively positive side for the alliance, unlike Trump's unilateral cancellation of joint-exercises in Singapore in 2018, the modification of exercises this spring seem to have been closely coordinated between the Pentagon and the Korean Ministry of National Defense – contrary to the concerns expressed by the Chosun Ilbo. Rather than an additional concession made to Kim during talks in Hanoi, there is certainly enough to suggest, including the president's own comments, that the smaller scale exercise is a continuation of the alliance trajectory since the Singapore summit. The timing of the exercise announcement and the end of the Hanoi summit could have been a coincidence or planned, but either way it is not an unexpected concession, unlike what happened in Singapore. Additionally, while there is a rift in views on the tradeoff in preparedness and diplomacy, it should still at least be somewhat reassuring that former U.S. and South Korean generals have lent their support to modified exercises to support negotiations, despite not being the primary reason behind the move.
The biggest concern shared by commentators on both sides is that Trump's obsession with the cost of security continues to be a major driving factor for the United States on the Korean Peninsula. While the reduced scope of joint training is arguably facilitating negotiations with North Korea, the decision seems to be have been made only in as much as it furthered Trump's narrow, cost-focused perspective. There is always a chance that Trump's cost-centered demands could align less with diplomatic and security considerations than they have so far, resulting in alliance tensions and possible strategic missteps.
What's most important now is how Seoul and Washington move forward. If the alliance continues to leverage military operations for diplomatic momentum, it will need to be vigilant of limitations and threats as well as ready to make any necessary adjustments. How well both countries are able to do this in support of diplomacy will help determine whether the supporters or detractors of the exercise modifications are right.
Kyle Ferrier is the Director of Academic Affairs and Research at the Korea Economic Institute of America (KEI) and a contributor to The Diplomat's Koreas blog.