Economic Focus Ahead for Indonesia in Jokowi's Coming Second Term
Based on Jokowi's first term and how the country's election played out, the economy is likely to continue to be a key priority.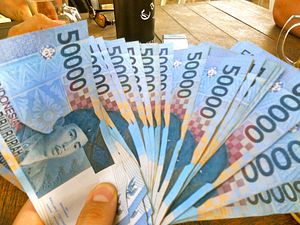 Throughout campaigning and into Indonesia's fifth ballot since the downfall of Suharto led the country back to democracy, Islam and the hardliners generated plenty of headlines. But as the incumbent Joko "Jokowi" Widodo claimed victory, it was also clear that the economy has continued to play a major role in the country's political outcomes. And all indications so far is that it is likely to continue to matter into Jokowi's expected second term as well.
As The Economist noted, while Jokowi did not live up to promises of 7 percent growth in his first term, he did deliver on infrastructure – always the thorn in the side of Indonesian development – as well as advancing national health care. Even economic growth was maintained at a fair 5 percent throughout his first term.
The focus on the economy was a clear feature in the campaign as well. While the presidential debates may not have seen as much of a granular focus on issues as some wonks may have liked, there were clear references to various agenda items within Indonesia's economy, from specific issues to grandiose claims like the one Prabowo Subianto, Jokowi's rival, offered to double Indonesia's growth rate to 10 percent.
Though it is obviously difficult to disaggregate reasons why voters eventually supported each candidate, it is clear that enough voters believed that though Jokowi had achieved much more modest gains than what he had initially promised, those gains were enough for them to give him another few years to reform aspects of Indonesia's economy rather than rolling the dice on Prabowo.
The focus on the economy is likely to continue on into Jokowi's second term, and for some, that is a welcome reality. In the aftermath of the initial results the stock market and rupiah rallied off the back of a Jokowi second term. Analysts are saying that is expected to continue, and that Jokowi is likely to continue to advance some of his unfinished agenda items.
In broader terms with respect to the Indonesian economy, the rupiah has now recovered 2.6 percent this year, amid the prospect of a Jokowi victory at the April 17 poll, following a 6 percent tumble in 2018 when the central bank raised its benchmark interest rate six times in a bid to stem imports and narrow a worrying current account deficit.
Jokowi's second term economic reforms for Indonesia are expected to focus on foreign investment, education, restrictive labor laws, and much needed energy supplies, particularly in the countryside and on islands that do not enjoy the same access to electricity as Java and Bali.
And even beyond Jokowi's second term, the economy is likely to continue to factor into Indonesia's next election as well. Sandiaga Uno, the former businessman and Prabowo's running mate, has come out of the election with expectations that he could be a future presidential candidate. Kevin O'Rourke, an analyst with PT Reformasi Info Sastra, said Sandiaga had emerged from this election with a national profile and name recognition among the electorate and as a successful businessman had the asset base to finance another run in 2024.
To be sure, there will no doubt be a mix of issues at play in Jokowi's second term. But given Jokowi's own focus in his political career, the unfinished work he has from his first term, the priority areas of the 2019 election, and the likely issues he will advance in his second term, the economy is likely to continue to loom large with respect to Indonesia in the next few years.
Luke Hunt can be followed on Twitter @lukeanthonyhunt