The Evolving Australia-Indonesia Relationship Amid Election Season
With Jokowi likely scoring another term in Indonesia, the bilateral relationship's direction balances on Australia's pending polls.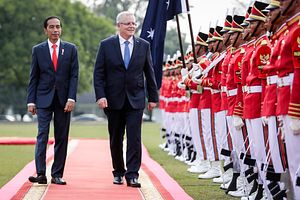 Although counting remains ongoing, Joko "Jokowi" Widodo looks likely to have retained the Indonesian presidency. The continuity of his presidency should be welcomed by Australia as a stable pole in the relationship. From Jakarta's perspective, should the Labor Party beat the Liberal Party in Australia's forthcoming election (to be held May 18), Jokowi will be beginning his second term having to get to know his fourth Australian prime minister, Bill Shorten. With personal relationships being an important factor in building mutual trust between the two neighbors, Jakarta will hope that Shorten will at least be able to serve a full term (something no Australian prime minister has done since 2007).
While lacking the economic weight of China and the security alliance with the United States, due to its size and location Indonesia will always be one of Australia's most important relationships. And yet this reality always seems to be something that is discussed but never approached with great enthusiasm. You can make a reasonable case that no two neighbors are more culturally distinct than Australia and Indonesia. This presents a significant challenge to relations, especially in understanding norms and customs, and has done much to keep the two countries estranged from each other.
Despite the two countries' proximity, the trading relationship between them remains underdeveloped. For Australia, their trade with Indonesia is eclipsed by countries with much smaller populations like New Zealand and Singapore. Yet Indonesia will become the world's seventh largest economy by next year, and has the potential to become the fifth largest economy by 2030, presenting ample opportunity for Australia should it wish to engage wish to truly engage with its large northern neighbor.
This is also an important strategic imperative. Although Jakarta remains focused on its internal complexity and seems uninterested in, or disinclined to use, its increasing strength, this is bound to change as it becomes accustomed to its growing weight. Canberra will need to find ways to work with its neighbor's power. For this, it will be important for Australia to embrace a greater cultural understanding of Indonesia in order for it to be comfortable with the country's growth.  
Although Jokowi has been seen as an inward looking president, not particularly concerned with international relations, and seemingly seeing nothing special about the relationship with Australia, he and Malcolm Turnbull had developed a warm relationship during the latter's prime ministership. This allowed the two leaders to establish enough mutual trust to complete the bulk of the work on the free trade agreement between the two countries.
Yet this was jeopardized when Turnbull was removed from the prime ministership in an internal party coup last August. During the subsequent by-election for Turnbull's parliamentary seat, the new Australian prime minister, Scott Morrison, disturbed relations between the two countries when he declared that Australia would shift its embassy in Israel to Jerusalem. The declaration (subsequently withdrawn) demonstrated a lack of understanding of how the issue of Palestinian enfranchisement was of great importance to Indonesia, both at the state level and throughout civil society. The signing of the free trade agreement between the two countries was subsequently put on hold, though eventually signed in March this year.
Although the FTA has now been signed, it is yet to be ratified. A potential change of government in Australia in May could see Labor try to renegotiate a number of the FTA's provisions. The new composition of the Indonesian parliament may also be a factor in its ratification, with most Indonesian political parties having a broadly nationalist disposition and a suspicion toward foreign influence.
Should the free trade agreement be successfully ratified by the legislatures in both countries it may facilitate greater economic cooperation and begin to bridge the cultural divide between them. Yet finding areas of compatibility will require a much greater effort than Australia is used to. The "China model" of trade relations — where Australia digs up resources and exports them to rapidly developing countries — is less compatible with Indonesia, which is a market competitor in many of the minerals Australia has in abundance. This indicates that a far more sophisticated approach to trade, one where a more intimate understanding of Indonesia will be required by the Australian public.
However, this is something Australia continues to struggle with. Australia has tended to want Asian partners to "come to us" in order to bridge the great cultural distinctions within its region. Acceptance of Australia's geography, and the economic realities of the coming decades, remains slow in the country. The study of Bahasa Indonesia has declined in recent years in Australian schools and universities, demonstrating a lack of commitment by Canberra to fully grasp the importance of its large northern neighbor.
When in opposition the Labor Party tends to make overtures about the importance of learning  Asian languages, although no significant and durable programs are created when they do form government. The Liberal Party seems to pays little attention to the subject, seeing no issue as long as elites throughout Asia can speak English. If Labor does take office in May, a true test of its commitment to the Australia-Indonesia relationship will be the resources it dedicates to the learning of Indonesian in Australian schools. This would also be a prominent signal to Jokowi that Australia seeks a more robust engagement with him during his next five years, and coax him toward a consideration of the importance of the bilateral relationship to the neighborhood's dynamics.