North Korea Confirms First Ballistic Missile Launch in Nearly 18 Months
North Korea's missile testing returns.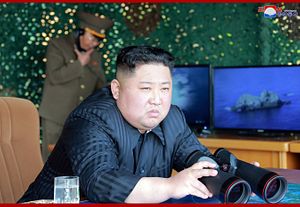 On Saturday, May 4, North Korea conducted its first launch of a ballistic missile in 522 days. The launch comes some two months after the second U.S.-North Korea leaders' summit meeting in Hanoi, Vietnam, which ended without agreement.
Kim was present at the test and "guided the strike drill of defense units in the forefront area and on the eastern front which took place in the East Sea of Korea on Saturday," the Korean Central News Agency noted in a report published on Sunday.
"The purpose of the drill was to estimate and inspect the operating ability and the accuracy of striking duty performance of large-caliber long-range multiple rocket launchers and tactical guided weapons," the report added. The long-range rocket artillery systems tested included the 300 mm KN09 guided multiple rocket launcher system.
The "tactical guided weapon" described was revealed by North Korea to be a new type of solid-fueled missile that was first seen paraded through Pyongyang, the country's capital, on February 8, 2018, one day before the PyeongChang Winter Olympic games marked the start of inter-Korean diplomatic engagement leading to the April 2018 Panmunjom Summit between Kim and South Korean President Moon Jae-in.
Little is known about the new missile's characteristics. Externally, it bears a resemblance to Russia's Iskander-M short-range ballistic missile. The system is likely an iterative modernization of North Korea's short-range KN02/Toksa ballistic missile. The missile was tested to a range of 200 km, according to South Korea's Joint Chiefs of Staff.
South Korea's Joint Chiefs of Staff first reported the test, noting that North Korea had launched multiple "projectiles" into the East Sea, or the Sea of Japan. Initial South Korean reports had described multiple "missiles."
On April 20, 2018, Kim Jong Un announced a partial moratorium on missile testing, applying only to long-range intercontinental-range ballistic missiles. The kind of missile Kim tested on Saturday, as a result, would not violate that moratorium.
Nevertheless, North Korea is prohibited from conducting any ballistic missile tests under United Nations Security Council resolution 1718, passed in 2006.
Responding to the test, U.S. President Donald J. Trump appeared restrained. On Twitter, Trump remarked that "Anything in this very interesting world is possible, but I believe that Kim Jong Un fully realizes the great economic potential of North Korea, & will do nothing to interfere or end it."
"He also knows that I am with him & does not want to break his promise to me," the U.S. president added. U.S. Secretary of State Mike Pompeo, meanwhile, said on Sunday that Kim's test did not violate the moratorium he'd announced last year. The United States and North Korea currently have no formal bilateral agreement on North Korea's missile testing.
After the Hanoi summit, Trump noted in a press conference that Kim had told him he would no longer launch missiles. It's unclear if that verbal promise was broader than Kim's publicly announced moratorium on the testing of intercontinental-range ballistic missiles, however.