A range of indicators in recent weeks suggest that something is up in North Korea. Most signs at this point suggest that the country is either preparing for the launch of a satellite launch vehicle—or is creating the appearance that it is about to do so to seek leverage as diplomacy with the United States founders.
First, two groups of analysts working independently—one at the Center for Strategic and International Studies' Beyond Parallel program and the other at 38 North—independently corroborated a public assessment by South Korea's National Intelligence Service that something was up at the Sohae Satellite Launch Center. Both groups found that the rail-mounted staging building on the satellite launch pad had been restored after being dismantled last year.
Second, the two groups also found evidence that North Korea had restored the dismantled superstructure of its large liquid propellant engine test stand near the satellite launch pad at Sohae. This was dismantled after North Korean Kim Jong Un gave U.S. President Donald J. Trump a verbal assurance at the June 12, 2018, Singapore Summit. This test stand was where North Korea had tested the engines that appeared in the first-stage and second-stage of the Hwasong-14 intercontinental-range ballistic missile and the Hwasong-12 intermediate-range ballistic missile.
Third, another team of analysts at the Center for Nonproliferation Studies in Monterey, California, took note of unusual activity at the Sanumdong Research Center—a facility known to be associated with the manufacture of large-diameter rockets in North Korea, including ballistic missiles and space launch vehicles. The activity cooled down after March 8, suggesting that whatever might have been produced at Sanumdong may have been shipped off—perhaps to Sohae. There is no conclusive evidence at this point that North Korea may have manufactured and shipped a new kind of space launch vehicle to Sohae.
Fourth, if we look at North Korean state media, after a long period of silence on satellite launch activities—the country last launched a satellite in February 2016—two notable mentions have occurred in the recent month. First, on February 10, Naenara News recounted the country's development into a "manufacturer and launcher of artificial satellite, the acme of modern science and technology." Second, last week, Naenara again made a mention of the country's history with satellites.
There is other evidence that should be accounted for too. In January 2018, right before Kim Jong Un's diplomatic charm offensive for the year would kick off with the opening of the Winter Olympic games in PyeongChang, I reported on signs that North Korea had perhaps new plans for a satellite launch or two in the works. A few notable bits of evidence from that story:
A visiting Russian analyst had spoken to representatives of North Korea's civilian space agency, the National Aerospace Development Administration, and been told of plans to launch "two new satellites."
One of these satellites was destined for geostationary orbit, the Russian analyst recounted. North Korea's previous Unha launchers would be insufficient for such an orbital insertion, but the "March 18 Revolution" engine that powered the first-stage of the Hwasong-12, Hwasong-14, and Hwasong-15 missiles might suffice.
On December 30, 2017, Japan's Asahi Shimbun had reported on direction given by Kim Jong Un to top military officers and scientists to "complete work on a new SLV by September 2018 for a launch to coincide with the 70th anniversary celebration of the founding of North Korea in 1948." (This obviously did not happen; the 70th anniversary parade was an unusually quiet affair, with no nuclear-capable long-range missiles on display.)
Corroborating some of these reports, satellite imagery from early January 2018 and December 2017 showed signs of ongoing activity at Sanumdong.
One story from last year should be taken into account too. In July, both The Diplomat and the Washington Post reported that the U.S. intelligence community had detected what appeared to be two Hwasong-15 intercontinental-range ballistic missiles under construction at Sanumdong. As I'd suggested at the time, there was a possibility that the intelligence community may have instead spotted a Hwasong-15-derived first-stage for a new-generation of North Korean satellite launcher instead.
A final data point: even as Kim was astute enough to leave nuclear-capable missiles out of his September 2018 military parade to commemorate the 70th anniversary of his country's founding, a float that day prominently featured space activities. (Screenshot below via Joshua Pollack.) Kim's "new strategic line," announced last April, places a great emphasis on developing a self-reliant national economy through investments in science and technology. North Korea has used similar language in the past to justify its space launch activities, which it claims are strictly civilian in nature. United Nations Security Council resolution 2087, passed in response to a December 2012 space launch, bars North Korea from conducting further launches; prior resolutions 1718 and 1874 also barred Pyongyang from any activities related to the development of ballistic missile technologies.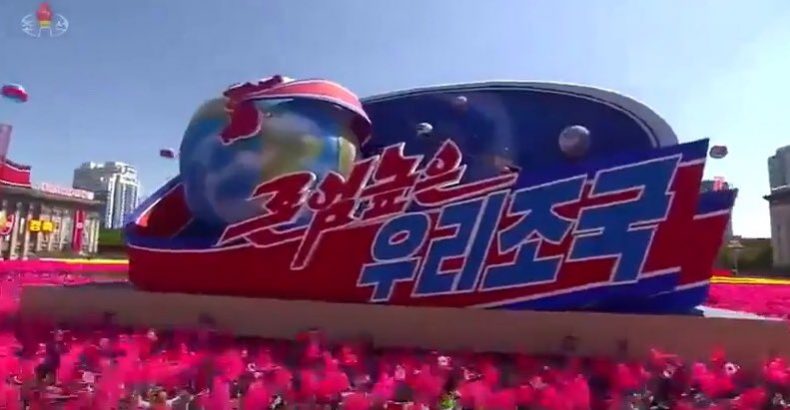 On balance, this set of recent and less-recent evidence suggests that a North Korean satellite launch in the near-future may not be such a surprise. It's possible too that Kim, knowing Trump's aversion to any kind of missile-testing or nuclear-testing, is purposefully generating easily observable signatures that might disquiet the president, who has already said that he would be "very disappointed" if Kim proceeded with a space launch.
After the failure in Hanoi, this might be a bout of coercive bargaining by Kim—reminding Trump that it would be best to make a deal with North Korea now. Trump indicated in the weeks leading up to Hanoi that he was in "no rush" and that all he cared about was that no testing take place. Given evidence that North Korea began restoring the dismantled facilities at Sohae in early February, it's likely that Kim means to impress on the U.S. president the importance of time. Pyongyang seeks sanctions relief and likely wants it sooner rather than later.
Whatever the case, I'll be watching developments at Sohae—and Sanumdong—closely in the coming weeks. If a satellite launch is in the works, it is probable that North Korea will notify the world of a launch window and release a Notice to Airmen as it did in 2016 and 2012. Importantly, given North Korea's immense qualitative advances in ballistic missile technologies in 2017, a new space launch will likely be limited in the qualitative advantages it might provide Pyongyang. Contrary to what the Trump administration has implied about the relationship between space launch vehicles and intercontinental-range ballistic missiles in the context of recent Iranian space activities, there are important differences in the set of technologies. For North Korea especially, the qualitative hurdle of a reliable reentry vehicle—one of the last remaining bits of technological mastery that remains following the 2017 testing campaign—won't be crossed with a space launch.
If there is a satellite launch announce and it does result in the collapse of the current bout of U.S.-North Korea diplomacy as Trump reacts with outrage, the echoes with the Obama administration's own February 2012 diplomacy with Pyongyang would be strong. That attempt at deal-making between the United States and North Korea fell apart after the two walked away from the table with differing interpretations over whether a satellite launch vehicle counted as a long-range missile.
After the "no deal" outcome in Hanoi, Trump said Kim "said that he's not going to do testing of rockets or missiles or anything having to do with nuclear." One wonders if Kim left space launch vehicles out of his assurances to Trump.