North Korea Demands US Return Seized Sanctions-Violating Cargo Ship
Pyongyang has slammed the U.S. seize of the Wise Honest as "unlawful robbery."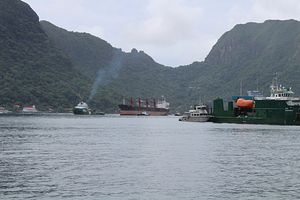 On Tuesday, North Korea's official outward-facing state news agency, the Korean Central News Agency, carried a statement attributed to an unnamed foreign ministry spokesperson calling on the United States to return the Wise Honest, a double-flagged North Korean vessel that was recently seized by U.S. authorities.
"The United States committed an unlawful and outrageous act of dispossessing our cargo ship by forcibly taking it to Samoa (U.S.), linking the ship to the 'sanctions resolutions' of the United Nations Security Council (UNSC) and its domestic 'sanctions acts', all being imposed against the DPRK," the North Korean statement noted.
The Wise Honest was seized by the United States after it was impounded by Indonesian authorities last year. According to the most recent United Nations Panel of Experts report on North Korea, the Wise Honest had been transporting "25,500 tons of coal when it was detained by Indonesia around 1 April 2018."
Last Thursday, U.S. Department of Justice officials confirmed that the Wise Honest was nearing U.S. territorial waters off American Samoa. "This sanctions-busting ship is now out of service," Assistant Attorney General John C. Demers said in a statement announcing the seizure.
"North Korea, and the companies that help it evade U.S. and U.N. sanctions, should know that we will use all tools at our disposal — including a civil forfeiture action such as this one or criminal charges — to enforce the sanctions enacted by the U.S. and the global community," he added.
The vessel is alleged to have been involved in activities in violation of both United Nations Security Council sanctions as well as unilateral U.S. sanctions.
The vessel had been sailing with its AIS signal switch off in North Korean territorial waters. "The ship had a crew of 25, all North Koreans, and was loaded with coal from Vladivostok, which was to be transferred onto another ship," according to Insurance Marine News.
Last month, the government of Indonesia began repatriating members of the Wise Honest's crew back to North Korea. According to an Indonesian statement last year, at least one member of the Wise Honest's crew died in Indonesian custody, apparently due to a pre-existing medical condition.
According to the Washington Post, North Korea had sought to recover the Wise Honest last year. Vice Foreign Minister Choe Son Hui, a senior North Korean diplomat, was sent to Indonesia to discuss the issue with authorities in Jakarta.
North Korean leader Kim Jong Un and U.S. President Donald J. Trump have met twice, once in Singapore in June 2018 and once in Hanoi, Vietnam, in February 2019. Their first summit resulted in a four-point agreement on general principles for the relationship between the two countries.
The Hanoi summit ended with no agreement as Kim demanded extensive sanctions relief and the U.S. side demanded North Korea's total disarmament. Tensions between the two sides have grown since Hanoi.
Earlier this month, North Korea held its first ballistic missile tests in more than 500 days, ending a self-imposed moratorium that had lasted since November 2017.