Russia Ready to Export Su-57 Stealth Fighter Jet to India
The Russian defense industry hopes it can interest the Indian Air Force in the Su-57 fighter jet.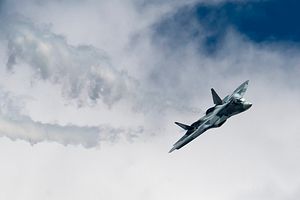 Russia's military aircraft industry is continuing its efforts to promote an export variant of the Sukhoi Su-57 fighter aircraft, Russia's first purported indigenously designed and built fifth-generation stealth fighter jet, to the Indian Air Force.
According to Director for International Cooperation and Regional Policy at defense industrial group Rostec,Viktor Kladov, Russia is ready to hold a dialogue with India on the subject.
"On our part, we are ready to continue the deliveries of generation 4+ and 4++ planes and [also] work on the delivery of fifth-generation aircraft," he was quoted as saying by TASS news agency in February.  "At the same time, Russia's Air Force is a top priority for us. The plane [the latest Su-57 fifth-generation fighter jet] has been tested in combat conditions in Syria and its deliveries to the Russian troops have begun."
The export variant of the Su-57, designated Su-57E, will reportedly receive export approval by Russian President Vladimir Putin in the coming weeks.
Notably, India withdrew last year from the co-development and production of the Su-57 known in India as the Perspective Multi-role Fighter (PMF), for multiple reasons including dissatisfaction with the aircraft's flight performance and capabilities gaps. Russia also refused to share sensitive computer codes used to control the aircraft's various systems with India.
The Indian Air Force (IAF) is looking to procure over 100 new fighter aircraft and is expected to issue a request for proposals (RFP) in the coming months.  Lockheed Martin and Boeing, in addition to Swedish aircraft maker Saab, French defense firm Dassault Aviation, the Eurofighter consortium, and Russia's United Aircraft Cooperation are expected to participate in the tender.
"The tender will be open for single-engine and twin-engine fighter jets. According to the RFI, the IAF is seeking to procure 82-83 (75 percent) single-seat fighter jets and 27-28 twin-seat variants (25 percent)," I explained previously. "Out of the 110 aircraft, 16-17 (15 percent) are to be bought in fly-away condition, whereas the rest are to be built in India under the framework of the [MoD]'s Defense Procurement Procedure 2016 to facilitate the manufacturing of military hardware locally."
Notably, the Russian government is also expected to offer the Su-57 to the Chinese People's Liberation Army Air Force (PLAAF). The Russian Ministry of Defense announced in 2018 that it will not mass-produce the Su-57 as a result of India abandoning the program. Ten Su-57 prototypes are currently undergoing various stages of testing and evaluation by the Russian Air Force. The service will officially take delivery of the first Su-57 this year.