Thanks, But No Thanks: China Pushes Back on Trilateral Strategic Nuclear Arms Control
Despite Trump claiming otherwise, China isn't interested in a trilateral arms control arrangement.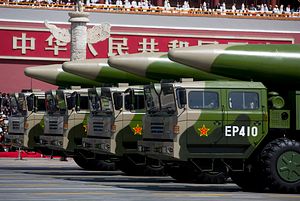 China's Foreign Ministry has pushed back against the idea that Beijing may participate in trilateral strategic nuclear arms control with Russia and the United States. In remarks at a press conference on Monday, Geng Shuang, a spokesperson for the Chinese Ministry of Foreign Affairs, explained Beijing's disinterest in the proposal, which is reportedly under consideration by the Trump administration as the extension deadline for the 2011 U.S.-Russia New START Treaty looms.
"Following a national defense policy that is defensive in nature, China maintains a reasonable and moderate national defense input," Geng said. "Its nuclear force is always kept at the minimum level required by national security, with an order-of-magnitude difference from that of the US and Russia, which puts things in a completely different light," he added.
"We oppose any country's attempt to make an issue out of China on arms control and will not participate in any negotiation for a trilateral nuclear disarmament agreement," Geng continued, ruling out any interest in the sort of proposal the United States is considering.
The Chinese spokesperson appeared to implicitly support a bilateral extension of existing strategic nuclear arms control between the United States and Russia. Geng noted that China believes that "the pressing task at present is for the countries which hold the world's largest nuclear arsenals to adhere to the consensus reached by the international community to earnestly fulfill their special and primary responsibilities in nuclear disarmament."
Doing so would, "create conditions for other countries' participation in nuclear disarmament"— a suggestion that China's own interest in reductions may arise when the U.S. and Russian arsenals are quantitatively comparable to China's own. According to open source estimates, China possesses around 280 nuclear warheads, which are designed to be delivered by ballistic missiles.
Geng's remarks came after U.S. President Donald J. Trump last week, following a conversation with Russian President Vladimir Putin, stated that he had "spoken to China" about trilateral arms control. Trump added that China "very much would like to be part of that deal." However, the U.S. president continued that he thought "going to probably start up something very shortly between Russia and ourselves, maybe to start off"—a possible reference to extending New START. "I think China will be added down the road," Trump added.
The U.S. and Russian nuclear arsenals are an order-of-magnitude greater than China's. Currently, both arsenals are capped under the New Strategic Arms Reduction Treaty (New START), which was signed in 2010 and entered into force in 2011. Under the treaty, the Russian and U.S. arsenals are verifiably limited to 1,550 deployed strategic nuclear warheads.
Incorporating China into New START would present difficulties even if Beijing were willing. For example, the treaty's counting rules for warheads is based on their presence atop actual launchers, including intercontinental-range ballistic missiles and submarine-launched ballistic missiles. China, as far as is known publicly, does not mate warheads to delivery vehicles in peacetime, in part to make its publicly stated No First Use doctrine more credible.