Will Taiwan Become a Refuge for Dissidents Wanted by China? Not So Fast.
Taiwan has not fully opened its doors to dissidents, despite recent high-profile cases.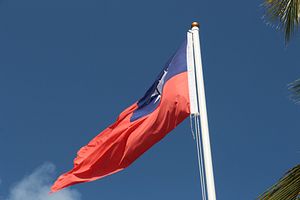 Taiwan's government, heading toward a crucial presidential election next year, has staked its political existence on its robust opposition to Chinese influence and meddling in the country, characterized earlier this year by its firm rejection of Chinese leader Xi Jinping's proposed "one country, two systems" framework for Taiwan. Despite this, Taiwan has taken a cautious approach in embracing dissidents and asylum seekers wanted by the Chinese government.
Last week, Hong Kong bookseller Lam Wing-kee flew to Taiwan over fears that a new extradition law could allow for his transfer to China. He and four other Hong Kong booksellers disappeared in 2015 before resurfacing on the mainland eight months later. Lam is still considered a fugitive in China.
The South China Morning Post, citing a source close to Lam, said the move had the blessing of Taiwanese authorities. Taiwan's Mainland Affairs Council (MAC), which handles cross-strait policy affairs, called the move a "visit" to discuss work matters with friends and said Lam would be allowed to stay for one month.
Days later, Chinese student Li Jiabao said he would seek political asylum after criticizing Xi Jinping on a live Twitter stream in March. Li, whose visa expires on July 2, applied for long-term residence with Taiwan's National Immigration Agency but noted he was unsure of whether his application would be accepted as Taiwan does not have formal refugee or asylum laws.
Taiwan's ruling Democratic Progressive Party (DPP) has vocally supported the rights of oppressed religious and ethnic minorities in China, including Uyghur Muslims in China's Xinjiang Autonomous Region. However, the country may be hesitant to openly welcome dissidents opposing the Chinese government out of a fear of reprisal from China, where up to one million Taiwanese live and work.
Will Lam Wing-kee and Li Jiabao Be Allowed to Stay?
The cases of Lam Wing-kee and Li Jiabao are likely to be handled with extreme caution by Taiwanese authorities, who have experience handling such situations.
In February, Chinese asylum seekers Yan Kefen, 44, and Liu Xinglian, 64, were allowed to enter Taiwan after spending 125 days in a restricted area of Taiwan's Taoyuan International Airport. Yan and Liu, who said they were fleeing Chinese persecution, had left Thailand in September 2018 over fears that country would comply with Chinese extradition demands. Taiwan's MAC said at the time they were allowed to enter temporarily for "professional exchanges."
It is widely expected that Yan and Liu will be accommodated in Taiwan until they can be transferred to a third country. This would mirror the outcome of the case of Huang Yan, a Chinese dissident who claimed asylum in Taiwan in May 2018 and was granted a renewable three-month humanitarian visa. Huang stayed in Taiwan until January 25, when she flew to Los Angeles after the United States granted her request for asylum.
Lam Wing-kee, 64, had previously expressed an interest in moving permanently to Taiwan. Last year, the South China Morning Post reported that Lam's plan to open a shop in Taiwan had fallen through after the wife of a Hong Kong investor behind the project was threatened by Chinese authorities. Lam retained a desire to move to Taiwan before accelerating his plans due to the looming passage of Hong Kong's new extradition law, according to AFP.
Taiwan's MAC has said Lam must submit the relevant documents should he wish to stay in Taiwan for longer than one month.
The case of Chinese national Li Jiabao, 21, appears more similar to past cases of Chinese dissidents eventually allowed to enter Taiwan under special, if intentionally murky, circumstances – although it marks the first case in which a Chinese student in Taiwan has claimed asylum since Taiwan allowed Chinese nationals to study in Taiwan in 2011.
In April, the semi-official Straits Exchange Foundation said Li had lost access to financing after he criticized Xi's move to do away with the two-term limit on the presidency, comparing China to "one of those absurd and deplorable worlds British author George Orwell wrote about in his novels."
Li said at the time he was unable to contact his parents in China and could not receive money from friends in other countries as his Chinese cell phone number had been canceled.
Taiwan's Uneasy Stance Toward Refugees
Under President Tsai Ing-wen – who faces challenges in her 2020 bid for re-election from the opposition Kuomintang (KMT) and from within her own party – Taiwan has won international support for its outward support of democratic values and human rights.
Despite this, the country has no formal policy to process refugees or asylum seekers, leading to criticism from domestic rights groups. The Taiwan Association for Human Rights said last year that, since 2014, it had identified at least 10 cases of forced repatriation, or deporting foreign nationals against their will to countries where they could face cruel or unusual punishment.
High-profile asylum seekers are thus processed on a case-by-case basis, meaning dissidents who set foot in or attempt to enter Taiwan are faced with complete uncertainty.
Taiwan's DPP has acted to take the lead as a regional protector of religious freedom, holding a March forum attended by United States religious freedom ambassador Sam Brownback. Joseph Wu, the country's foreign minister, often takes to Twitter to decry the treatment of Uyghurs, Tibetans, and others facing persecution within China.
This stance has not yet led to a large-scale effort by Taiwan to welcome such individuals facing persecution into the country.
Under the administration of former KMT President Ma Ying-jeou, Taiwan was more willing to cooperate with Chinese stances on dissidents. In 2009, Taiwan barred Dolkun Isa, then-secretary general of the World Uyghur Congress, from entering the country, leading to an outcry from domestic rights groups.
Nowadays, senior DPP officials speak openly of inviting figures such as the Dalai Lama to Taiwan. Talk of enacting laws to formally clarify the fate of dissidents entering Taiwan in search of a safe haven from China, however, remains far more muted.