Taiwan Grants Entry to Chinese Asylum Seekers But Questions Surround Its Refugee Policy
The two Chinese asylum seekers spent 125 days in limbo, highlighting issues in Taiwan's approach to refugees.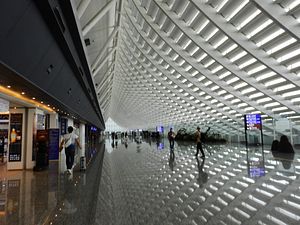 It took 125 days for Chinese asylum seekers Yan Kefen, 44, and Liu Xinglian, 64, to pass through immigration and customs checkpoints at Taiwan's Taoyuan International Airport.
Yan and Liu arrived in Taiwan on a flight from Bangkok on September 27, 2018. They skipped a scheduled onward flight to Beijing and instead claimed asylum on the grounds of facing political persecution in China. They have said they feared arrest and deportation in Thailand, which has a recent history of cooperating with Chinese extradition demands. However, Taiwan's Mainland Affairs Council (MAC) said at the time it could not find evidence of the claims of persecution made by the two men, who subsequently presented refugee certificates issued in Thailand by the United Nations High Commissioner for Refugees (UNHCR).
Taiwan has no formal refugee laws and the UNHCR does not operate on the island, which is not a UN member state and is only recognized by 16 countries plus the Holy See.
This left Yan and Liu – who had both fled to Thailand after being arrested and released on bail in China for participating in democratic movements – sequestered for months in a restricted area of Taoyuan International Airport. They told Agence France-Presse in a January 13 phone interview they were sleeping on reclining chairs in an airport lounge, where three boxed meals provided by airlines were delivered to them each day. "Inside the airport we can't breathe fresh air and there's no sunlight," Liu told AFP. "This can't be too healthy, right?"
Taiwan's MAC, the Cabinet-level body that handles cross-strait policy, told AFP on January 13 it recognized its refugee laws must be improved. Eleven days later, MAC Deputy Minister Chiu Chui-cheng said the two men could be allowed into Taiwan in the coming days for what he called "professional exchanges," although he walked back his comments one day later. The two men still expected to enter Taiwan on January 26, shortly before Lunar New Year. Their friends in Taiwan had plans to pick them up and drive them to arranged accommodations.
January 26 came and went with no change in their status. However, on January 30, the MAC arranged for the two men to fly to Singapore before returning to Taiwan late that night, where they were finally allowed entry after spending over four months in limbo.
Taiwan's MAC said the next day Yan and Liu would be allowed to stay in Taiwan on humanitarian visas, which must be renewed each month. The arrangement is expected to hold them over until they successfully apply for asylum in a third country, such as the United States or Canada. The MAC emphasized the arrivals of Yan and Liu did not mark a shift in Taiwanese policy toward Chinese asylum seekers.
Taiwan's Refugee Quagmire
Taiwanese authorities likely treaded carefully due to an inability to seek support from the UNHCR and other international agencies, along with a fear of inciting the wrath of China, which considers the country a so-called breakaway province.
Hundreds of thousands of Taiwanese citizens live, work, or invest in China. Should Taiwan openly admit Chinese asylum seekers like Yan and Liu, those Taiwanese citizens could be subject to arbitrary detention, similar to the fate of Canadian citizens Michael Kovrig and Michael Spavor, who were detained without being charged after Canada arrested a Chinese tech company executive, Meng Wanzhou, in December. China actively recruits Taiwanese citizens to move across the Taiwan Strait, offering social and financial incentives such as residence permits, but Financial Times recently reported Taiwanese citizens in China had been asked to attend "brainstorming sessions" on Taiwan's political situation – and its eventual unification with China.
However, Taiwan has experience in this situation. In May 2018, Chinese dissident Huang Yan claimed asylum in Taiwan and was granted leave to stay in the country for three months on a renewable humanitarian visa. Huang, who has also been granted refugee status by the UNHCR, stayed in the airport for just one night before Taiwanese authorities, responding to petitions by Taiwan Association for China Human Rights and U.S.-based NGO China Aid, allowed her to enter the country.
Huang stayed in Taiwan for about eight months until the United States granted her request for asylum. She flew to Los Angeles on January 25, just five days before Yan and Liu entered Taiwan.
The cases of Yan and Liu have parallels to the recent higher-profile sagas of Saudi teen Rahaf Mohammed, who was granted asylum in Canada after petitioning Thai authorities not to return her to her family, and refugee footballer Hakeem al-Araibi, who is currently detained in Thailand and fighting extradition to Bahrain despite holding refugee status in Australia, where he plays for Melbourne soccer club Pascoe Vale.
However, Taiwan has long stayed on the sidelines in actively participating in assisting refugees and asylum seekers whether from China or other countries, despite its stated commitment to respecting human rights and its quest to become an involved member of the international community.
The Taiwanese government has even breached its own laws by sending people back to countries where they could face cruel or inhumane punishment. In July 2018, it deported Filipino fugitive Ricardo "Ardot" Parojinog, charged in his home country of involvement in the illegal drug trade, despite protests by rights groups who said Parojinog would be subject to torture or extrajudicial killing at the hands of Philippine authorities. The Taiwan Association for Human Rights said last year it had reported at least 10 cases of forced repatriation since 2014, meaning Taiwan deported people against their will to a risk of cruel or inhuman punishment, including capital punishment.
Other countries, such as the United States, have invoked the UN Conventions Against Torture (CAT) to block the deportations of foreign nationals at risk of cruel or inhumane punishment, including two Filipinos with minor drug convictions on their records. While Taiwan is not a UN member state, it can choose to invoke the principles of the CAT or other international agreements in its own local law.
Taiwan also signed a memorandum of understanding with Australia in 2017 to provide medical treatment for asylum seekers who were detained in Nauru, which is a diplomatic ally of Taiwan, in order to prevent them from seeking a medical transfer to Australia. Some asylum seekers said they could not give informed consent to medical treatment due to language barriers.
For Taiwan, dedicated to presenting an international image of upholding human rights and democratic values, it remains to be seen whether refugee law will be codified to more smoothly process future asylum seekers. For Liu Xinglian and Yan Bojun, it took 125 days in a fluorescent-lit airport lounge to finally pass through immigration and customs barriers and take one step closer to freedom.