China Central Television: A Long-standing Weapon in Beijing's Arsenal of Repression
Part of the station's mission is to attack designated enemies of the Communist Party.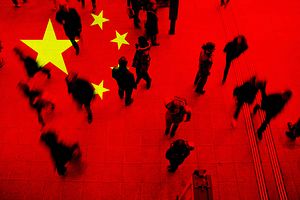 Since antigovernment protests began three months ago in Hong Kong, Beijing's state broadcaster, China Central Television (CCTV), has gone to great lengths to demonize the protesters and mislead both Chinese and international audiences about the nature of the movement.
CCTV's flagship news program ran a week's worth of segments in July that denounced the protests and claimed that they were linked to "external forces." A few weeks later, the broadcaster aired false reports that a protester had blinded a woman who was actually struck in the eye by a police bean-bag round. More recently, the station's international arm released videos and graphics on YouTube and Facebook that likened protesters to Islamist militants and claimed that they are backed by U.S. spy agencies. And on September 18, CCTV news posted a video on the Sina Weibo microblogging platform that urged its 89 million followers to identify, investigate, and publish online the personal information of Hong Kong protesters and journalists, exposing them to real-world harassment. 
This latest use of CCTV to target the political enemies of the Chinese Communist Party (CCP) is neither isolated nor new. As the 70th anniversary of Communist Party rule in China approaches on October 1, it is worth reexamining CCTV's role not only in helping to prop up party legitimacy and promote the reputation of its leaders, but also in doing the party's "dirty work" by defaming and inciting hatred against perceived foes.
The broadcaster has achieved a truly global reach, meaning its content has the potential to shape the perceptions of hundreds of millions of people within and beyond China's borders. The fact that this content is heavily distorted to suit the CCP's political agenda poses a growing challenge for news consumers, regulators, journalists, advertisers, and others around the world.
A State Broadcaster Like No Other
CCTV was founded 61 years ago, at a time when few Chinese citizens owned a television set. Today, it reaches nearly every household in China, runs over 40 channels, and produces more than 300,000 hours of programming a year. Alongside news, there are channels dedicated to sports, film, Chinese opera, and rural affairs. As the only authorized national broadcaster, the station retains a unique and privileged position in the domestic media market. Its flagship evening news program, Xinwen Lianbo, airs for 30 minutes at 7 p.m. Local and provincial stations are required to carry the program as well, ensuring a regular viewership in the hundreds of millions in addition to a large social media following. 
Not surprisingly, CCTV maintains close ties to the party's political and media-control hierarchy. The broadcaster's current president, Shen Haixiong, is not only a CCP member but also an alternate member of the Central Committee. He had previously served as head of the propaganda department in Guangdong Province.
CCTV's news program provides an authoritative expression of official viewpoints, but its repertoire also includes various "investigative" programs that seem to cater to the public interest, even carrying occasional exposés of official wrongdoing. Among the most notable of these shows is Jiaodian Fangtan (Focus Talk). Recent episodes have offered "feel good" stories on party cadres leading rural villages, the technological prowess of companies in different provinces, and the importance of a new land-management law.
Mobilizing Against the Party's Foes
While day-to-day coverage may be focused on promoting government policies, praising the party leadership, or demonstrating that corrupt officials are being brought to justice, the same programs have been activated time and again to serve as the party's attack dogs when a particular political threat emerges, defaming the designated targets and whitewashing horrific human rights abuses against them.
One of the first and starkest examples of these televised campaigns coincided with the 1999 launch of the CCP's violent crackdown on the Falun Gong meditation and spiritual practice. Other efforts have followed at regular intervals, including a 2009 documentary series about the Dalai Lama, the airing of forced confessions as part of a crackdown on human rights lawyers that began in 2015, attempts to justify the mass detention of Muslims in Xinjiang since 2017, the disinformation about this summer's antigovernment protests in Hong Kong, and just this month, ominous warnings that Taiwanese spies are using academic exchanges to recruit Chinese students.
Focus Talk has also carried highly problematic reports at key moments in the CCP's political crackdowns. The show aired 28 episodes defaming and inciting hatred against practitioners of Falun Gong within a 32 day period in 1999. This was followed by deceptive reporting claiming a group of people who self-immolated on Tiananmen Square in 2001 were adherents of the banned group. In 2006, a Canadian regulatory commission acknowledged that such coverage was "clearly abusive" and "could incite violence" against those who practice Falun Gong in China and abroad. 
More recently, it was an October 2018 episode of the program that offered the first acknowledgment in Chinese state media of the existence of detention centers in Xinjiang, framing them as "vocational centers" that would boost employment and curb extremism rather than as heavily guarded facilities where ordinary Muslims are being confined en masse for political indoctrination and forced labor. Subsequent episodes have continued to parrot the official party line that the centers "saved people who hold terrorist and extremist intentions" in Xinjiang, despite credible reports of forced disappearances, torture, and deaths in custody affecting people with no connection to violence. 
To produce such content, CCTV journalists are given exclusive access to relevant locations, interviewees, and officials. But they also apparently accept the government's stage-management, fabrications, and distortions, without criticism or independent verification. In some cases, CCTV reporters have been complicit in deceiving interviewees or helping police to manipulate them.
This is especially clear with respect to televised confessions. An April 2018 investigation by Safeguard Defenders into 45 such confessions by detained journalists, bloggers, lawyers, activists, and others between 2013 and 2018 found that 90 percent had been aired on CCTV. In many instances, there was concrete evidence that the station's staff played a knowingly collaborative role in producing and editing segments that had been filmed in coercive or deceptive circumstances.
Global Resonance
This fraudulent and demonizing coverage has a real-world impact. It poisons the minds of Chinese viewers against innocent fellow citizens, and prepares the ground for further state abuses. Victims are deprived of potential support from both domestic — and in some cases international — audiences. One prominent Falun Gong torture survivor recalled in an interview how after the airing of the Focus Talk special about the supposed self-immolation in 2001, her own brother became afraid of her. Popular remarks on Chinese social media following the 2018 episode on Xinjiang included comments like "we have to help a large number of Muslims to quit their Islam addiction," and that "it's quite a frightening disease." The propaganda blitzes are often followed by an escalation in police violence against the targeted group and their impact on public perceptions can last for years. 
But the effects of CCTV's programming and propaganda tactics also reach far beyond China's borders. Among the Chinese diaspora, the state broadcaster is a dominant source of news and entertainment, and its content encourages discrimination and even assaults against CCP critics and persecuted minorities by fellow overseas Chinese. In recent weeks, for example, mainland students and others have attempted to silence and vandalize shows of support for Hong Kong protesters in places like Canada, Australia, and New Zealand.
The broadcaster's international arm, China Global Television Network (CGTN), has expanded its footprint and produced programming in multiple languages to reach non-Chinese viewers around the world. While it initially aims to build local audiences with attractive and innocuous content, it can be mobilized at key political moments to attack CCP opponents.
For instance, CGTN's Facebook page now boasts over 85 million followers spread around the globe, and its ads and posts have tended to portray the Chinese government and leaders in a positive light and emphasize attractive national themes like pandas, Chinese cuisine, or tourism opportunities in particular provinces. But interspersed with the relatively benign content are a series of posts and ads that liken Hong Kong protesters to terrorists or repeat proven fabrications like a report claiming that protesters carrying toy weapons were armed with a U.S.-made grenade launcher. 
How to Respond
Given CCTV's close relationship with the Chinese state, its political campaigns, and its ongoing severe human rights violations, viewers in China and elsewhere would be wise to receive the broadcaster's coverage — particularly of politically sensitive topics — with a healthy dose of skepticism, and to seek out more independent sources of information. 
For their part, foreign news media should be wary of accepting CCTV coverage at face value and should conduct their own investigations into problematic content aired by the station, as some have done with regard to the recent reporting on Hong Kong. Journalists should carefully consider the ethical implications of working with or for the outlet, no matter what remuneration it might offer.
Although it is owned and subsidized by the Chinese state, CCTV also earns billions of dollars in private advertising revenue. Multinational corporations that currently pay for advertisements on CCTV — particularly its news programs — should reconsider this business decision and look to the many other avenues for reaching Chinese consumers. 
Foreign governments and regulators should vigorously monitor the content being aired in their countries by CCTV in Chinese and CGTN in local languages. They should be ready to enforce any broadcasting regulations that might be violated, as British regulator Ofcom is now contemplating with regard to Hong Kong coverage and forced confessions. Foreign-agent registration requirements should be applied to CCTV in Chinese, as they already are to CGTN and other Chinese state media services in the United States, and consideration should be given to imposing sanctions on key executives responsible for televised confessions, as European officials have done in the case of Iran's Press TV.
Despite the broad diversity of CCTV's content and the arguably small percentage that rises to the level of abusive or demonizing propaganda, all audiences must remember that it is not a "normal" television station. It has a consistent record of blatantly and egregiously violating journalistic standards and encouraging or justifying hatred and violence against innocent people. CCTV is an essential component of the CCP's brutal authoritarian regime and should be treated as such. 
Sarah Cook is a senior research analyst for China, Hong Kong, and Taiwan at Freedom House and director of its China Media Bulletin. 
Aaron Cheng, a research intern studying at New York University, provided research assistance.