China in the Middle East: Influence and Investment
Insights from Lisa Blaydes.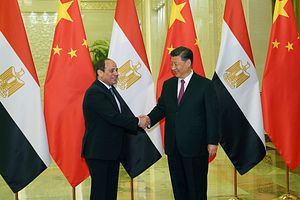 Trans-Pacific View author Mercy Kuo regularly engages subject-matter experts, policy practitioners, and strategic thinkers across the globe for their diverse insights into the U.S. Asia policy.  This conversation with Lisa Blaydes – professor of political science and senior fellow at the Freeman Spogli Institute for International Studies at Stanford University – is the 205th in "The Trans-Pacific View Insight Series."  
How is China expanding its influence in the Middle East?
China's size and economic power have created the conditions for growing influence in the Middle East as part of the Belt and Road Initiative.  For Gulf Cooperation Council countries, Chinese investment comes at a time when these states are seeking to reduce their hydrocarbon dependency and to diversify their economies. Port facilities have been important targets of investment.  For example, China has partnered with Oman on a major facility in Duqm, a town on the Arabian Sea. China's other ventures are in countries that are less wealthy and, as a result, struggle to find investors with the political will to back costly developmental endeavors.China has even shown an interest in investing in Syria. China and Syria have engaged in discussions regarding Chinese investments in the Syrian energy sector, among other fields.
Explain how China is projecting soft power in the Middle East.
From a Chinese perspective, soft power projection takes place through policies outside of the traditional security domain including development assistance and cultural cooperation.  The organizations set up to implement the Belt and Road Initiative go beyond the Asian Infrastructure Investment Bank and Silk Road Fund, dedicated to investment in infrastructure projects and businesses respectively, to also include institutions like the University Alliance of the Silk Road, founded with the goal of fostering cross-cultural understanding and academic exchange. China has established Confucius Institutes to teach Chinese language and culture in a number of Middle Eastern countries. And since 2016, Omani students have been sponsored to study abroad in China as part of cooperation associated with development of the Duqm port facility. In 2018, Peking University hosted its first China-Middle East Youth Dialogue with the goal of enhancing cross-cultural interactions between youth leaders from China and a variety of Middle Eastern countries.
How are Middle East countries responding to China's overtures?
When citizens of Middle Eastern countries are asked in public opinion surveys if they think that China's growing economy is a good thing for their own country, respondents in less wealthy countries – like Egypt – express a more favorable attitude toward China's economic rise than respondents from more wealthy countries – like Turkey. For less developed countries, China provides a model for growth that is accessible and distinct from the "mainstream" development initiatives being pushed by international financial institutions. At the same time, China has placed economic development, rather than political reform, front and center for its global engagements.
Assess China's investment in Egypt.  
With projects from Ain Sokhna to Port Said, the Suez Canal Economic Zone has been an investment target for the Chinese. Suez Canal redevelopment was initially launched by President Abdel Fattah el-Sisi in 2014 shortly after he came to power and the project has become more formally integrated with the BRI in recent years. Chinese investments are starting to generate job opportunities for locals. For example, Chinese developers associated with the Tianjin Economic-Technological Development have invested in a major fiberglass fabrication facility.
Chinese-Egyptian economic cooperation has also supported Egypt's lagging tourism sector. The number of Chinese tourists traveling to Egypt has increased significantly in the last two years, shoring up the tourism sector at a time when the uncertain security situation may have deterred visitors from other countries.
Chinese investments in Egyptian infrastructure also have the potential to support the Egyptian regime in a way that insulates the leadership from popular pressure. President el-Sisi has taken the lead in overseeing the construction of Egypt's new administrative capital which is to be located miles from downtown Cairo and will serve as the country's seat of bureaucracy. A relatively remote, newly constructed capital city insulates the government from urban populations that have shown a willingness to engage in protest mobilization. The Egyptian government continues to be in conversation with Chinese firms and state-owned enterprises regarding construction contracts for this project. 
Why should U.S. policymakers be concerned about China's growing influence in the Middle East?
Chinese efforts at power projection in the Middle East come at a time when China is already a leading trade partner for countries across the region. China's growing economic interest also coincides with waning U.S. influence in the Middle East. The ability of governments to leverage rivalry between the U.S. and China may give Middle Eastern incumbents the opportunity to achieve a better outcome for themselves than they would in the context of a single regional hegemon.