2 Russian Strategic Bombers Conduct Night Flight Over Indian Ocean
The two nuclear-capable aircraft were en route to South Africa as part of an effort to deepen military ties between the Russian and South African air forces.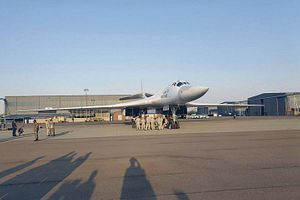 Two Russian Air Force Tupolev Tu-160 long-range supersonic strategic bombers have performed a night flight over the Indian Ocean while en route to South Africa, the Russian Ministry of Defense (MoD) said in an October 26 statement.
"The Tu-160 strategic missile-carrying bombers performed a night flight in the airspace over the Indian Ocean as part of the international visit of the Aerospace Forces' air group to the Republic of South Africa," the statement reads.
Next to the two bombers, the air group consisted of an Ilyushin Il-62 passenger jet and an Antonov An-124 military cargo aircraft. The aircraft visited South Africa as part of an effort to deepen military cooperation between the South African and Russian air forces.
The visit aimed to further the "development of bilateral military cooperation," according to the Russian MoD, and helped "to increase the combat training of the flight personnel of the two countries." Relations between the two countries are "built in the spirit of strategic partnership and mutual understanding." The South African and Russian MoDs concluded a military cooperation agreement in 1995.
The October visit, which took place on October 25 and 26, was reportedly the first instance of Tu-160 aircraft landing in Africa.
The Tu-160 bomber flight "was performed in strict compliance with the rules of using international airspace," the Russian MoD said in its statement.
The Russian air group made the 11,000 km journey and more than 13-hour flight, supported by aerial refueling aircraft, from their home base in Russia to the South African Air Force base of Waterkloof on the outskirts of Pretoria.
Russia currently operates around 16 Tu-160 aircraft, although the operational readiness rate of the fleet is low. The aircraft was first introduced into service in 1987; it was the last (supersonic) strategic bomber to enter service with the Soviet military prior to the collapse of the Soviet Union.
All of the aircraft are expected to be upgraded to the Tu-160M2 variant. The Russian MoD announced in January 2018 that it placed an order for the first batch of 10 Tupolev Tu-160M2s.
The air force is slated to receive the first upgraded Tu-160M2 bomber by 2021. Delivery of Russia's entire new Tu-160M2 fleet of 50 aircraft is estimated to be completed by 2030. Serial production of the Tu-160M2 at a rate of three aircraft per year is expected to kick off in 2023.
Armaments of the Tu-160M2 will reportedly include long-range standoff cruise missiles such as the Kh-101/Kh-102 (nuclear variant) air-launched cruise missile and the Kh-55 subsonic air-launched cruise missile, next to others.