Japan, South Korea Scramble Fighter Jets Against 2 Russian Strategic Bombers
The two Russian bombers and escort aircraft were conducting a 10-hour flight over the Sea of Japan and East China Sea.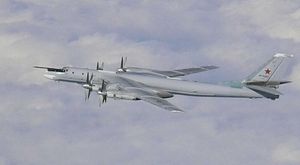 The Japan Air Self Defense Force (JASDF) and Republic of Korea Air Force (ROKAF) scrambled fighter jets to intercept two Russian Air Force nuclear-capable Tupolev Tu-95MS strategic bombers, a Beriev A-50 airborne early warning and control aircraft, and Sukhoi Su-35 multirole fighters conducting a 10-hour flight over the Sea of Japan and East China Sea on November 27, the Russian Ministry of Defense (MoD) said in statement today.
"Two Tu-95MS strategic missile-carrying bombers of the Aerospace Force performed a planned flight over the neutral waters of the Sea of Japan and the East China Sea," the MoD statement reads. "During their flight, the long-range aircraft were escorted by the crews of Su-35S fighter jets and an A-50 long-range radar surveillance plane of Russia's Aerospace Force. The flight lasted more than 10 hours."
The MoD also acknowledged that Japanese and South Korean fighters were escorting the Russian aircraft for the part of their aerial patrol over Asian waters. "At some stages of the flight route, the crews of Tu-95MS aircraft were shadowed by a pair of F-15 and F-16 fighters (the Air Force of South Korea) and F-2 planes (the Air Force of Japan)," TASS news agency cited the ministry as saying.
Japan's MoD confirmed that its fighters intercepted two Tu-95MS bombers today.
Last month, JASDF and ROKAF fighter jets conducted scrambles against six Russian military aircraft — including two Tu-95MS strategic bombers — that entered the Japanese (JADIZ) and South Korean (KADIZ) air defense identification zones. (Air defense identification zones are not considered sovereign or territorial airspace.) According to the Republic of Korea Armed Forces' Joint Chiefs of Staff (JCS), it marked the 20th breach of the KADIZ without prior notice by Russian military aircraft.
In July, a Beriev A-50 aircraft violated South Korean airspace. According to the JCS, the aircraft twice entered South Korean airspace over the Dokdo islets. "The ROKAF scrambled F-15Ks and F-16Ks in response and fired 20 flares and 360 machine gun rounds as warning shots after the A-50 purportedly ignored repeated radio warnings," I explained elsewhere. Russia vehemently rejected the accusation that its aircraft had violated South Korean airspace.
The July incident took place during the first joint strategic air patrol of the Chinese People's Liberation Army Air Force (PLAAF) and the Russian Air Force in East Asia.The JASDF also dispatched fighter jets in response to the joint air patrol to intercept and shadow the Chinese and Russian bombers.
In June, two Tu-95MS strategic bombers violated Japan's airspace off the Japanese island of Minamidaitō southeast of Okinawa and off Hachijō island in the Philippine Sea, according to the Japanese MoD.