Animal Crossing Pulled From Chinese E-commerce Platforms
China has unofficially banned the popular video game to continue to suppress online forms of protest amid COVID-19 isolation.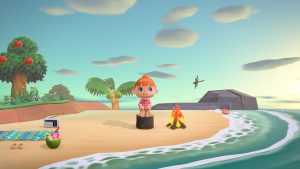 Nintendo's Animal Crossing, a video game that emphasizes community and virtual socializing, has been removed from major e-commerce platforms in China. The removal of Animal Crossing is reminiscent of recent issues with video game company Blizzard and the Hong Kong protests, but has taken on new meaning in the context of COVID-19.
The video game Animal Crossing was first released in 2001 on Nintendo's gaming consoles, namely Nintendo 64 and GameCube. In the wake of global COVID-19 restrictions, Animal Crossing: New Horizons, the latest iteration of the game released for the Nintendo Switch, has become one of the most popular activities during quarantine to connect with friends in a virtual community. 
The recent removal follows on the heels of a boycott in late 2019 of the videogame giant Blizzard. After Blizzard banned Blitzchung, a gamer who proclaimed support for Hong Kong following a major sports tournament of the game Overwatch, the online gaming community transformed Overwatch character Mei into a symbol of the Hong Kong protests. The goal of the online resistance was to force the Chinese government to ban Overwatch from the Chinese mainland and trigger large losses in revenue for Blizzard. Despite these efforts, Overwatch continues to remain available in China.
The debates around Blizzard, however, were still closely connected to the nature of the game itself and the physical protests in Hong Kong. Overwatch is primarily a team-based game where users interact with other players through randomized battles. If playing "live" — or connected to the global pool of Overwatch players — your teammates and your opponents will mostly likely be strangers. Sharing pro-Hong Kong tirades and donning protestor garb in Overwatch thus reaches beyond a player's small network of friends. Expressions of resistance through Overwatch and Mei were also occurring alongside physical protests in the streets of Hong Kong, acting as supplementary support to an ongoing fight. This online support was a reaction to Blizzard's actions, not necessarily an independent movement.
While Overwatch was never banned in China, Animal Crossing is disappearing. As noted by Reuters on April 10, Animal Crossing: New Horizons is now largely unavailable on e-commerce platforms, including Pinduoduo and Alibaba's Taobao. The removal may be in response to pro-democracy activist, Joshua Wong, discussing the usefulness of the game in continuing the protests online. On a broader scale, in comparison to the Overwatch conflict, Animal Crossings is a drastically different game set amidst the isolation of COVID-19. 
Animal Crossings is a social simulator and does not feature random player matching. Each human character (played by the user) has his or her own town, with various animal Non-Player Characters (NPCs) as townspeople. Towns with only one player may actually seem to be buzzing with activity thanks to NPCs. Some NPCs are default characters present in every town, while others can be added from a pool of over 300 NPCs by the player, creating an immersive and customizable environment. Players can interact with other players by inviting them to their town or "island" by sending them a special code. Only eight players can be present on an island at one time, including the owner. There are no common, public spaces where all players can gather and socialize, but the world that players generate gives some semblance of normal life. 
China's main issue with Animal Crossing appears to be unmonitored player-to-player interaction. Animal Crossing allows free speech, and players can speak to each other through word bubbles that appear next to your character. Character customization provides opportunities for other forms of freedom of expression, with some users making more direct references to the Hong Kong protests by personalizing characters to wear all black and don gas masks. You also have free reign when it comes to designing your town, and each town has a bulletin board where you can post larger messages. Towns often feature messages on the flooring, and several users have placed plaques promoting the liberation of Hong Kong. 
Animal Crossing does feature basic reporting mechanisms and players can report each other for misconduct; however, the presence of invitation codes for interactions encourages self-selection and self-monitoring. When you only interact with the friends who have your code, there is no strong incentive to report them for misconduct. Considering the insular nature of the social community in Animal Crossing, China has not completely banned the game, and players who already own the game are reportedly still able to play both online and offline versions.
Perhaps China did not crackdown on Overwatch thanks to Blizzard's actions to support the Chinese regime. Nintendo, on the other hand, is a Japanese company that has not taken action against these forms of resistance. This may trace back to Nintendo's slow breakthrough into the Chinese market, which experienced major setbacks as early as 2003 thanks to strong Chinese regulation. In April 2019, Nintendo partnered with Tencent, a Chinese multinational conglomerate and the world's largest video game company, as its Chinese representative sales partner. Although the release of the Nintendo Switch in China was highly anticipated and hugely successful, it began with a limited offering of only one game for the platform. This was largely due to the Chinese government insisting on vetting each game before its release. As a result, Tencent has not yet received approval to sell Animal Crossing, which has slowed the direct sale of the game. Most importantly, and unlike Blizzard, Nintendo has not taken any steps to suppress free expression within the game or in online forums discussing the game. This may make Chinese regulators less enthusiastic about approving a product that users are already using to speak out against the government. 
While Overwatch may have been supplementary support for Hong Kong's protests, Animal Crossing is a manifestation of the continuing resistance to the Chinese government amidst COVID-19 isolation. By unofficially banning the sale of Animal Crossing, the Chinese regime is attempting to shut down unmonitored forms of virtual protest in the absence of easily identifiable physical occupations of space. Small pockets of online collectivity may not have been enough to maintain the undercurrents of the Hong Kong protests after the COVID-19 restrictions are lifted, but the Chinese government's unofficial reaction to Animal Crossing seemingly proves that it sees any coordinated resistance as a threat worth squashing.