China's Xi Visits Nepal, Elevating Ties to 'Strategic Partnership of Cooperation'
The visit marked the highest-level China-Nepal interaction in 23 years.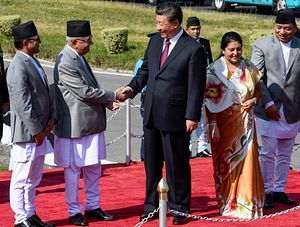 Over the weekend, Xi Jinping became the first Chinese leader since Jiang Zemin in 1996 to visit the Himalayan country of Nepal. His visit capped years of increasing geopolitical alignment between Kathmandu and Beijing amid China's attempts to expand its influence in South Asia.
China's Xinhua state news agency underscored that the visit's overarching purpose was the upgrading of the bilateral diplomatic relationship. China and Nepal agreed to regard their relationship as a "strategic partnership of cooperation."
Xi met with top Nepalese leaders, including Prime Minister K.P. Oli, President Bidya Devi Bhandari, and Vice President Nanda Bahadur Pun.
In practical terms, the visit resulted in the signing of more than 23 agreements and memorandums of understanding. Xi left Nepal having pledged $496 million in financial assistance. The agreements reached covered everything from infrastructure to trade to tourism and education.
"The bilateral relationship between Nepal and China has entered a new phase," declared the joint communiqué agreed by both sides at the conclusion of the visit. The communiqué underscored that China's Belt and Road Initiative—Xi's signature foreign policy undertaking—would be an "important opportunity" for the relationship. Nepal has been a participant in the BRI since 2017.
In the communiqué, Nepal underscored a "firm commitment" to the One China policy, "acknowledging that Taiwan is an inalienable part of the Chinese territory and Tibet affairs are China's internal affairs, and the determination on not allowing any anti-China activities on its soil." Nepal's Himalayan border sits adjacent to Tibet.
In strategic terms, Nepal has sought to cultivate its relationship with China to lower its economic dependence on India, its historic partner. Nepal and India have long maintained a privileged and special relationship, but in recent years, tensions, including over Kathmandu's promulgation of a new constitution in 2015, have driven the two sides further apart.
During Xi's visit, the two sides pushed ahead with agreements on a trans-Himalayan railroad link, which would extend from Tibet to Nepal. They further agreed to conduct a feasibility study on the construction of a new tunnel. With a view to further enhancing connectivity, the two sides agreed to expand air rights arrangements to encourage additional direct air travel between China and Nepal.
Xi's visit to Nepal "marked the beginning of a new era in Nepal-China relations and served as an important milestone in the history of friendly cooperation between the two countries," the communiqué underscored.
In September, one month before Xi's trip, top leaders in Nepal's ruling Communist Party attended a two-day symposium on 'Xi Jinping Thought,' studying the Chinese leader's political doctrine, which was elevated in the Chinese state and Communist Party of China (CPC)constitutions at and after the 19th Party Congress in late-2017.
Some Nepalese political observers view the country's political leadership as particularly receptive to the export of China's political model. Increased party-to-party ties between the CPC and Nepal's ruling party have also raised concerns in New Delhi. In Nepal, Xi called on Nepal and China to solidify what Xinhua called the "political foundation of bilateral ties."
Prior to arriving in Nepal, Xi visited India, where he had a second "informal summit" meeting with Indian Prime Minister Narendra Modi. The meeting was a follow-up to the first such summit in 2018, which was held in Wuhan, China.