Mohammad Taqi on Kashmir
"The BJP's calculus seems to be that they would be able to contain the domestic fallout of using force and curbing rights and liberties in Kashmir, without much hassle."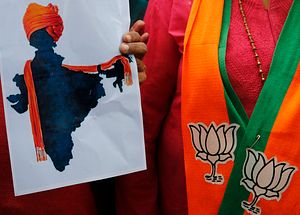 Tensions between India and Pakistan remain high after New Delhi's decision to do away with a constitutional provision providing for autonomy for the Indian state of Jammu and Kashmir. Announced in early August, the Indian decision seemingly caught Pakistan off-guard and was paired with a massive paramilitary operation to lock down the Muslim-majority Kashmir valley. Nearly two months on, Kashmir remains tense as both India and Pakistan seek support for their narrative on the global stage. The Diplomat's Senior Editor Ankit Panda spoke to columnist and commentator Mohammad Taqi about the ongoing dynamics in the region and the prospects for Kashmir.
The Diplomat: We're now several weeks out from the Indian government's decision to abrogate Article 370 of the Indian constitution. With the hindsight we have now, why do you think the Modi government made the move on 370 when it did?
Mohammad Taqi: It seems that the Bharatiya Janata Party (BJP) government wanted to hit the ground running after its massive electoral victory. The annexation of Indian-administrated Kashmir was certainly not a capricious decision and has been a part of its manifesto. Narendra Modi and his team had their domestic and diplomatic ducks in a row and were flush with political capital. In his previous stint, Modi had reset the nuclear war threshold with Pakistan after the Pathankot and Uri attacks by showing that limited conventional military engagement was possible in retaliation for Pakistan-backed jihadist incursions in Kashmir. He essentially had called Pakistan's nuclear bluff with success and has gone on to build on it. He also used the current absence of the Kashmir state assembly to arrogate that house's powers to New Delhi, in an illegal and unconstitutional manner. Modi felt confident enough to scrap the Article 370 in a move that violated India's own constitution. India had also read the international mood correctly in that Pakistan is isolated diplomatically and would not be able to rally any allies other than China. In effect, Modi government felt that Pakistan was boxed-in and the time was ripe to abrogate the Article 370. The BJP's calculus seems to be that they would be able to contain the domestic fallout of using force and curbing rights and liberties in Kashmir, without much hassle.