NATO-China Council: Now is the Time
Insights from Ian Brzezinski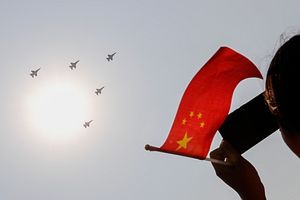 Trans-Pacific View author Mercy Kuo regularly engages subject-matter experts, policy practitioners and strategic thinkers across the globe for their diverse insights into the U.S. Asia policy. This conversation with Ian Brzezinski  ̶  Head of The Brzezinski Group, LLC, a strategic advisory services firm; Senior Fellow in the Scowcroft Center for Strategy & Security at the Atlantic Council; and formerly Deputy Assistant Secretary of Defense for Europe and NATO policy – is the 208th in "The Trans-Pacific View Insight Series."
Explain NATO Secretary General Jens Stoltenberg's concerns regarding the impact of China's rise on Europe.
Secretary-General Stoltenberg has repeatedly emphasized the need to assess the implications of China's rising power, particularly its increased presence and activity in the North Atlantic area.  These include aggressive efforts of Huawei to establish a dominant position in Europe's digital infrastructure; predatory economic activity as part of China's globe-spanning Belt and Road Initiative, which includes Europe and its environs; a massive cyber espionage campaign to steal Western intellectual property; and increasing activity in Arctic areas, including those adjacent to NATO borders.
A direct concern for NATO has been Chinese naval forces operating in the Baltic Sea, the Mediterranean Sea, and the high North, often in collaboration with Russia. Chinese ground forces have participated prominently in military maneuvers in Russia – all this occurring even as Russia illegally occupies the territory of two European nations, Georgia and Ukraine. 
The Secretary General's position on China is not just personal one. It reflects a heightened focus on both sides of the Atlantic on China's growing assertiveness. America's concerns about China have been clear for years, but now even the European Union describes China as a strategic competitor.
What is the conceptual rationale behind establishing a NATO-China Council? 
The Alliance needs to be an important part of a comprehensive political, economic, and security strategy designed to both counter Beijing's assertive behavior and shape a more cooperative and constructive relationship between China and the West. A NATO-China Council would address the political-military dimensions of this relationship.  
The Council or NCC would help spur Alliance member states to more seriously address, in a coordinated fashion, China's aforementioned activities, as well as those in the Asia-Pacific. The United States and Canada are NATO allies with immediate interests in the Pacific.
Second, the Council would signal to China that its actions risk the ire of the West as a whole. Beijing's preference is to deal with other countries one at a time. A NATO-China Council would align all 29 alliance members in a dialogue with China. That would make clear to China that the growing "great-power competition" is not a contest between the United States and China, but one that involves a unified community of transatlantic democracies – one bound by common values, interests, and history.
A NATO-China Council need not be driven solely by a confrontation between the Euro-Atlantic community and Beijing. It can also serve as a forum to explore areas of constructive engagement and mutual benefit. In this way, it could serve as a step toward a more cooperative relationship, just as the NATO-Ukraine and NATO-Georgia Commissions have fostered closer partnerships.
How would a NATO-China Council function at an operational level? 
As is the case with the NATO-Russia Council, the meeting would be chaired by the NATO Secretary-General and it would to serve as a forum for transparency, consultation, consensus-building, and cooperation, including even joint action. NATO's 29 member states and China would operate as equal partners in an "NCC" rather than in a NATO+1 format. If the Council's activities proved to be useful and productive, one could imagine China even being offered to have a liaison office deployed to NATO HQ.
What would be the role of the United States in a NATO-China Council? 
It would be the same as its roles in the North Atlantic Council (the Alliance's decision-making body), the NATO-Russia Council, the NATO-Ukraine Commission and the NATO-Georgia Commission. In these bodies, the United States sits as an equal to its fellow NATO allies.
How should the U.S. Congress and White House weigh the challenges and opportunities of supporting such a Council?
Congress and the White House, by and large, share the same perspective regarding China's growing global economic, intelligence, and military posture. Therefore, these two branches of the U.S. government should be supportive of new means by which to increase information sharing across the Atlantic about China's activities, to foster a common transatlantic posture toward China, to stimulate a dialogue between Beijing and the transatlantic community – one that underscores Euro-Atlantic unity, and to identify opportunities for cooperation that could benefit both NATO and China.