Taiwan's F-16 Upgrade Program Is Back on Schedule
The country's defense minister told parliament that the $4.5 billion upgrade program for 142 F-16 fighter jets is on schedule.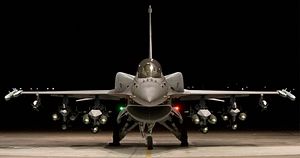 Taiwan's Minister of Defense, Yen Teh-fa, assured parliament on Wednesday that an estimated $4.5 billion (some sources state $5.3 billion) upgrade program for 142 Republic of China Air Force (ROCAF) F-16 fighter jets is proceeding according to schedule.
The defense minister told lawmakers that all problems with the Ministry of National Defense's Phoenix Rising Project, which was launched in 2016 and aims to upgrade 142 ROCAF A/B Fighting Falcon combat aircraft to the F-16V configuration by 2023, have been resolved, the South China Morning Post (SCMP) reported on October 16.
Parliamentarians had raised their concerns earlier following the revelation that Taiwan's state-owned Aerospace Industrial Development Corp (AIDC) failed to deliver six refitted jets in the first quarter of 2019.
"AIDC was to complete upgrades of four F-16s in 2018, followed by 24, 27, 34, 36, and 15 in the years after," the SCMP reports. "But, after meeting last year's target, AIDC has only managed to complete work on a further six jets so far this year, instead of six in each quarter of 2019."
The first four retrofitted F-16A/B fighters, upgraded AIDC, were handed over to ROCAF at an airbase in Chiayi county in southwestern Taiwan in October 2018. Initially, the first upgraded batch of F-16Vs was to consist of 10 aircraft. Yet, delays in software testing in the U.S. reduced the number to four.
Lawmakers questioned whether the decision to procure 66 F-16V Block 70 for the ROCAF had impacted the overhaul schedule. They also voiced their concern over political pressure to complete Taiwan's first domestically designed and produced fighter trainer jet.
The defense minister, however, refuted both claims. He said that the decision to purchase 66 new F-16s had nothing to do with the delays. "Nor does it have anything to do with the advance trainer jet because members of the trainer jet's production team and the refitting team are two different groups of people."
Rather, the main cause for the temporary delay was a lack of manpower within AIDC, which has since been addressed through the recruitment of some 200 engineers after coordination with U.S.-based defense contractor Lockheed Martin.
The upgrade program is now proceeding according to schedule.
The ROCAF's F-16 A/B fleet will be retrofitted with advanced avionics including a new flight management system, a new active electronically scanned array fire-control radar, an enhanced electronic warfare system, and helmet-mounted display system. According to the Lockheed Martin website:
The core of the F-16V configuration is an Active Electronically Scanned Array (AESA) radar, a modern commercial off-the-shelf (COTS)-based avionics subsystem, a large-format, high-resolution display; and a high-volume, high-speed data bus. Operational capabilities are enhanced through a Link-16 Theater Data Link, Sniper Advanced Targeting Pod, advanced weapons, precision GPS navigation, and the Automatic Ground Collision Avoidance System (Auto GCAS).
 The AESA system mentioned by Lockheed Martin above is Northrop Grumman's AN/APG-83 Scalable Agile Beam Radar. The upgrade will also include the installation of the Joint Stand-off Weapon (JSOW).