Why the New China-Singapore Defense Agreement Matters  
Though the gains in the new pact may seem modest, they nonetheless deserve attention.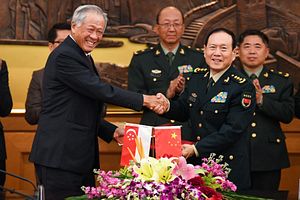 On October 20, Singapore, a longtime U.S. strategic partner, inked an enhanced defense agreement with China in Beijing. While the development had been signaled previously both sides, the signing nonetheless merits attention in terms of its significance for both countries, their relationship, and the wider region.
As I have observed previously in these pages and elsewhere, Singapore-China diplomatic ties – formally opened in 1990 but dating back decades previously as well – have also gradually grown to include a defense component. The range of initial engagements, including basic aspects such as visits, exchanges, port calls, and exercises, were formalized in an agreement signed by the two sides in 2008 known as the Agreement on Defense Exchanges and Security Cooperation (ADESC).
Over the past few years, both sides have been eyeing opportunities to boost this aspect of their relationship still further despite challenges for their ties – as manifested by incidents such as the seizure of Singapore military vehicles following an exercise with Taiwan in November 2016 as well as scrutiny on Chinese influence operations. And one of the measured proposed, which was publicly disclosed in May, was to sign an enhanced ADESC by the end of the year, which would formalize various ways that both sides would be upgrading security ties.
On October 20, both sides finally signed the new defense agreement. The signing occurred on at Bayi Building in Beijing, China, between China's Defense Minister Wei Fenghe and visiting Singapore Defense Minister Ng Eng Hen. This was part of a broader visit by Ng which included attending the 9th Xiangshan Forum and the Opening Ceremony of the 7th International Military Sports Council (CISM) Military World Games in Wuhan from October 17 to 22 as well as meetings with a range of top Chinese officials.
While the new defense pact itself was expected and the gains within it may seem modest, the development is nonetheless significant for several reasons. First, it reinforces the fact that Singapore remains committed to warming ties with China despite the challenges both sides have faced in bilateral ties. Due to a confluence of factors – including China's growing assertiveness, a challenging geopolitical environment with increased U.S.-China competition, and Singapore's own domestic political transition to a new generation of leaders – Singapore in the past few years has upped its engagement with Beijing to stabilize ties.
Seen from that perspective, the enhanced ADESC comes as no surprise. It is keeping with efforts both sides have been making to boost the overall relationship, as evidenced by the raft of agreements signed by both sides in their highest-level bilateral annual forum in Chongqing last week which featured several members of Singapore's fourth generation leadership. And it also follows previous signs of incremental progress on the security aspect of the relationship, including efforts to hold more exercises on a regular basis.
Second, it also spotlights the inroads China's continues to make in establishing security partnerships in the wider region. As I have noted previously, including in a recent report, China has been working to develop its own new defense partnerships in Southeast Asia and the wider Asia-Pacific to reshape the regional security architecture. Beyond inroads that tend to dominate the headlines such as new arms sales to U.S. allies like Thailand and the Philippines, these partnerships include components such as new agreements, dialogues, and facilities which are gradually becoming more complex and institutionalized.
In this regard, China's agreement with Singapore represents another step forward for Beijing's security partnerships in the Asia-Pacific. While there is reference to building on existing aspects of ties such as visits and exchanges, according to Singapore's defense ministry (MINDEF), the enhanced ADESC also includes new features such as a visiting forces agreement; a mutual logistics support arrangement; a bilateral hotline; and a regular defense ministers' dialogue in what it characterized as a defense cooperation that "will be stepped up significantly". Wei and Ng also discussed other proposals as well that are notable, including institutionalizing and scaling up existing army and navy exercises and a new MOU on academic exchanges between the PLA Academy of Military Sciences and SAFTI-MI.
Third, the enhanced ADESC is also an important reminder that contrary to overly simplistic predictions and fears about Asian states choosing sides in a new U.S.-China Cold War, smaller-and medium-sized countries, including U.S. partners like Singapore, are taking more nuanced approaches in response to the current environment. In order to adjust to broader geopolitical realities as well as other regional and domestic conditions, they are adjusting their approaches to Washington and Beijing and also recalibrating aspects of their domestic and foreign policies more generally.
Singapore's behavior has reflected this reality. It is notable, for example, that Singapore's signing of the enhanced ADESC with China comes just weeks after it also renewed a key military facilities agreement with the United States, which is far more wide-ranging and consequential (Singapore has also continued to make inroads in its own enhanced defense cooperation agreement with the United States, including in cutting-edge areas like artificial intelligence). Singapore officials have also not been shy to privately and publicly let both Washington and Beijing know about the risks of more confrontational U.S.-China relations. Ng himself expressed this sentiment in his remarks at the Xiangshan Forum, which were in keeping with the tone adopted by Singapore Prime Minister Lee Hsien Loong at the Shangri-La Dialogue earlier this year.
Of course, as with any new pact of this kind, its significance will lie more in how it is implemented rather than just the inking of it itself. And just like the signing occurred amid a confluence of domestic, regional and global circumstances, the balance of those circumstances will condition how we will see aspirations be converted into reality. As that occurs amid several upcoming signposts, including the 30th anniversary of China-Singapore diplomatic ties next year, we should pay close attention to how things progress in the coming months and years.