CCP Influence Operations and Taiwan's 2020 Elections
Will the Chinese Communist Party's effort to influence Taiwanese democracy ahead of the upcoming elections succeed?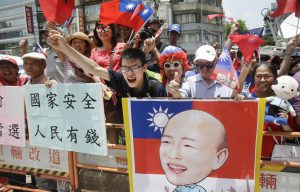 Voters in the island democracy of Taiwan will go to the polls to elect their president and representatives in the Legislative Yuan (national assembly) on January 11, 2020. The upcoming elections will determine whether the incumbent president from the ruling Democratic Progressive Party (DPP) will get the chance to see through her administration and party's ambitious reform agenda or whether the country will change course – especially as it relates to ever sensitive ties with the People's Republic of China (PRC).
The consequences of elections for Taiwan's young democracy are significant and this is clearly not lost on the island's neighbor across the strait. The Chinese Communist Party (CCP) has long tried to influence the political process in Taiwan with a range of tools that have included firing missiles across the Taiwan Strait in an effort to intimidate Taiwanese voters in 1995-1996, as well as cyberattacks in subsequent elections. Over the past two decades, the CCP's efforts to influence the political process within Taiwan have become noticeably more subtle and sophisticated, but no less destabilizing. A series of investigative reports and declassified government disclosures in recent years confirmed that the CCP is engaging in political warfare as part of a broader influence campaign against Taiwan – all with the goal to manipulate the island democracy in ways that will have implications well beyond Taiwan.
Political Warfare With Chinese Characteristics
Political warfare is a set of overt and covert non-kinetic tools that are used by one government to influence another's policy calculus. These tools can also influence members of the target society's perceptions, beliefs, and behaviors. Beijing's growing influence and the means of its influence in Taiwan have long troubled some national security experts on the island.
The CCP is increasingly employing both military and non-military tools to influence foreign governments and societies to achieve party objectives. Chinese pressure and coercive tactics for political purposes involve the use of a full range of instruments: diplomatic, economic, and even military. The toolkit now includes the use of "sharp power" that utilizes propaganda, disinformation, and other information operations to undermine democratic institutions and exploit cultural institutions to affect political activities in ways favorable to the interests of preserving the absolute authority of the Chinese party-state.
These types of "malign influence operations" are both overt and covert, and also coercive or corrupt. While it is a fact that all governments engage in some form of influence operations, what distinguishes China is the nature of the regime and the specific types of malign behaviors.