Making the Most of US-ASEAN Ties, Even Without the Vegas Summit
To regain its advantage in Southeast Asia, Washington must redefine the terms of competition.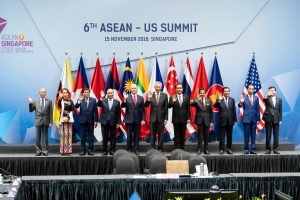 In an unfortunate turn of events linked to growing fears of a pandemic, the Trump administration has wisely decided to postpone a special summit with all 10 member states of the Association of Southeast Asian Nations (ASEAN), which was scheduled to take place on March 14 in Las Vegas, Nevada.
"As the international community works together to defeat the novel coronavirus, the United States, in consultation with ASEAN partners, has made the difficult decision to postpone the ASEAN leaders meeting previously scheduled for mid-March. The United States values our relationships with the nations of this critical region, and looks forward to future meetings," a senior administration official told reporters.
The planned Las Vegas summit was largely seen as an effort to make up for President Donald Trump's absence at both ASEAN's 2018 and 2019 summits, which entrenched suspicions of U.S. unreliability. The president sent to the 2019 summit the lowest level of U.S. representation since 2011, embarrassing host Thailand, a traditional U.S ally. The United States then invited diplomats from all 10 ASEAN member states to meet later in the summit, but most snubbed Washington. Only officials from Thailand, Laos, and Vietnam showed up.
Some observers, citing last year's awkward diplomacy and the Trump administration's general diplomatic retrenchment, have declared the end of decades-long U.S. hegemony in Southeast Asia, with China the new dominant power. But the United States, due to extant pro-American sentiment in the region – and rising skepticism of China – still clearly retains pole position in the race to "win over" Southeast Asia. If Washington is to do so, however, its need to step up, reform, and redefine American strategy.
A recent survey by the Singapore-based ISEAS-Yusof Ishak Institute saw an overwhelming majority of Southeast Asian elites characterize China as the most influential country in the region. But most agreed that under Trump, the United States has been less engaged in their region. This lacking engagement has motivated Southeast Asian governments to look elsewhere, namely to Beijing, for both political and economic support. All 10 ASEAN members have signed on to China's Belt and Road Initiative (BRI); Chinese investment and political influence alike have flowed rapidly into the region in recent years.
Yet Beijing has provoked regional backlash from its territorial assertiveness and concerns of debt traps linked to unsavory investment projects.
No issue looms larger over China-ASEAN relations than China's unilateral declaration of sovereignty over more than 80 percent of the South China Sea. During a 2016 meeting, Chinese diplomats, without any prior consultation, handed ASEAN member state diplomats a "consensus" paper addressing contentious issues including territorial disputes in the Sea, asking them to sign it. This gambit provoked visible anger from some of those with their own claims to the South China Sea, including the Philippine, Vietnamese, and Malaysian delegations. "The Chinese over-reached and backfired," said one diplomat who attended the meeting. "There is a nicer way to say these things but instead their message was 'We're right and you're wrong." China's aggressiveness in this realm continues to provoke backlash. In 2019, a former senior official in the Vietnamese foreign ministry accused China of "intimidation and coercion," even questioning whether Hanoi and Beijing could ever negotiate claims to the area in "good faith." The United States, on the other hand, remains interested in ensuring freedom of navigation in the sea, and continues to support its partners' pursuit of a stable maritime commons.
China's unbecoming bluntness is evident elsewhere in its diplomatic efforts, partially explaining why the U.S. remains preferable to many in Southeast Asia. "It's not just the [South China Sea] claim that's caused angst," writes James M. Dorsey. "It's what it says about the caliber of Beijing's strategic judgement and how China will behave as it becomes militarily and economically stronger."
The 2020 ISEAS survey illustrates the depth of regional concern about China and yearning for U.S. engagement. Seventy-one and 85 percent said they were worried about China's economic and strategic influence, respectively. Seventy and 52 percent, on the other hand, said they welcomed U.S. economic and strategic influence, respectively. These numbers jive with previous polling, which has shown a long-running and general predilection for America throughout Asia. Some Southeast Asian countries are even more wary of Beijing: In 2014, 93 and 84 percent of Filipinos and Vietnamese, respectively, said they were concerned that territorial disputes between China and its neighbors would lead to a military conflict.
While Southeast Asia retains a reservoir of goodwill for Washington, the Trump administration's limited engagement is damaging American influence there, pushing countries further into China's orbit. Remarkably, according to that ISEAS report, 60 percent of respondents who were skeptical of the United States said their confidence in Washington would increase if Trump was no longer president. Those numbers were particularly high in Indonesia, Malaysia, Brunei, and Singapore –– countries with most of the region's Muslims, who seem to have most bristled at Trump's anti-Muslim rhetoric.
The White House and Secretary of State Mike Pompeo have also unwisely implied the choice between the United States and China to be binary. The administration's Free and Open Indo-Pacific (FOIP) strategy singles out China for leveraging "predatory economics" to coerce countries into joining its fold, but the U.S. does not offer any alternative plan for infrastructural and other investment. Southeast Asian leaders continue to reject this implied either-or decision, preferring to maintain relations with both the United States and China. But Southeast Asians are concerned that their governments will have to respond to such a forced choice by relying more on China, the predictable option.
"We cannot afford to build these very expensive railway lines," said Malaysia's Mahathir in late 2019. "Whether we like it or not, we have to go to the Chinese."
Even reliable U.S. partners like Vietnam maintain close relations with Beijing. Telling Southeast Asian nations to choose between China, the nearby and practical option, and the increasingly diplomatically distant United States, is a self-defeating move by Washington, particularly given its inability to yet articulate a plan that is more attractive to the region's leaders than the BRI.
The Trump administration would be wise to adopt a strategy that appeals to Southeast Asian partners wary of alienating Beijing. First, Washington should avoid creating rival blocs in Southeast Asia by forcing regional partners to support the Trump administration's attempts to contain China. If the administration wants regional partners to lean toward Washington and support its FOIP vision, it must appeal to them on their own terms rather than prodding them to line up in an anti-China coalition.
Second, the United States – even with the support of regional partners such as Japan – cannot realistically hope to outbid China's BRI. Washington needs to instead offer a viable multilateral economic vision for the region in lieu of the Trump administration's withdrawal from the Trans-Pacific Partnership trade deal. Coordinating with allies such as Japan and Australia on regional infrastructure investment is one promising venture. Washington also provides economic assistance to developing countries such as Cambodia and Myanmar in ways that bolster U.S. interests without reinforcing authoritarianism (a concern across most of Southeast Asia) or requiring sidelined ties with China. The United States should continue to provide aid to sectors such as agriculture, healthcare, and education, which are not directly controlled by autocrats and will most positively affect citizens, while also coordinating with regional partners to implement infrastructure development based on transparency and high environmental standards, both of which the BRI lacks. The goal, therefore, should not be to directly confront the BRI, but to develop a compelling alternative to it "and then re-engage China from a position of strength."
Third, Washington needs to invest considerably more energy in diplomacy, in particular in face-to-face meetings with regional partners. Where possible, U.S. presidents should avoid skipping important Southeast Asian summits, as Trump did in 2018 and 2019 (while in 2017, he attended the U.S.-ASEAN Summit but declined to stick around for the East Asia Summit immediately afterwards).The administration must also fill empty diplomatic positions and increase America's presence in Southeast Asia. Trump's summer 2019 installment of Patrick Murphy, a seasoned career diplomat, as ambassador to Cambodia is a strong start, and one that telegraphs Washington's interest to Phnom Penh. Statements from the White House about Cambodia help that effort. It's inexcusable, though, that U.S. ambassadorships to ASEAN, the Philippines, and Singapore remain without nominees, while Trump's nominee for the Indonesian post has yet to be confirmed. China, of course, has ambassadors in each of those posts, physically augmenting its diplomatic edge over the U.S. in the region.
The most recent ISEAS poll indeed shows that China is rapidly gaining on U.S. preponderance, economic, and strategic dominance in Southeast Asia. And yet, despite the Trump administration's blunders and attention deficit with regard to ASEAN, the United States remains the partner of choice for many regional elites, in large part due to China's aggressive territorial claims, among other issues. With this concerted strategy to rebuild American credibility, Southeast Asia is still Washington's to lose, and Chinese hegemony is far from a pre-ordained outcome.
But the Trump administration needs to quickly and clearly abandon Manichean language of "us-versus-them" and instead engage Southeast Asia on its own terms, and in ways that allow regional states the flexibility to stand up to China – even as they engage in trade and diplomacy with the fast-growing superpower.
*Editor's note: This article has been updated to reflect the postponement of the March 14 Las Vegas summit.
Charles Dunst is an associate at LSE IDEAS, the London School of Economics' foreign policy think tank, and a journalist who has reported from Southeast Asia for The New York Times, The Atlantic, the Los Angeles Times, and Foreign Policy.
Hunter Marston is a PhD candidate at Australian National University, and his work on Southeast Asia has appeared in The New York Times, The Washington Post, Foreign Affairs, and Foreign Policy.