A Look Back at 2019 in Central Asia
How did I do on my outlook for Central Asia 2019?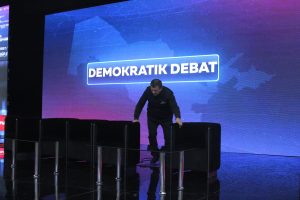 Every January, The Diplomat Magazine — which I manage — runs a full-cast cover with a dozen authors looking into the coming year and offering our readers some guidance. It's not prognostication; we don't pretend to be able to predict the future. It is, however, an exercise in attention and expectation. Being a big fan of accountability, I've looked over my own 2019 outlook and outlined below a self-assessment. Take a look at the upcoming magazine for my thoughts on 2020.
Asked to present three things to watch for in 2019 in Central Asia, I urged our readers to watch closely the reforms in Uzbekistan, power positioning in Kazakhstan and Tajikistan, and keep an eye on regional responses to the happenings in Xinjiang.
Uzbekistan remained a top story throughout 2019, with "reform" the ongoing theme. Entering its third year since the death of Islam Karimov, I wrote that "Uzbekistan ought to start yielding some of the fruits of that labor or such reform efforts may roll backward, with old ways reasserting themselves in the face of the failure of new initiatives." Three years is time enough to begin well-meaning initiatives but perhaps not enough to see results, thus the risk of reversal. What's important is that critical economic reforms have begun, even without striking immediate success. The ability to stay the course on tough reforms, pushing through administrative fatigue and past slow results remains critical. Uzbekistan has largely stayed the course on that front. On human rights and political reforms, there has been mixed progress. The cotton harvest this year was remarkable for the cooperation between government and civil society and rights organizations monitoring for forced labor, though the issue remains. The recent parliamentary elections preemptively underwhelmed — given that no new, independent parties were in the running — and there were no surprises at the polls. The real challenge lies ahead: Can Uzbekistan's new parliament break from its history as a rubberstamp body?
I didn't expect Kazakhstan's President Nursultan Nazarbayev to resign in March 2019, but I did urge our readers to keep an eye on him: "If a managed transition is preferable to the powers that be, 2019 will be the year to watch for further clues of how each state [Kazakhstan and Tajikistan] plans to prepare." Kazakhstan opted for managed transition; Tajikistan looks set for either a continuation of Emomali Rahmon's tenure — he's now the longest serving leader in the former Soviet Union — or an attempted dynastic transition in the planned 2020 presidential elections. Rustam Emomali continued to appear at his father's side throughout 2019. Critically, in early December 2019 Rustam — the mayor of Dushanbe — traveled to Tashkent and met with the Uzbek president. Since 2015, the Tajik government has wiped the political board clear of any hints of opposition. If Rustam runs, Rustam will win; if Rahmon runs, Rahmon will win. 2019 reinforced the conclusion that managed transitions are preferred by current leaderships, but also exposed the reality that they may not be so palatable to the public.
The states of Central Asia have remained worse than silent on the situation in Xinjiang. In Kazakhstan, Serikzhan Bilash discovered the answer to the question I'd posed in my 2019 outlook: "How loud can these groups become before they either make Astana or Bishkek nervous, or Beijing irritated enough by the noise to lean on Kazakhstan and Kyrgyzstan to put a lid on it?" While Bilash's group — Atajurt — continues its work, it split into a tiny, registered ghost organization on one side and the bulk of its volunteers, still operating unregistered, on the other. Bilash's detention ended with a settlement with the government: Freedom in exchange for staying quiet. In both Kazakhstan and Kyrgyzstan, the governments have stuck to Beijing's narrative: Xinjiang is an internal matter. My parting line remains true (except Kazakhstan's capital isn't named Astana anymore): "There's no easy balance to be maintained here: Astana and Bishkek don't have meaningful leverage over Beijing and Beijing doesn't necessarily care who protests through the streets of Almaty or in Ala-Too Square."
I may not be Nostradamus of the Steppe, but not too shabby. If you're interested in my outlook for 2020, check out the January magazine, due out in the next few days.