After a Smooth Election, Real Challenges Still Ahead for Uzbekistan
Some voters in Tashkent have high hopes while others are more cynical that the flashy election will result in a new kind of politics.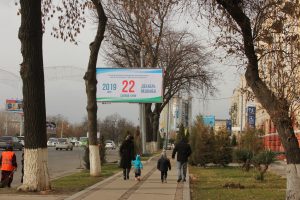 TASHKENT — A vegetable seller in Chorsu Bazaar, the iconic blue-domed market in Tashkent, shrugged and said he wasn't going to vote in the parliamentary elections the Uzbek government have branded with the tagline "New Uzbekistan-New Elections" — as it wasn't compulsory. A man selling spices and tea said he couldn't because he had to work all day. 
On Sunday, December 22, the bazaar was buzzing with activity. The morning's snow flurries were dissipating quickly, but a chill hung in the air. 
Three days earlier, scorching lights lit up the stage at Zarafshon Concert Hall as the leaders of the five parties contesting Uzbekistan's parliamentary polls entered the room. The audience on the floor was seated by party, decked out in color-coded gear and breaking into chants and applause as their candidates walked in. In timed responses, a clock ticked down the final seconds, punctuated by a game-showesque gong and flashing red lights when a speaker's time was up. In the balcony, observers looked down on the spectacle and press waited for their turn to lob questions down to the candidates. 
"The election campaign was only on TV," Serik, a pensioner, told The Diplomat on election day. Sitting in his apartment not far from a polling station, Serik and his wife both said they'd voted for the Liberal Democratic Party (O'zLiDeP), considered the presidential party.
But Serik didn't see much distinction between the parties. "We have five parties, but in fact it's like one party divided into five pieces," he said.
"It's going to take some time — 10, 50 or maybe up to 100 years — for a real democratic parliament with opposition in it."
The election for deputies to sit in the Legislative Chamber of the Uzbek parliament, the Oliy Majlis, lacked new parties, opposition, or independent candidates. 
Some Uzbek officials cited the Ecological Movement of Uzbekistan (EMU) as a "new" party — a distinction without difference given the fact that the movement (now recast as a "green" political party) was allotted 15 seats automatically in the 2014 parliamentary election. The other four parties — the Liberal Democratic Party (O'zLiDeP), the Democratic Party of Uzbekistan or Milliy Tiklanish, the People's Democratic Party, and the Social Democratic Party or Adolat — were all represented in the previous parliament.
Earlier, in the bazaar, the vegetable merchant and the spice seller both had no expectations for the election or the parliament. The spice seller commented, "all we need is peace." That sentiment arose repeatedly, bringing with it the ghost of Islam Karimov, Uzbekistan's first president, who justified his strong-arm governing style with the justification that he did what was needed to maintain peace and stability in the country.
The principal of a school hosting a polling station, Ella, said "the main thing we need is peace." She then scolded a woman who had brought three passports to vote for her family members, chiding her with the statement "one person, one vote."
But others set their sights beyond "peace" – mentioning the need for the government to invest in education, for example by building more schools, and economic initiatives, like creating jobs and making loans easier to get – when asked what they expected of the new parliament.
Sobit, a part-time tile layer, said he intended to vote for the People's Democratic Party because he liked their platform but said it was difficult to expect anything from parliament, "because we still have corruption. Things are not very open. What they show on TV is one thing, but in reality it can be different." 
Sobit said he'd like to see the parliament tackle corruption, "but in practice we don't see that much."
Some The Diplomat spoke with were more hopeful that the time was ripe, now, for change. 
Bakhadir, from Karakalpakstan, was visiting Tashkent on December 22 from Almaty where he has lived for a decade and works as a business consultant.
"I have high expectations from them," he said.
One of Bakhadir's former business school classmates, who stayed in Tashkent after graduation and had previously shown no political ambitions, was running. Asked why, Bakhadir said his friend replied, "because I want change… Now is the time that we need to drive change, that people like me need to drive change."
Agreeing with his former classmate, Bakhadir commented that "in order for change to happen, we need fresh minds."
The party lists were refreshed for the campaign, with a greater proportion of women — 41 percent — and overall younger, on average. In total, 750 candidates were registered, with six withdrawing before election day. But the selection of candidates was an opaque process and a number of Uzbeks complained to The Diplomat that they did not know the candidates and had none, or very few, opportunities to engage with them. Most seemed unclear on what parliament even does or can do.
Kamola, a seller at Chorsu Bazaar, said she'd watched some of the debates and that the five parties had dispatched representatives to hold a single meeting in her community.
"One candidate promised to build a mosque in the neighborhood if they vote for him," she said.
Serik, the pensioner, also mentioned a meeting in his community but complained that not everyone was invited to attend. He also warned against the allure of promises.
Previous MPs, he said, had promised to set up a traffic light near his home along a straight and dangerous road bisected by a pedestrian crossing. Despite two deaths at the crossing, there is still no traffic light.
"They always make promises. But it will be another five years' time, there will be more casualties but no traffic lights."
Election day, which had begun with the opening of polls at 8 a.m., ended 12 hours later, long after the sun had set. At the Legislative Chamber's international press center — where a screen displayed running turnout tallies throughout the day — Mirza-Ulugbek Abdusalomov, the chairman of the central election commission, hailed an "open" and "transparent" election. The preliminary turnout hit 71.1 percent, Abdusalomov said, standing as an expression of people's support for the country's reform efforts.
Tursunboy, a boisterous meat hawker inside Chorsu's blue dome, told The Diplomat, "The only thing we want is more progress, more development."
As the new parliament — which will be revealed in preliminary results on Monday afternoon — gets to work, skeptics and supporters alike will be watching whether it can manage to take up legislative tasks independently, without any opposition or independent voices. Many more will have eyes on the next election, not for the parliament but for the presidency: 2021 isn't so far away and Uzbekistan's democracy has a lot of maturing to do.