Britain's Kashmir Conundrum: Poetic Justice?
The Kashmir question – a legacy of British imperialism — is dividing Britain's electorate ahead of crucial elections.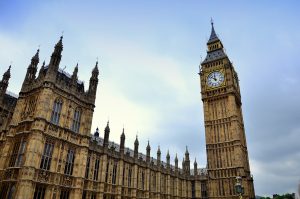 Tensions between India and Pakistan have skyrocketed over India's decision to revoke Article 370 in Jammu and Kashmir in August and the ensuing lockdown in the region. India's controversial move, intended to usher peace and development in a region long plagued with extremism and unrest, has evoked extreme reactions within Pakistan. With Brexit-hit Britain's third general election since the beginning of 2015 approaching, the divisions of the subcontinent on the issue of Kashmir have found their way into British domestic politics.
Britain is home to almost 1.5 million people of Indian origin, and almost 1.1 million people of Pakistani origin, of which 1 million hail from the Mirpur region in Pakistan-controlled Kashmir.
In the backdrop of India's Kashmir clampdown, Britain's opposition Labor Party passed an emergency resolution in September, which stated that Kashmir is a disputed territory with a humanitarian crisis, sought the entry of international observers into the region, and demanded the right to self-determination for Kashmir's people. This has naturally not been well received in India, which has sought to avoid internationalization of the Kashmir issue, reiterating that it is an India-Pakistan bilateral matter. Labor has defended its stance, saying that the resolution's focus is on human rights and is not anti-India in any way.
Labor's resolution on the Kashmir issue has angered parts of the Indian diaspora community for its perceived "ill-conceived and misinformed" interference into what they believe is India's internal political matter. Labor's lack of condemnation of violent pro-Pakistan protests that damaged the Indian High Commission in London and injured several Indian protestors, including women, and similar protests held on the sacred occasion of Diwali hasn't helped matters. Parts of the Indian diaspora have thus embarked on a vigorous mobilization campaign to urge Indians to not vote for Labor and instead vote for the Conservatives. Although traditionally most of the South Asian diaspora has voted Labor, a steady shift has already occurred in recent years with many British Indian Hindus voting for the Conservatives.
Over 100 British Indian diaspora outfits including Indian Professionals Forum (IPF), Indian National Students Association (INSA), and Hindu Council UK signed a letter addressed to Jeremy Corbyn, head of the Labor Party, expressing their disapproval on the resolution. This isn't the first time that Indian diaspora organizations, including temples that have been registered as charities and are traditionally not supposed to engage in party political activity, have attempted to influence British elections. But Manoj Ladwa, CEO of UK-based media house India Inc and former chair of Labor's Indian Community Engagement Forum, argues that the scale of what is currently happening is huge and unprecedented.
At the forefront of this effort to mobilize the Indian diaspora against Labor is the Overseas Friends of Bharatiya Janata Party organization (OFBJP), led by its President Shekhawat. The OFBJP — a foreign advocacy group to connect overseas Indians with the BJP in India — was founded in 1992, has around 40 global chapters, and is known for its important role in the BJP's 2014 and 2019 Indian electoral victories. Its aim is to target the 40-48 marginal seats and swing votes in the UK in the Conservative party's favor, hoping to eventually swing the overall election result.
These groups are using a multipronged strategy of social media messaging through WhatsApp and Twitter as well as outreach to the Indian community through temples, Gurdwaras and other community organizations. Social media messages referring to Labor as anti-Hindu, anti-India, and a mouthpiece of the Pakistani government and labelling those intending to vote for Labor as "traitors to their ancestral land and cultural heritage" have been doing the rounds.
The Kashmiri and wider Pakistani diaspora is using social media strategies too to influence voters to vote for Labor based on its Kashmir stance. Birmingham-based organization Tehreek-e-Kashmir's President Raja Fahim Kayani feels the Kashmir issue will be key to Pakistani origin voters.
Still, the pressure from Indian diaspora groups appears to have been effective. In a sharp U-turn, the Labor Party, simultaneously struggling with allegations of anti-Semitism, has attempted to dilute its perceived criticism of India and backtracked from its stance.
Given how Indian Prime Minster Narendra Modi, in a play on his own 2014 campaign slogan, coined the phrase "Ab ki baar, Trump sarkar" (This time, a Trump government) in a tacit appeal to Indian-Americans to vote for Trump in next year's American elections, "Ab ki baar, Tory sarkar" doesn't seem far-fetched in the current scenario.
So will Kashmir be central to Britain's South Asian voters whilst casting their ballots?
Foreign policy doesn't typically loom large on voters' minds during elections, with domestic issues usually being the key focus. People in Britain are have diverging opinions on whether Kashmir could impact the South Asian community's political choices in Britain.
According to the Joseph Rowntree Foundation, Hindus are important constituents because they are most likely among South Asian religious groups to vote. But Sunder Katwala, director of the think tank British Future, states that issues facing the subcontinent have often made their way into British politics but haven't traditionally had an impact on elections. Others believe that wider issues facing Britain — such as Brexit, the economy, healthcare, education, taxation, and immigration — are much more likely to be important than ones 4,000 miles away, including Kashmir.
The Guardian notes that Britain's constituencies are mostly mixed, with no single ethnic minority being a majority. Also, large numbers of the Indian diaspora come from East Africa, and for them Kashmir most likely won't loom large. Besides, the assumption that ethnic or religious identity matters more than other factors and can be consolidated as an electorate, what in India is referred to as "vote bank politics," may not hold true for many British Indian voters. Moreover, the Indian diaspora, just like India itself, is diverse, comprising 44 percent Hindu, 22 percent Sikh and 11 or 12 percent other religions. The Indian diaspora isn't monolithic, and neither are all the overseas BJP supporters.
However, MPs such as Baker from Wycombe are questioning whether Kashmir is merely a foreign policy issue when thousands of British people have family or friends there who are seriously affected by what is happening. Some Tories have also raised concerns on Kashmir including Prime Minister Boris Johnson himself, who has deemed the situation of "profound concern" to Britain.
What happens in the British elections is anyone's guess. But the irony of the unresolved messes resulting from British colonialism in the subcontinent coming to haunt present-day Britain, along with the arrival of communal rhetoric that is so characteristic of the subcontinent, is unmissable and can best be described as poetic justice.
Shairee Malhotra is a widely published International Relations professional with several years of experience working in the global think tank sphere in India and Europe. She tweets @MalhotraShairee