China Tries to Put Sweden on Ice
Relations between China and Sweden have taken a nosedive with threats, trade restrictions, and the indictment of an ambassador.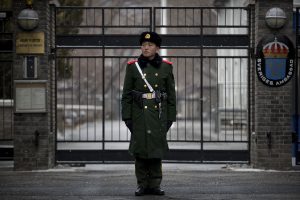 "We treat our friends with fine wine," said the man in black suit from his armchair, adding, "but for our enemies we've got shotguns." This is not a line from the latest blockbuster gangster movie, but a message from China's ambassador to Sweden, speaking directly to Swedish public radio.
The above line is only one of several threats Ambassador Gui Congyou has been busy issuing since Swedish PEN announced in early November that kidnapped Swedish publisher Gui Minhai will receive the Tucholsky Prize — an annual award to writers and publicists living under threat or in exile — this year.
A couple of days later, the Chinese embassy branded the nomination as a farce in a statement on its website, demanding that Swedish PEN withdraw the prize or face consequences. That statement was later taken down and replaced with a much longer and more assertive text on November 14, the day before the award ceremony was to be held. Some people, the ambassador commented, "shouldn't feel at ease" after hurting Chinese interests.
Under the telling headline "Ambassador Gui Congyou Refutes Lies of Swedish Media About the Case of Gui Minhai," the threats were also extended to Swedish authorities. It is tradition for the Swedish minister of culture to attend the award ceremony for the Tucholsky Prize. But if Amanda Lind were to do so this year, the statement warned, China would "surely take countermeasures."
The text on the embassy website was in fact an internal transcription of an interview with the ambassador himself, carried out by Swedish public radio. No sooner had the radio journalist left the diplomatic compound before the embassy published the interview in full. The purpose — issuing the threats on the day before the ceremony — was obvious.
On the eve of the ceremony, Gui also said to Swedish news agency TT that Lind, together with every government representative in the cultural field, would be banned from China if she was seen at the event. For good measure, he added that Prime Minister Stefan Löfven would also not be welcome to China if he attended.
Löfven gave a clear response on the day of the ceremony, stating that his government would "never" give in to this kind of threat. Foreign Minister Ann Linde also pointed out the seriousness of the ambassador's behavior, adding that the Swedish Ministry of Foreign Affairs had conveyed to the Chinese embassy the message that Sweden enjoys freedom of expression.
Trade Restrictions
Hence, Amanda Lind proceeded to hand out the Tucholsky Prize on November 15, under strengthened security at Bonniers Konsthall in central Stockholm. While presenting the award, Lind said that those in power should never take the liberty to attack free artistic expression or free speech.
It was now unclear how China would react. In his earlier radio interview, Gui Congyou denied to specify what consequences he had in mind should Swedish government representatives attend the award ceremony. "You are smart enough to know what I mean by consequences," he told the reporter when pressed on the issue.
The day after the ceremony, the embassy made a new statement on its website, referring to the ceremony as a serious mistake that will create serious difficulties for normal friendly exchanges and cooperation between China and Sweden. But for a couple of weeks nothing seemed to happen, apart from a couple of Swedish movies being banned from screening in China.
Then on December 4, during a seminar in Gothenburg on Sweden-China relations arranged by The Society of International Affairs, Gui Congyou said that no one can harm China's interests and at the same time reap economic benefits in the country. Aside from cultural exchanges, economic and trade relations will now also be affected, Gui emphasized to an audience of some 50 students at Gothenburg University.
After the seminar, Swedish daily Göteborgs-Posten asked the ambassador to clarify the statement. Without offering further details, Gui said that China will impose "restrictions" on economy and trade with Sweden. The ambassador's statement was soon backed up by the Chinese Foreign Ministry in Beijing.
Backlash
Since becoming ambassador to Sweden in the fall of 2017, Gui Congyou has issued dozens of attacks and threats to Swedish media, civil society, and even the Swedish Security Service. But this time around, the direct threats were more serious and were also issued against Swedish ministers.
Apparently, this was a red line for many. Representatives from all of the eight parties in the Swedish parliament reacted strongly, with three parties calling for the ambassador to be declared persona non grata in Sweden. Local politicians also took action. "Bengtsfors municipality must also stand up for freedom of expression," said Göran Eriksson, head of its local government, after cancelling a visit to Bengtsfors by Ambassador Gui Congyou himself.
Lars Vikinge, mayor of Linköping, soon followed suit by cancelling the planned visit of a delegation from Guangzhou and considering ending its status as Linköping's sister city. There are also growing calls that Gothenburg should cancel its sister city agreement with Shanghai. In mid-November Swedish public television also reported how Gui Congyou had been summoned to the offices of the Swedish Ministry of Foreign Affairs no less than 40 times.
Still, the signals from the central government are mixed. Foreign Minister Ann Linde stressed early on the importance for Sweden to maintain a good relationship with China, even if it can't be done at the expense of Swedish sovereignty. After the initial threats in mid-November, she said the expulsion of foreign diplomats "is never a good way," instead underscoring the importance of maintaining dialogue.
Anna Lundbladh, press officer with the Swedish Ministry of Foreign Affairs, also tells The Diplomat that expelling the ambassador is a tool "we want to avoid to the last possible moment." She adds that the Swedish side has been "extremely clear" — both in Sweden and in Beijing — about the severity with which Sweden view the ambassador's comments in relation to the Tucholsky Prize.
The Indicted Ambassador
Ann Linde recently pointed that the bad relationship between Sweden and China is due to one single thing: "The explanation is Gui Minhai." And in in the midst of all this chaos, it was announced in early December that Swedish prosecutors will formally charge Anna Lindstedt, Sweden's former ambassador to China, with arbitrariness during negotiations with a foreign power.
In January this year, Lindstedt arranged a secret meeting between Gui Minhai's daughter Angela Gui and two businessmen who tried to silence her on behalf of the Chinese regime. (I wrote about this meeting in detail for The Diplomat in March this year.)
With the indictment, new details have surfaced on the case of Lindstedt. She assumed the position as Swedish ambassador to China 2016, on a three-year mission that was supposed to end in August 2019. But after less than two years she was asked by Stockholm to vacant her post, according to Swedish Daily Dagens Nyheter.
In interrogations with the Swedish Security Service, Annika Söder, state secretary for foreign affairs from 2014 to December this year, said that Lindstedt "struggled to understand our position" on Gui Minhai, and also had difficulties in the relationship with Angela Gui. On several occasions, Angela Gui had to comfort a sobbing Ambassador Lindstedt rather than the other way around.
Lindstedt initially refused to leave Beijing. She only agreed to do so in November 2018, after being offered a position as Swedish ambassador for Agenda 2030, a United Nations platform for sustainable development. Annika Söder confirmed during interrogations that the position was offered to Lindstedt as a way to "save her face."
Lindstedt was supposed to take up her new position in March this year. But before that, she tricked Angela Gui into coming to Stockholm for the meeting that resulted in the current charges against her.
Jon Åström Gröndahl, director for the consular section of Sweden's Ministry of Foreign Affairs, in interrogations with the Swedish Security Service, expressed his belief that Lindstedt wanted to get "revenge" by solving the Gui Minhai case before her departure. He said Lindstedt was acting without instructions from Stockholm, and "clutching for straws" to prove it was the wrong decision to call her back.
"Reckless Narcissist"
Since the secret meeting was exposed in the beginning of this year, Anna Lindstedt has routinely been described in Swedish media as an intelligent and experienced career diplomat fluent in five languages. Many have expressed surprise as to how Lindstedt, with her outstanding judgment, could be so bluntly deceived.
But several of her colleagues don't agree. Former staff at the Swedish embassy in Beijing, in discussions with The Diplomat, describe Lindstedt differently. "Reckless narcissist" was one description given of the former ambassador, whose aim was to end her career as ambassador to Paris, giving her an incentive to stand out during her stint in Beijing.
According to former embassy staff, it only took a couple of months after Lindstedt's arrival before the work environment plummeted, and the Swedish Ministry of Foreign Affairs sent a delegation to investigate what was going on. By then, Lindstedt was already breaching rules and routines regarding everything from daily operations to the appointment of important positions at the embassy.
Among other things, Lindstedt gave a security classified position at the embassy to Nannan Lundin, a former Chinese citizen who had just recently obtained Swedish citizenship through marriage. According to The Diplomat's sources, this was done without the knowledge of the Swedish Security Service, and Lundin became Lindstedt's "closest ally" as the atmosphere at the embassy deteriorated further.
Editor's note: After this article was published, a Swedish Ministry of Foreign Affairs spokesperson contacted The Diplomat with the following statement: "The appointment of Ms Nannan Lundin as Counselor, Science and Innovation, was made through a formal decision by the Swedish government in April 2018. Ms Nannan Lundin acquired her Swedish citizenship long before she got married. All posted officials at Swedish missions abroad are subject to security clearance before taking up their posts, this also includes Ms Nannan Lundin."
In early December this year, as the indictment was made public, Swedish public television also cited "anonymous and credible sources" delivering fierce criticism against Lindstedt's style of leadership. The report pointed to the result from an internal investigation at the embassy carried out by the Swedish Ministry of Foreign Affairs, calling on the embassy leadership to offer "greater support and guidance" for its employees.
Anna Lindstedt denies any wrongdoing. She even makes Angela Gui a culprit by claiming that the publisher's daughter "understood the situation incorrectly." Lindstedt also maintains that legal action against her would hurt the Swedish Ministry of Foreign Affairs, Sweden's relationship with China, and Sweden's international reputation. The "irreversible damage" prosecution carries would, according to Lindstedt, also aggravate the possibility for Gui Minhai to be released.
Words Turned Into Actions
At any rate, this possibility doesn't seem great at the time being. If anything, the Chinese stance has hardened on Gui Minhai. "There is no such thing as not allowing the Swedish side to make consular visits to Gui Minhai," China's ambassador insisted in the November interview with Swedish radio, suggesting that China had conveyed every request to Gui Minhai, but that he declines to meet anyone from Sweden.
When the reporter asked if he could meet or at least talk to Gui Minhai, the ambassador said he would ask Gui directly, adding that "I believe he will definitely decline." The ambassador then explained how "you" are harming Gui Minhai, while "we" are trying to save him.
In an interview with business daily Dagens Industri on December 19, the ambassador even refuted allegations that Gui Minhai is being denied human rights, because his case "is in no way" a human rights case.
In the same interview, it was also clarified that words have begun to be translated into actions.
Already, earlier the same month, it had been confirmed that a meeting of the China-Sweden Joint Committee on Economic, Industrial, and Technical Cooperation that was scheduled to take place in Stockholm on December 10 was cancelled. Now, Ambassador Gui Congyou told Dagens Industri that two Chinese business delegations had canceled their visits to Sweden.
According to Ambassador Gui, the delegations consisted of trade and investment companies invited by Swedish partners to expand trade and investment. He didn't specify the companies, but pointed out that over 10,000 Swedish companies have trade relations with China, and more than 600 have invested and set up factories in China.
The interview also got the attention of Chinese state tabloid newspaper Global Times. In an article headlined "Sweden must bear consequences of the current severe difficulties in China-Sweden relations: Chinese envoy," Gui was quoted as saying that Sweden must take responsibility for the severe difficulties in China-Sweden relations.
He went on to accuse the Swedish minister of culture of supporting Swedish PEN's interference in China's internal affairs. China-Sweden relations can only get back on the right track if this big mistake is corrected by the erring persons, said Gui Congyou, adding that "the ball is on the court of the Swedish side."
During the Christmas holidays, increased negative reporting on Sweden could be seen in Chinese state media outlets. In particular a travel warning issued by the Chinese embassy in Stockholm just before Christmas was widely reported. The reports included listing cases of gun violence and grenade explosions related to organized crime in Sweden, together with allegations that the authorities are manipulating crime statistics.
So far, assertive messages about Sweden have mainly been conveyed via the Chinese embassy in Stockholm. But over Christmas, the mighty Central Political and Legal Affairs Commission of the Chinese Communist Party also weighed in on the matter, by supporting the ambassador's words in an online statement.
The Norwegian Treatment
The Nobel Committees always inform laureates before their awards are made public. The fact that Swedish PEN did not inform Gui Minhai beforehand — never mind that he is imprisoned — was taken as a proof by Ambassador Gui Congyou that the Tucholsky Prize was handed out with ulterior motives. The comparison is relevant, given the earlier diplomatic row between China and Norway.
After Chinese activist Liu Xiaobo was awarded the Nobel Peace Prize in 2010, diplomatic relations with Norway came to a halt. It was only after Norway's Foreign Minister Børge Brende in December 2016 issued nothing short of an apology, by travelling to Beijing to present a so-called joint statement, that diplomatic and economic relations could start to return to normal again.
But the two cases also carry significant differences. It would be difficult for the Swedish government to issue a similar apology, as the case concerns a Swedish citizen. Backing down like Norway would essentially mean that Sweden resigns from being able to protect its own citizens' rights in China.
Another difference is Sweden's membership in the European Union. The week after Gui Congyou first issued threats on economic and trade restrictions at the seminar in Gothenburg, Foreign Minister Ann Linde talked to Josep Borell, the new European Union minister for foreign affairs, about the rift in China-Sweden relations.
Immediately after Ambassador Gui's threats, Virginie Battu-Henriksson, the European Commission's spokesperson for Foreign Affairs and Security Policy, in a press briefing said the organization was in contact with Swedish authorities and stands in "full solidarity" with Sweden. After talking to Borell, Linde said continued support was given on the issue.
Anna Lundbladh, the press officer at the Swedish Ministry of Foreign Affairs, tells The Diplomat that the ministry doesn't want to elaborate publicly on internal EU discussions. She confirms that discussions in relation to China are taking place, and points out that the EU has had a common and unified China strategy since 2016.
If China is really going to give Sweden the Norwegian treatment, this strategy will no doubt be put to the test very soon.
Jojje Olsson is a journalist and author living in Asia since 2007. He is currently based in Taipei.