F-35A Stealth Fighter Formally Enters Service in South Korea
The Republic of Korea Air Force has declared initial operating capability for its first batch of F-35A fighter jets this week.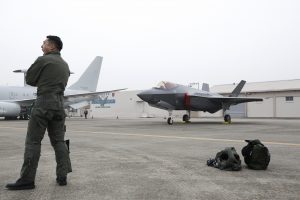 The Republic of Korea Air Force (ROKAF) has declared initial operating capability (IOC) for its expanding fleet of Lockheed Martin F-35A Lightning II fifth-generation stealth fighter jets on December 17, according to local media reports.
An official ceremony marking the formal induction into service of the F-35A was held on December 17 at the 17th Fighter Wing airbase in the South Korean city of Cheongju. According to Yonhap news agency, no press was invited in order to keep the event low key and to not provoke a hostile reaction from North Korea, which has threatened to "destroy" all the F-35As arriving in South Korea earlier this year.
The subdued induction ceremony, which was presided over by ROKAF Chief of Staff General Won In-choul, was criticized by the media and some South Korean lawmakers. "We believe that the asset [F-35A] has been fully publicized through such events as the Armed Forces Day event and the Seoul International Aerospace & Defense Exhibition (in October)," defense ministry spokesperson, Lieutenant Colonel Cho Se-young, was quoted as saying in response during a regular press briefing.
IOC indicates that the F-35A is ready for limited combat deployment following extensive operational testing and evaluation. All ROKAF F-35As in IOC configuration are now capable of flying interdiction, basic close air support, and limited suppression/destruction of enemy air defenses missions. Furthermore, it denotes that the ROKAF has adequately trained pilots, maintainers and support equipment to conduct such missions.
As I explained earlier this month:
The first two F-35As arrived in South Korea in March of this year. To date, a total of 12 F-35As have been delivered to the ROKAF with one more aircraft expected to be handed over by the end of this month. 26 F-35As are scheduled to arrive in South Korea by the end of 2020. The ROKAF's new F-35A fleet will reportedly be stationed at Cheongju airbase.

South Korea and the United States concluded an agreement for 40 F-35As under the U.S. Department of Defense's Foreign Military Sales (FMS) program in 2014. All 40 aircraft are expected to be delivered to the ROKAF by 2022 under the so-called F-X3 program. 
South Korea's Defense Acquisition Program Administration (DAPA) announced in October that an additional 20 more F-35As will be procured in the new decade beginning in 2021. The defense ministry has reportedly earmarked $3.4 billion for the second phase of the F-X3 program.
North Korea considers the F-35A a "strategic asset" that can be used for first strike missions against sensitive North Korean military targets. The F-35A induction into service comes at a critical time as tensions on the peninsula run high over concerns that Pyongyang could undertake a major weapons test in the coming days.