Abe Shinzo's Legacy in Japan-Europe Relations
Mainstreaming Europe in Japan's foreign policy.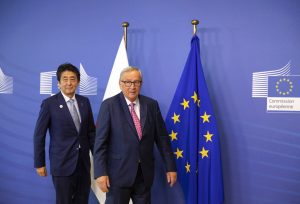 Strengthening strategic partnerships with Europe can be seen as one of the most tangible  achievements of Prime Minister Abe Shinzo's foreign policy. As the longest-serving prime minister (2012-2020) committed to foreign and security policy, Abe's agenda was always full, ranging from the alliance with the U.S. to managing relations with China.
Yet Abe understood the importance of Europe for Japan and, most crucially, what he tried to do, and more or less succeeded in doing, was to mainstream relations with Europe within Japan's overall foreign policy. In the past, relations with Europe were often seen as somehow detached from Japan's vital national interest. Abe, instead, tried to get Europe on board in addressing regional and global issues vital for Japan.
In Europe, there was initially a strong skepticism about Abe, with fears that he was a dangerous nationalist embracing historical revisionism. More recently, however, this criticism had largely disappeared and Abe had come to be seen positively as a guardian of stability, free trade and multilateralism in light of the rise of populism in many European countries, Brexit and the arrival of the Trump administration.
One of the most significant achievements in Japan-EU cooperation was the conclusion of two agreements: the Economic Partnership Agreement (EPA) and the Strategic Partnership Agreement (SPA).
The importance of the Japan-EU partnership increased amid growing challenges to the rules-based international order. Not only have challenges from China and Russia become more severe, but the fact that the United States under President Donald Trump seemed to have retreated from the central stage of international leadership added further strains to the rules-based international order and the very idea of multilateral cooperation. The Trump administration's rhetoric and actions, including "tariff wars" and its decision to withdraw from the Trans-Pacific Partnership (TPP), questioned the virtue of free trade. Expectations and responsibilities of Japan and Europe, as a result, have grown. The Japan-EU EPA thus delivered a strong strategic message to the world that the principles of free trade were still alive.
The lesser known SPA provides a foundation for broader cooperation between Japan and the EU based on shared values and principles. The latest example in this regard includes a Japan-EU connectivity partnership, which Abe's close relationship with the then President of the European Commission Jean-Claude Juncker helped launch in September 2019. Abe's speech at the Connectivity Forum that Juncker hosted in Brussels was arguably the most personal and passionate call for Japan-Europe cooperation ever given by a Japanese prime minister.
For Brussels, the connectivity partnership with Tokyo is firmly part of the EU's connectivity strategy of bridging Europe and Asia. Japan became its first partner. For Tokyo, the new partnership with the EU is expected to reinforce the vision of free and open Indo-Pacific (FOIP), Abe's flagship foreign policy initiative. While Brussels and Tokyo carefully avoided focusing too much on China, their strategic message they wanted to send was abundantly clear. It was in essence an effort to counter China's Belt and Road Initiative. Following the successful launch of the partnership, the challenge now is to start a first set of joint projects – turning the concept into a reality.
Abe developed an interest in NATO during his first tenure as prime minister in 2006-07. In January 2007, he became the first Japanese prime minister to visit NATO HQ, a visit that marked the start of Japan-NATO cooperation. For Abe, NATO was a venue to discuss regional and global security issues and a mechanism for practical cooperation in cyber defense, maritime security, technology and missile defense, for instance by enhancing interoperability and standardization. Joint training and exercises between the Japanese Self-Defense Forces and NATO militaries are also becoming more common.
Bilateral cooperation, particularly security and defense ties with European countries also developed under Abe. High-level policy consultation, most notably the "2+2" – bringing together foreign and defense ministers – defense technology and equipment cooperation, joint military training and intelligence cooperation are now established as new pillars of bilateral cooperation with the U.K. and France. Relations with Germany have also been strengthening. The fact that Abe was in power for a substantial period of time allowed him to reach out beyond those major countries; particularly notable were cooperation with the V4 (Visegrad 4 countries: the Czech Republic, Hungary, Poland and Slovakia) and the first-ever visit to such European countries as Lithuania, Bulgaria and Romania by a Japanese prime minister.
One thing Abe neither wanted nor expected was Brexit. Tokyo was stunned by the result of the British referendum in June 2016, which led to the government's uncharacteristically undiplomatic message to the U.K. and the EU in September that same year. Throughout the process, Tokyo wanted to control uncertainty and ensure a smooth transition. Though it took some time to come to terms with the reality of Brexit, Abe reiterated Tokyo's commitment to develop bilateral relations with Britain, including through a Japan-U.K. FTA, and embraced the vision of "global Britain."
Whether Abe's efforts to mainstream Europe within Japan's foreign policy will be maintained under his successor remains to be seen. One structural factor making the continuation possible is the increasing connectivity between Asia and Europe, which is set to continue. At the same time, however, in light of the ever worsening security environment surrounding Japan, there will be more calls for Tokyo to concentrate its foreign policy and security resources on the most immediate set of threats and challenges, namely North Korea and the East China Sea. This is a battle between the "global Japan" and "Japan first" camps. For the latter camp, reaching out to Europe looks a waste of resources. The direction of this debate and the balance of power between the two camps will shape the future of Japan-Europe relations after Abe.
The ultimate verdict on Abe's efforts to strengthen the Japan-Europe partnership will come if Trump is re-elected in November 2020 and pursues an "America first" foreign policy with even greater zeal. Then we will discover whether the Japan-Europe partnership is sufficiently robust to uphold the rules-based international order.
Michito Tsuruoka is an associate professor at Keio University.