North Korea Announces 'Crucial' Test at Sohae, Says Will Benefit 'Strategic Nuclear Deterrent'
The test was announced by the Academy of National Defense Science.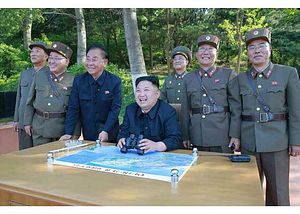 North Korea's Academy of National Defense Science, in a statement, said that a "crucial" test had been carried out on December 13 at the Sohae Satellite Launching Ground on the country's west coast. The test followed a similar one described as "very important" carried out on December 7.
"Another crucial test was successfully conducted at the Sohae Satellite Launching Ground from 22:41 to 22:48 on December 13, 2019," the statement noted. The seven-minute duration of the test suggests a possible static engine test, or other test involving an engine for a satellite launch vehicle or ballistic missile. North Korea maintains a large test stand for liquid propellant engines at its Sohae site, which has also been used to launch all of the country's space launch vehicles in the Kim Jong Un era.
"Our defence scientists were greatly honored to receive warm congratulations from the Central Committee of the Workers' Party of Korea on the spot," the Academy of National Defense Science statement noted, without specifying which Central Committee members were present.
"The research successes being registered by us in defence science one after another recently will be applied to further bolstering up the reliable strategic nuclear deterrent of the Democratic People's Republic of Korea," the statement added, in one of the most direct references to North Korea's nuclear arsenal since the start of inter-Korean and U.S.-North Korea diplomacy in early 2018.
The test comes a little more than two weeks before North Korean leader Kim Jong Un's end-of-year deadline for diplomacy with the United States. In April, nearly two months after the failed summit with U.S. President Donald J. Trump in Hanoi, Vietnam, Kim said that the United States should take a "bold decision" by the end of the year.
More recently, a senior North Korean official said that the United States would receive a "Christmas gift," hinting at a potential capability demonstration, including possibly a long-range ballistic missile test. In April 2018, Kim had declared a unilateral moratorium  on the testing of intercontinental-range ballistic missiles and nuclear weapons.
North Korea has conducted at least 25 missile tests this year. With the exception of the Pukguksong-3 submarine-launched ballistic missile, which was tested in early October, all other launches have involved short-range systems, including two different multiple launch rocket systems.
North Korea's latest test preceded a visit to South Korea by U.S. Special Envoy on North Korea Stephen E. Biegun. South Korean press reports had speculated that Biegun would seek to reach out to his North Korean counterparts, but there are no public indicators that U.S.-North Korea talks are likely to resume soon.
Biegun last participated in a failed round of working-level talks in Stockholm, Sweden, in October.