What Was Behind North Korea's Busy March 2020 Missile Launches?
Why did Pyongyang suddenly undertake a spate of missile launches?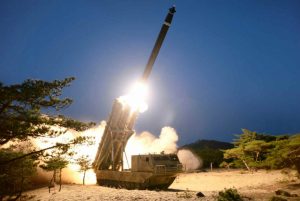 March 2020 was truly a remarkable month for North Korea in terms of its missile activity. Stated one way, March marked the busiest single month for missile launches in the country's history. Most of the test missiles, however, were of short ranges, and not — at least as stated by North Korean state media — intended for an explicit nuclear role (North Korea calls most of these systems "tactical" weapons).
To put it all in perspective, here are the launches — nine in total over four separate events.
First, on March 2, two KN25 close-range ballistic missiles were launched from Sangum-ri in Kangwon province. The launches marked the first since November 2019 and the first since North Korea had locked itself down amid concerns of the novel coronavirus disease epidemic that had begun in China, describing the disease as a threat to its "national survival."
Second, on March 8, three KN25 missiles were launched from Sondok in South Hamgyong province. These tests were both accompanied by other smaller caliber artillery and multiple launch rocket system (MLRS) launches.
On March 20, another round of launches took place, this time of the KN24 short-range ballistic missile, which bears external resemblance — at least in its launcher and its shape — to the U.S. Army's MGM-140 Army Tactical Missile System (ATACMS). The missiles were fired at an island off North Korea's east coast from Sunchon in North Pyongan province.
The final test in March came on the 28th, with two final KN25s launched from the Hodo Peninsula near the coastal city of Wonsan. These missiles were launched into the East Sea, with state media imagery showcasing once again strikes on an island target.
What explains this rapid pace of launches?
First, with the exception of the KN24 launch, the KN25 system appears to be undergoing a period of rapid operational testing as opposed to developmental testing. North Korea, in other words, is getting ground crews used to operating these systems through events that might be described as military exercises rather than "tests."
Second, in the Kim Jong Un era more broadly — and even under Kim's father — March marked a busy month for stepped up military activities, including missile testing. Normally, this would have been North Korea's chance to stage a tit-for-tat as the United States and South Korea kicked off their springtime exercises (formerly, Key Resolve and Foal Eagle). This time, the exercises went on without a counterpart south of the demilitarized zone, but the timing itself wasn't unusual.
Third, and a new variable this year, the rapid spate of launches may have been designed to ameliorate the morale of the Korean People's Army (KPA) amid the coronavirus crisis. In recent comments to the media, General Robert F. Abrams, the commander of United States Forces Korea, remarked that in January and February the North Korean military had "fundamentally been on lockdown for about 30 days."
For a force like the KPA, used to regular exercises, such a pause is highly unusual and may have required a period of intense exercising afterwards — once authorities had either deemed COVID-19 to be contained or the risk of exercises to be acceptable. Not only did the missile events above take place, but Kim Jong Un, the North Korean leader, also oversaw two artillery competitions.
The purpose of increasing morale may also have much to do with the December 2019 message that Kim had delivered to senior party members at the Fifth Plenum of the 7th Central Committee of the ruling Workers' Party, where he emphasized the importance of self-reliant national defense and laid down a hard line, which included a path away from negotiations with the United States.
Going forward, we might expect Pyongyang to keep its momentum going — especially as COVID-19 grows worse in the United States. Remarkably, for what appears to be the first time, North Korean state television broadcast a White House press briefing on COVID-19 — presumably to underscore that even the United States was struggling with the virus. If Pyongyang seeks to draw a contrast in the coming weeks and months, it might find that continuing its military activities as if all is well fits the bill — even if that may be far from the case in reality.