Russia-China: What's a Little IP Theft Between Friends?
Is there enough space in the arms export market for both Russia and China to thrive?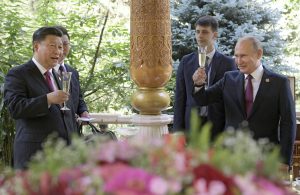 Is there trouble in the paradise (such that it is) of the Russia-China relationship? Some within Russia's defense industry say yes, going public with familiar worries about the nature and extent of Chinese intellectual property theft. Yevgeny Livadny, the chief of Rostec's intellectual property projects, pointedly criticized Chinese reverse engineering of Russian technology in a statement on December 14. 
Such concerns are not new. Russia's defense industrial base (DIB) has long expressed concern about the progress made by its Chinese counterpart, especially as the two seem likely to fight for market share in the same export niche. Chinese exploitation of the Su-27 fighter helped upend the relationship between the two DIBs for nearly a decade. Later, the design team of the Armata tank rejected the idea of eventually exporting the vehicle to China because of worries about expropriation. 
But at some point arms exports resumed on terms that Moscow could stomach. China agreed to purchase equipment in greater quantities, ameliorating the bite of the IP theft. And Russia eventually determined that it might as well export as much as possible while it was possible to export, on the assumption that China would eventually catch up one way or another.
Finally, Russia decided that its short-term competitive advantage lay in the quality of its equipment relative to Chinese products. China's struggle to construct reliable turbofans for its jet engines is emblematic of both the problem and the opportunity that Russia faces. Despite considerable demand and extensive technical assistance, China's jet engines yet lack the reliability of their Russian or American counterparts. As Andrea and Mauro Gilli have pointed out, there is more to technology acquisition that simply copying blueprints or reverse-engineering fighter aircraft.
On the other, there may be a limited lifespan for carving out a defense market niche in the space that China can't yet either copy or make for itself. While China's difficulties are troubling and (perhaps only in the extended duration of the problem) surprising, few think that the Chinese will always be at this particular disadvantage, especially given Russia's long-term workforce issues. While Russia has worked with some profound advantages that stem from before the end of the Cold War, the Russian technology sector lacks the dynamism of the Chinese, placing stark limits on just how far Russia can expect its advantage to endure. And problems with engines notwithstanding, thus far the relative success of the Su-57 and J-20 fighter programs do not suggest that Russia has a profound lead over China in the aerospace sector. In short, Mr. Livadny is probably right; notwithstanding the current state of friendly relations between Beijing and Moscow, there's not enough space in the arms export market for both to thrive.