The Americans Are Coming? Washington's China Pushback and Its Uncertainties
The U.S. has been moving toward a "whole-of-government" approach to counter China for years, but the ultimate impact remains uncertain.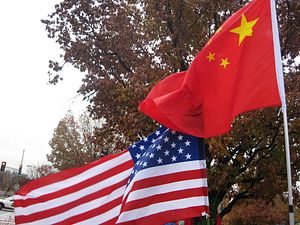 In 2011, the British Broadcasting Corporation (BBC) showed a two-episode series on China's rise, which was titled "The Chinese Are Coming." In this documentary, China's economic expansion throughout the world was described in a vivid but largely questioning narrative. Besides China's unprecedented economic acquisitions in continents like Africa and South America, abandoned factories in Youngstown, Ohio were particularly cited as an example to show how China's economic expansion, with the help of globalization, cast shadows over the economy in some parts of the United States.
For the United States, the "shadows" cast by China's ambitious growth are spreading almost everywhere, and Washington is taking actions on a wide range of political, economic, cultural, social, and ideological issues. That seems to suggest that it's the Americans that are coming this time, with a so-called "whole-of-government" pushback on China.
The concept of a "whole-of-government" approach, however, is not new at all. Back in 2009, the U.S. Department of Defense released its Quadrennial Roles and Missions Review Report, which "supports institutionalizing whole-of-government approaches to addressing national security challenges." Then-Secretary of State Hilary Clinton also claimed in an address at the Brookings Institution on May 27, 2010, that the administration's goal is "to begin to make the case that defense, diplomacy and development were not separate entities, either in substance or process, but that indeed they had to be viewed as part of an integrated whole and that the whole of government then had to be enlisted in their pursuit."
As U.S.-China relationship became stuck in a chilly period and a protracted trade war, similar statements and policies were restated in waves of media campaigns and political propaganda. This time, Congress seemed to have taken a more proactive role. The National Defense Authorization Act passed in August 2018 by Congress stressed "whole of government" American counter-efforts targeting China. Meanwhile, important figures in Trump's administration like FBI Director Christopher Wray, Assistant Secretary Christopher Ashley Ford, and Vice President Mike Pence as well all made similar remarks on different occasions when talking about the U.S. response to China's comprehensive challenges or even aggression toward the West and especially the United States.
Obviously, Washington's resolution goes well beyond political rhetoric and critiques. Since mid- 2018, a "whole-of-government" (if not a "whole-of-society") pushback has been implemented in almost all directions, with all possible means, and at all levels. For example, the full-tension trade war policy has been a core part of Washington's comprehensively firm stand in its confrontation with Beijing. The Trump administration not only implemented punitive tariffs and blacklisted a growing number of Chinese entities for high-technology export restrictions, but also used the long-arm jurisdiction of U.S. domestic law to target and punish Huawei. In addition to these trade-related moves, Washington also initiated a full clampdown on civic communication between the United States and China on the grounds of suspected espionage activities. Moreover, the U.S. Navy recently stepped up its reconnaissance in the South China Sea, notably joined by the U.S. Coast Guard – obviously a "gray zone" tactic to demonstrate Washington's political resolution and military capability to maintain its absolute predominance in the region.
Meanwhile, when rioting protesters brought extreme chaos to Hong Kong, a media campaign and political propaganda in the West, and especially in the United States, swiftly and habitually blamed Beijing and the local government of Hong Kong Special Administration Region. On the other hand, dissidents in Hong Kong were met by political leaders in Washington and a bill on Hong Kong was passed to demonstrate Washington's political values. The same pattern repeated with respect to recent U.S. policies on Xinjiang, one of China's five autonomous regions.
Given the current tension, the incremental interactions between Washington and Taipei, though less bold and publicized, can be seen as another "gray zone" arena of this ongoing "whole-of-government" pushback, which may lead to an unwanted escalation should Beijing's red line be crossed.
Nevertheless, a preliminary study of all the above policies, means, and measures applied by Washington indicates that although U.S. policy instruments have been intensifying since the beginning of this trade war, there seems to be an unspoken limit to prevent an instant and total decoupling – at least so far. At the end of the day, decoupling with China is not the only option for Washington.
Meanwhile, the so-called "whole-of-government" pushback against China is facing some uncertainties. For example, U.S. domestic public opinion and support is an important variable. As the U.S.-China trade war dragged on and China's retaliation hit back, the U.S. public (and farmers, in particular) had to bear the consequences. As an article in August 2019 by Sophie Quinton at PewTrusts points out, economists believe that the trade war has reshaped international markets in ways that could hurt U.S. farmers for years to come. Meanwhile, a public opinion survey conducted by the New York Times through the online research platform SurveyMonkey in September 2019 shows that 58 percent of Americans say the conflict with China will be bad for the United States, an increase from 53 percent the last time the same question was asked in June 2019.
Collaboration with U.S. allies will be another important external variable. Although U.S. allies such as Japan and Australia in the Asia-Pacific and the U.K., Germany, and France in Europe may have all joined with the United States to confront China over issues like the South China Sea disputes in one way or another, these countries may take different position and attitude when it comes to the "comprehensive" and "whole-of-government" pushback the U.S. intends. One notable point of friction would be Trump's use of punitive tariffs against almost all major countries, including U.S. allies. For example, the Trump' administration just threatened to impose 100 percent tariffs on French cheese, champagne, and wines on December 2, shortly before the 2019 NATO summit held in London. Washington's relationships with its Asian allies are not in harmony either. Last month, U.S.-South Korea talks over cost-sharing for their military alliance broke up in dispute, even leading to speculation that Seoul may seek a closer relationship with Beijing over not only economic but also political and even security issues in the long term.
In big picture of the world trade and economy, in which the U.S.-China trade war and the U.S. "whole-of-government" pushback must stand, the Trump administration's go-it-alone stance doesn't win Washington much popularity. European countries disagree with the United States regarding Washington's recent unliteral offensive targeting the world's multilateral economic and financial system, which coincides with China's position.
Washington's yearlong obstruction of WTO reform and new judge nominations is a good example to demonstrate the discord between the U.S. and Europe. Keith Johnson at Foreign Policy recently made the prediction that Trump "may finally kill the WTO." World trade is veering dangerously close to operating under "the law of the jungle," and as The Associated Press commented, the United States under Trump appears to prefer it that way. But the EU emphatically disagrees. The statement by E.U. Ambassador João Aguiar Machado at the WTO General Council meeting precisely pointed out that "the very idea of a rules based multilateral trading system is at stake. The European Union firmly believes in a multilateral trading system where rules can be enforced, where disputes can be submitted to adjudicators, and where rulings of ad hoc panels can be appealed before a standing appeal instance that gives guarantees of quality and independence."
Other uncertainties facing the U.S. "whole-of-government" approach include China's comprehensive counter-pushback, which may be painful for both sides, and the inherent uncertainty that defines U.S. President Donald Trump as well. If a "great deal" with China can finally be made in future trade talks, it remains an open question as to how far this "whole-of-government" pushback might go, although it would not come to an immediate stop for political or even ideological reasons.
Currently, Jin Kai is a visiting fellow at the Sigur Center for Asian Studies of Elliott School of International Affairs, George Washington University, Washington, D.C.