'Five Eyes' Countries Eye Expanded Cooperation Amid North Korea Challenges
The scope of the cooperation may extend beyond North Korea's ballistic missiles.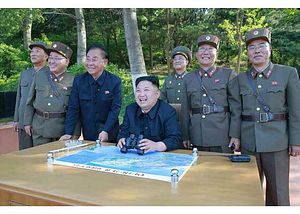 The five-country anglophone intelligence-sharing arrangement known as "Five Eyes" is collaborating with outside partners France, Japan, and South Korea to better understand North Korea's military activities, a Kyodo News report noted on Sunday.
"Five Eyes" consists of the United States, the United Kingdom, Canada, Australia, and New Zealand. The five countries share intelligence from sensitive sources, including signals intelligence and human intelligence, with relatively little bureaucratic friction.
The new cooperation on North Korea with France, Japan, and South Korea — sometimes described as "Five Eyes Plus" countries — will study North Korean military activities "beyond the analysis of North Korean ballistic missiles currently undertaken by Japan, South Korea, and the United States," Kyodo reported, citing Japanese officials.
The eight countries reportedly met in late 2019 to discuss intelligence collection on North Korea, Kyodo notes. The United States, Japan, and South Korea share intelligence on North Korean activities — including missile launches — under their 2014 Trilateral Intelligence Sharing Agreement (TISA) on a "case by case" basis and Japan and South Korea, in particular, share information directly pursuant to their 2016 General Security of Military Information Agreement (GSOMIA).
Last year, amid a decline in ties between Seoul and Tokyo after Japan imposed export controls on South Korea, the South Korean government threatened to not renew GSOMIA, which would have required both countries to rely on the United States for information-sharing instead of doing so directly.
GSOMIA, a generalized form of agreement, protects classified military information. With Japan, South Korea, and France increasingly coordinating with the Five Eyes countries on intelligence collection and sharing, all eight countries may stand to benefit.
Outside of North Korea, the "Five Eyes Plus" countries have consulted on other issues, including countering cyberattacks from China. According to the Mainichi Shimbun in 2019, the eight countries met to establish an information-sharing framework on cyberattacks from China.
North Korean ballistic missile tests remain a concern for Japan, South Korea, and the United States. In 2019, North Korea launched at least 25 ballistic missiles after launching none in 2018 amid a spate of diplomacy with Washington and Seoul.
During a high-level North Korean plenum in the final days of 2019, leader Kim Jong Un suggested that North Korea would no longer abide by a self-imposed moratorium on long-range missile and nuclear testing announced in April 2018.
Signals intelligence, or SIGINT, refers to intelligence-collection through the interception of communications signals. Communications intelligence (COMINT) and electronic intelligence (ELINT) are generally regarded as subsets of SIGINT.