Jakarta Floods: Yet Another Reminder of Indonesia's Capital Woes?
The recent incident once again highlighted the woes facing the capital city amid plans to shift it.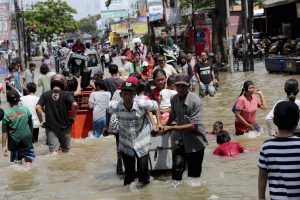 The recent floods in Jakarta took a deadly toll, creating widespread chaos, landslides, and putting millions at risk from disease, forcing officials to spray the city with disinfectant. The floods also provided yet another reminder about the issues with the capital city amid an ongoing effort by the administration of Indonesian President Joko "Jokowi" Widodo to shift it.
At last count, 66 people were dead and almost 180,000 people were forced to flee their homes as record monsoonal rains drenched the city with more rain forecast as the wet season sets in. Drowning, electric shocks, landslides and hypothermia were cited as the main causes of death.
The floods spotlighted various aspects of challenges that Indonesia continues to face, from climate change to urban inequalities. But they were also another reminder of Jakarta's woes as Indonesia's capital. The capital – which sits on a swamp – is sinking fast, and coupled with rising sea levels, the situation is set to get even worse in the coming years. As a result, few were surprised that the city was ill-equipped to deal with the biggest downpour since 1996.
That is partly behind the decision to move Indonesia's capital announced by Jokowi. Jokowi ended years of speculation in September last year when announcing the area straddling North Penajam Paser and Kutai Kartanegara in the province of East Kalimantan would be the site of Indonesia's new capital.
That decision was announced amid a chorus of support and ongoing anger with a disaster-prone city that boasts the world's worst traffic congestion and a population of more than 10 million people and three times that in greater Jakarta.
"The potential for Jakarta to be submerged isn't a laughing matter," according to Heri Andreas from Bandung Institute of Technology who expects about 95 percent of North Jakarta to be submerged by 2050.
It's a problem sorely aggravated by a shrinkage of underground water supplies. When city authorities inspected 80 skyscrapers in central Jakarta they found 56 had groundwater pumps and caught 33 extracting water illegally.
The latest flood should add a sense of urgency to the $34 billion shift, a move initially put forward by Indonesia's founding father Sukarno, which Jokowi wants done by 2024. But that itself has its own problems: it is already generating controversy over the influence of local tycoons and the environment.
East Kalimantan sits in the middle of the archipelago of more than 17,000 islands surrounded by the Pacific Rim of Fire – and is least prone to earthquakes, tsunamis and floods that take a regular toll on life in Indonesia.
Existing infrastructure includes access to seaports and two airports. But realistically it could take a decade before the move is complete with the government providing just 20 percent of the budget and private investors expected to fund the balance, including 1.5 million homes.
However, claims that the new capital – its name is expected to be announced this year – would be built on vacant land has been contradicted by a coalition of NGOs who released a report claiming the area is already controlled by 162 mining concessions, mostly coal companies.
"If the government says it's going to be the public who will benefit, that's a big lie," said Merah Johansyah from the Mining Advocacy Network.
Environmentalists are also upset by the government's attitude. The site was sold by designers who want the new capital built within a rainforest, as an ecological showcase of Indonesia at its best and that it would be a "zero emission" city.
The fear – in a country with an abysmal record on managing its natural environment – is the local wildlife habitat will be reduced to window dressing and that local coal producers will make a huge profit from selling electricity, which was not part of the original plan.
There's no doubt that an alternative to Jakarta needs to found, and the recent floods drove that message home, where the ruling clans of Java would like their island to retain their pre-eminent hold on political power.
Now, after the latest floods, the longer-term thinkers among them might be grateful the decision has been made. But the road ahead will be difficult as Jokowi attempts to build a city that can deliver on 21st century expectations amid old-school financial and logistical realities.
Luke Hunt can be followed on Twitter @lukeanthonyhunt