Japan Begins Evacuating Citizens From Outbreak-Hit Wuhan
Japan's government used a charter flight to bring home some of the Japanese citizens caught up in the quarantine zone in China.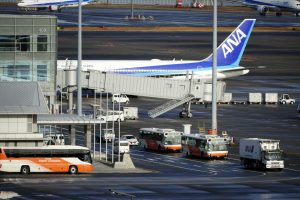 On Wednesday morning, 206 Japanese nationals were repatriated from Wuhan, the epicenter of the coronavirus outbreak, using a government-chartered ANA airplane that landed in Haneda Airport. More flights are being arranged to evacuate the additional 440 people asking to leave Wuhan. Japan News reports that this flight was the first time Japan had evacuated its nationals from a foreign country due to an infectious disease outbreak.
According to the health ministry and Tokyo Metropolitan government, 12 individuals on the flight were hospitalized with symptoms such as a fever or cough. Medical personnel on board identified five while still on board the flight and seven were identified after arriving at the National Center for Global Health and Medicine in Tokyo. Of the 12 individuals hospitalized, two have been diagnosed with pneumonia. The other passengers have been asked to stay indoors for two weeks even if showing no symptoms, with arrangements being made for those who do not live in or close to Tokyo to stay in local hotels.
Four public hospitals in Tokyo are on standby to deal with the coronavirus. For example, Ebara Hospital has 11 rooms with pressurized ventilation systems to keep air from flowing out, and has prepared a separate route to the examination room so that returnees would not come into contact with other patients or nonmedical personnel. Due to its proximity to Haneda Airport, Ebara Hospital often treats travelers returning from abroad.
The unprecedented evacuation process was a challenge for the Japanese Embassy, as they had to deal with everything from trying to contact all Japanese nationals living in Hubei province (of which Wuhan is the capital) to coordinating flights with the Chinese authorities. Because of the lockdown imposed on travel within Hubei, there were concerns about whether all the nationals who wanted to be evacuated could make it to the designated meeting points in Wuhan in time. There were also logistical challenges in getting to use the virtually shut-down Wuhan airport. As China was dealing with requests for evacuation flights from multiple other countries at the same time, Japan could not fly two planes at the same time as had been originally planned.
On Tuesday, Prime Minister Shinzo Abe reiterated his commitment to bringing Japanese nationals back: "We'll continue to take every possible measure to bring home all people hoping to come back to Japan."
In parallel to national-level efforts to bring Japanese nationals back home, there are local-level government initiatives to deliver relief supplies to help Wuhan. The airplane that came back filled with Japanese nationals did not arrive in Wuhan empty – it carried 20,000 protective suits for medical staff working in Hubei donated by the Tokyo Metropolitan Government. Oita, Wuhan's sister city of 40 years, also donated 30,000 masks to Wuhan that will be distributed through the Red Cross network.