Could Japan Call off the Tokyo Olympics Following the Coronavirus Outbreak?
As China struggles to contain the coronavirus, there are looming fears the virus could threaten the 2020 Olympics and Paralympics in Japan.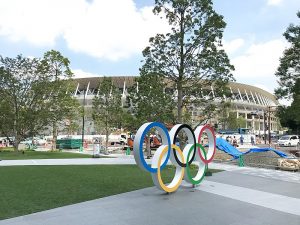 With the Tokyo Olympics and Paralympics expected to draw 40 million global visitors to Japan, government research on the health risks of hosting a global event is yet to address the new coronavirus that is rapidly spreading throughout Asia.
On Thursday, the World Health Organization declared the new coronavirus outbreak a global health emergency. While the number of infected tops 9,800 worldwide, Japan has confirmed a domestic tally of 14 cases — mostly linked to travel to Wuhan, in central China, where the epidemic started. However, on Tuesday a tour bus driver who had not travelled to China became infected after driving Chinese tourists from Osaka to Tokyo.
With little information on how the virus spreads and how to prevent transmission, there are fears a vaccine, along with effective disease control protocol, will not be ready in time for the Summer Games, which kick off on July 24. A barrage of misinformation, anxiety, and panic sparked rumors on Twitter that the Tokyo Olympics would be cancelled due to the virus' unpredictability.
As the virus spreads beyond China, Japanese Twitter has also seen a rise in anti-Chinese sentiment, with a trending hashtag #ChinesedontcometoJapan. Chinese tourists are waking up to the ugly reality that they are no longer welcome abroad.
Prime Minister Shinzo Abe told Diet members that a travel advisory to China would be heightened to level two, which warns Japanese to cease all "non-essential" travel to China. He also urged Japanese nationals to consider returning to Japan from virus-hit Wuhan, which is currently under quarantine. The Japanese government has been evacuating its citizens from the locked-down city and surrounding areas, repatriating 565 nationals so far. Currently, a level three travel ban is enforced on Hubei province, of which Wuhan is the capital.
On Tuesday Japan fast-tracked special measures to become effective starting from Saturday rather than February 7 as originally planned. Coronavirus-related pneumonia has been formally labelled as a "designated infectious disease," making hospitalization compulsory under the law while also allowing urgent medical treatment for patients with the use of public funds. The new ordinance will also implement stricter airport border control, with people testing positive for the virus being barred entry. Abe emphasized that the government would prioritize public health and enforce decisions without hesitation.
However, the government's current response has been criticized as too slow due to the lack of testing and infection control for evacuees returning to Japan. Two Japanese nationals who were evacuated on one of the government's three chartered flights refused to be tested for coronavirus because they were not showing symptoms. Abe said authorities attempted to convince all evacuees to undergo testing but could not force them as it is not compulsory under Japanese law.
Meanwhile, the International Olympic Committee (IOC) said it was in contact with the WHO and would be on high alert to carefully monitor and review countermeasures against infectious diseases.
Prior to the outbreak, eight highly infectious but preventable airborne and waterborne diseases were listed as things "to watch out for" during the Olympic period. The list included rubella, measles, invasive meningococcal disease, and enterohemorrhagic Escherichia coli infection, most of which can be prevented with vaccines. Meanwhile, in order to prepare for a worst-case epidemic, the National Institute for Infectious Diseases announced last November they had imported five types of deadly viruses, including Ebola and Lassa fever, to strengthen inspection systems in preparation for the influx of tourists for the Olympics Games.
But at this stage it is unclear how the government will expand its countermeasures to tackle the new coronavirus in order to prevent a major epidemic at the Tokyo Games.