Japan to Continue Assembling F-35A Fighter Jets at Home
Japan intends to continue to assemble F-35As at a local facility in Nagoya.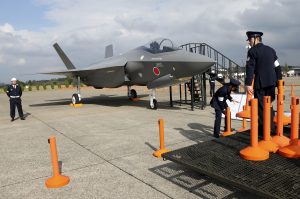 The Japanese government is reversing plans to shut down a Mitsubishi Heavy Industries' F-35 Final Assembly and Check Out (FACO) facility in Nagoya, Japan, according to local media reports.
The government has been reviewing options to close the FACO facility by 2022 and instead directly import fifth-generation Lightning II F-35A stealth fighter jets in fly-away condition from the United States as a cost saving measure.
Japan is now looking to reverse its decision to import F-35s after Mitsubishi Heavy Industries overhauled its assembly process to reduce costs.
"Finishing one F-35 in Japan is now expected to cost 9.37 billion yen ($86.3 million), compared with 9.42 billion yen to ship the plane from the U.S., according to Japan's Defense Ministry," the Nikkei Asian Review reported in mid-December. "The cabinet is expected to approve the domestic production plan soon."
It is not clear whether this cost calculation of Japan-assembled F-35s includes amortization. The FACO facility cost around $1 billion to build. FACO amortization would add about $26 million per aircraft if spread out over the 38 F-35As that are scheduled to be assembled there. An Acquisition, Technology, and Logistics Agency source stated last year that assembling an F-35A in Japan costs over $30 million more than the same aircraft from the United States.
The per unit cost would be substantially reduced should the government decide to assemble the remaining 63 F-35As there.
In December 2018, the cabinet of Japanese Prime Minister Shinzo Abe approved an increase of Japan's existing order from 42 to 147 F-35 aircraft. The additional order consists of 63 F-35As, the aircraft's conventional take-off and landing variant, and 42 F-35Bs, the U.S. Marine Corps' short take-off and vertical landing (STOVL) variant of the aircraft.
Japan is set buy six F-35Bs at a cost of $725 million in the new fiscal year, which will begin in March. Tokyo also intends to buy three F-35As for $85.7 million each to be assembled at the FACO facility in Nagoya.
The Japanese government selected the F-35A as the country's next-generation fighter aircraft in December 2011 and placed an initial order for 42 jets.
U.S. defense contractor Lockheed Martin was awarded a $25.2 million contract in September by the U.S. Department of Defense (DoD) to build a maintenance repair and upgrade facility for the F-35 in Nagoya.
All the components of the F-35 are manufactured abroad and brought for final assembly to Japan. Notably, Japan has not been granted access by the United States to some of the more sensitive F-35A technologies during the assembly process.
Japan's aircraft industry has expressed some frustration in the past about the local assembly process as it has not played a large a role in the domestic production of the F-35A as it had envisioned.