An official at the Chinese embassy in Moscow warns a local journalist to remove an article questioning the health of the Chinese economy from his paper's website or face being "blacklisted" in China. Nepal's state-owned news agency — which has a content exchange agreement with Xinhua, its Chinese counterpart — launches an investigation into three reporters who circulated an item about the Dalai Lama, Tibet's exiled spiritual leader. A regional public broadcaster in Germany airs a current affairs program that was coproduced with Chinese state television, prompting criticism. And Timor-Leste welcomes two Chinese companies to manage a digital television expansion project, even as broadcasters in Africa raise concerns about such companies' outsized influence over which stations are available to viewers.
These are just a few incidents from the past year that illustrate increasingly aggressive efforts by the Chinese Communist Party (CCP) to project its propaganda and enforce its censorship priorities around the world. A new Freedom House report published this week — Beijing's Global Megaphone — describes the full array of CCP media influence tactics, presenting evidence of both their growing impact and the pushback they have generated, whether from governments, independent media, technology firms, or civil society.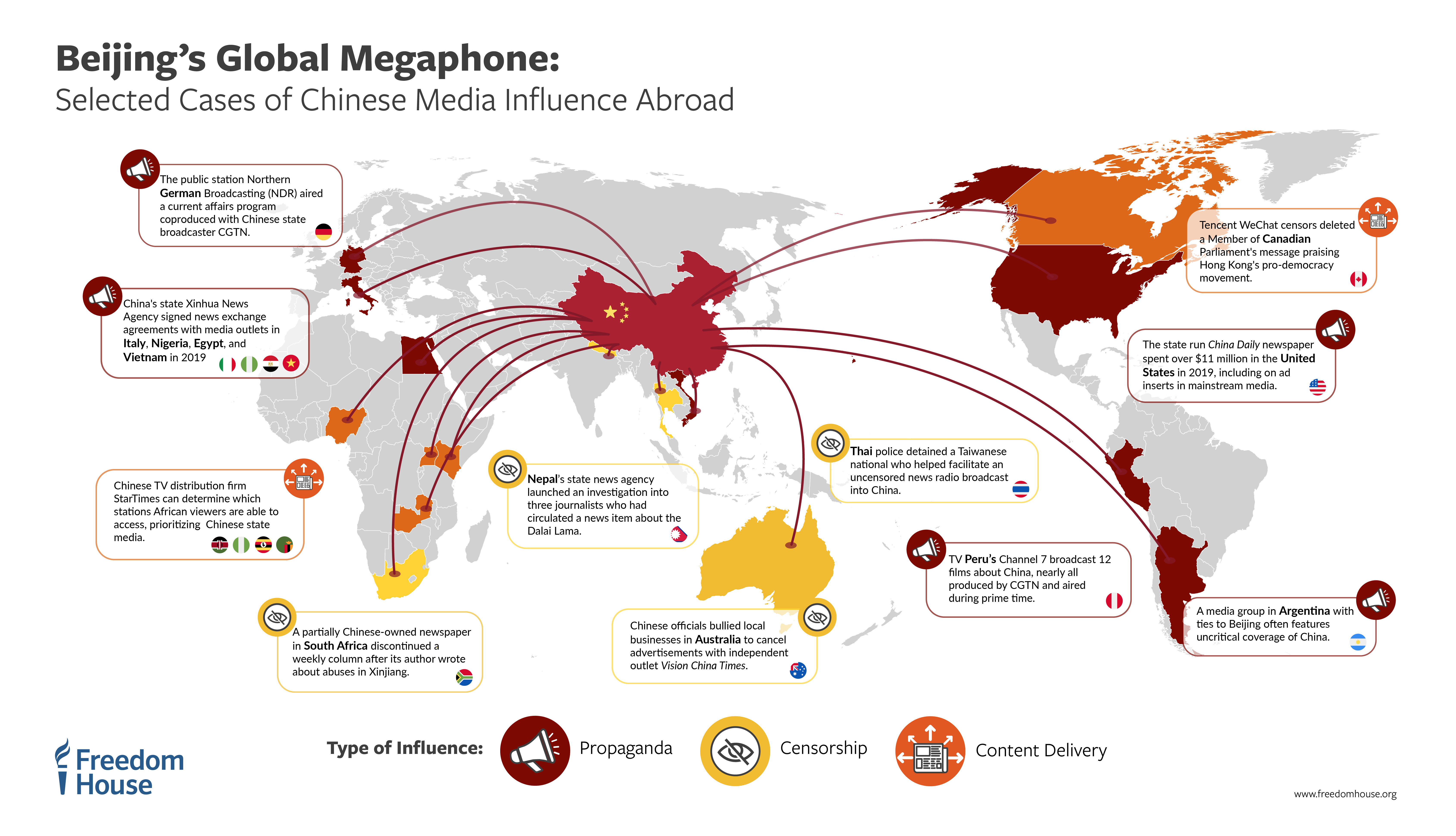 While the report tracks the evolution of the CCP strategy and its effects since 2017, the following four trends stood out in 2019.
Foreign-Facing State Media Mobilized Against CCP Enemies
China's major state-run media outlets have a long-standing international presence, but most have recently increased their activity on international social media platforms that are blocked inside China, garnering tens of millions of followers. The content shared with foreign audiences has generally put a positive spin on China and its regime, highlighting the country's economic and technological prowess while whitewashing human rights abuses. But in 2019, as pro-democracy protests in Hong Kong and the mass detention of Muslims in Xinjiang captured international attention, more aggressive and negative content targeting perceived CCP enemies began to appear sprinkled among run-of-the-mill posts about pandas, development projects, and Chinese culture.
For example, during the summer, the English-language Facebook page of China Global Television Network (CGTN) — the international arm of the Chinese state broadcaster — published several videos for its more than 70 million followers that likened Hong Kong protesters to terrorists or repeated proven fabrications about them. In December, a series of disturbing "documentaries" about the supposed terrorist threat posed by Xinjiang's Muslim population were posted on CGTN's English, Spanish, and French Facebook pages. Within hours, one of the videos had garnered over 25,000 views, a relatively high number for CGTN content.
Disinformation Campaigns Conducted on Global Social Media Platforms
Russian-style disinformation campaigns on international social media platforms, which feature coordinated networks of accounts posing as ordinary users, have gained prominence over the past year as a relatively new tactic for promoting CCP narratives abroad, although the phenomenon apparently began as early as mid-2017. Previously, most evidence of this type of covert propaganda was observed on domestic platforms, according to the Oxford Internet Institute. But in 2019, the institute reported, the Chinese government displayed "new-found interest in aggressively using Facebook, Twitter, and YouTube." All three companies announced mass removals of accounts that they said were mobilized as part of Chinese state-directed disinformation campaigns.
Detailed analysis of the data from these takedowns showed that although Chinese authorities' overseas use of online disinformation has been relatively crude to date, they are learning fast. In Taiwan, where Chinese social media operations are already more sophisticated than those deployed globally, observers note that the disinformation is becoming harder to detect. Moreover, despite Twitter's actions to remove China-linked networks, state-affiliated trolls are still apparently active on the platform in large numbers, as indicated by the intimidation campaign triggered by Houston Rockets general manager Daryl Morey's tweet in support of Hong Kong protesters in October. Meanwhile, there have been multiple suspected efforts by pro-Beijing trolls to manipulate the ranking of content on popular sources of information outside China, including Google's search engine, Reddit, and YouTube.
Politicized Censorship Evident on Chinese-Owned Platforms Expanding Abroad
As Chinese social media firms and their flagship applications slowly gain worldwide popularity, they are creating new avenues for the CCP to influence news distribution outside China. One notable example is WeChat, an app that combines instant messaging, group chats, business services, and electronic payments. It is owned by Tencent and boasts a billion active users within China. However, an estimated 100 to 200 million people outside the country, particularly in Asia, also use the service. Among WeChat's global users are millions of members of the Chinese diaspora in countries like Canada, Australia, and the United States. Increasingly, WeChat is being used by politicians in these democracies to communicate with their ethnic Chinese constituents.
Amid tightening internet censorship within China, reports have emerged of WeChat staff deleting politically sensitive information posted by foreign users or shutting down their accounts. In April 2019, researchers found evidence that WeChat was systematically monitoring conversations of users outside China and flagging politically sensitive content for some form of scrutiny, even when transmission of the messages is not hindered.
Separately, the Chinese company ByteDance's short-video app TikTok became one of the most downloaded applications worldwide in 2019, especially among teenage users in the United States. As with WeChat, there were reports that TikTok had censored material considered sensitive by the Chinese government or downplayed political content more broadly.
Growing Pushback as Audiences Awaken to Beijing's Influence on Free Expression
As exposure to Beijing's media influence expanded, wide swaths of the international community and ordinary members of the public became more aware of the CCP's ability to affect what people outside China are able to say, read, and watch. A watershed moment came in the fall, when within a space of weeks, cases of CCP-induced self-censorship and pressure touched on pop culture icons like the National Basketball Association, the satirical television show South Park, and the video-game company Blizzard. Many ordinary people were outraged to see corporate entities bending over backwards to avoid offending Beijing and even policing expression by others, including sports fans and gaming tournament participants.
This growing awareness has prompted democratic governments to scrutinize Beijing's media engagement and investment practices. In February 2019, CGTN registered in the United States under the Foreign Agents Registration Act (FARA) following an effort to improve enforcement and increase transparency surrounding authoritarian regimes' influence activities. In November, the Committee on Foreign Investment in the United States (CFIUS) initiated a national security review of ByteDance's $1 billion acquisition of Muciscal.ly in 2017, a key precursor to the development and spread of TikTok. In Australia, a new set of foreign influence transparency laws that include FARA-like registration requirements came into effect in March. Also during the year, the United Kingdom's media regulator increased to eight the number of investigations it is conducting into whether CGTN violated broadcasting rules by recording and airing forced confessions and through its biased coverage of protests in Hong Kong.
In other parts of the world, information from independent media and social media influencers about the persecution of Muslim minorities in Xinjiang and the potentially negative effects of Chinese investment may be undermining Beijing's reputation and encouraging further pushback. China's public approval ratings declined by between 7 and 17 percentage points from 2018 to 2019 in influential developing countries with notable Muslim populations, including Indonesia, Kenya, and Tunisia. And over the past month, after Turkish soccer star Mesut Özil highlighted the plight of Uyghurs in Xinjiang and the silence of Muslim-majority countries in a viral social media post, officials and citizens in countries such as Kuwait, Jordan, and Malaysia have taken action to show their support with statements, Chinese embassy protests, and a ban on repatriating asylum seekers.
There are no indications that CCP leader Xi Jinping and his allies plan to slow their global media influence activities in 2020. In fact, they are likely to view the new pushback as a sign that they should redouble their efforts. That makes it all the more important for governments, journalists, technology firms, and civil society to take steps that will increase transparency and protect media freedom. Such measures will have the added benefit of strengthening democratic institutions against other domestic and international threats, which only seem to multiply from one year to the next.
Sarah Cook is a senior research analyst at Freedom House, director of its China Media Bulletin, and author of Beijing's Global Megaphone: The Expansion of Chinese Communist Party Media Influence since 2017, published on January 16, 2020.