Threat of Furloughs Looms Over Continuing US-Korea Burden-Sharing Talks
If Washington and Seoul can't narrow the gap on their cost-sharing talks thousands of Koreans could start missing paychecks.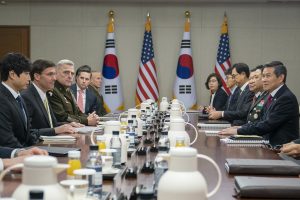 After months of tough negotiation over burden sharing, and with no decision in sight, U.S. Forces Korea (USFK) has now notified its South Korean workers that they may be facing furloughs if the talks drag on into the spring. If a new Special Measures Agreement (SMA) is not reached by April 1, nearly 9,000 workers could be put on unpaid leave.
How Seoul and Washington share the cost of stationing U.S. troops in South Korea is settled through the SMA, which has often been negotiated in five-year periods going back to 1991. However, under President Donald Trump, the United States began asking for substantial increases in the proportion of troop costs borne by its Korean allies. Last year, the Trump administration asked South Korea to double its contribution. After tough negotiations, Washington and Seoul finally settled on a one year, stop-gap agreement for $924 million, an 8 percent increase over 2018.
With that one-year agreement expiring at the end of 2019, negotiations started again in earnest. But this time, the Trump administration's asking price was nearly $5 billion — over five times what South Korea is currently paying. U.S. officials have since said they are willing to come down on that number, but have not given any indication of what number they are now aiming for.
The two sides have held six rounds of talks on the issue over the last several months, with the most recent wrapping up on January 15 without an agreement. In a statement after the meeting, the South Korean Ministry of Foreign Affairs said that while the two sides "broadened the scope of their mutual understanding and expanded consensus during the sixth meeting, they also confirmed their differences," raising concerns about the chances of a swift agreement. Without a new authorization, the budget for staffing will start to run out — thus the concern about furloughs.
One of the main points of contention is how each side measures the amount of support that South Korea contributes to the alliance. Along with directly sharing costs within the SMA, Seoul has also pointed out that they provide a variety of additional financial support outside of the agreement itself. One major example is the fact that South Korea paid for more than 90 percent of the cost to build Camp Humphreys, the new USFK facility that is now the largest overseas U.S. base in the world. South Korean negotiators have also pointed out that Seoul has purchased huge numbers of American-made military equipment, ranking fourth in the world in American arms purchases over the last decade.
Along these lines, some analysts have floated the possibility of finding creative places outside of the SMA itself to up Seoul's contributions to the alliance to help close the gap between the two sides – for example, committing to more arms purchases or moving some demands into the Ministry of Defense budget. For their part, MOFA spokespeople have denied that the latter has been part of their ongoing negotiations.
As talks continue to drag on, the Trump administration has been upping the ante, putting increasingly public pressure on its allies in Seoul. In the latest move, earlier this month Secretary of State Mike Pompeo and Secretary of Defense Mark Esper published an op-ed in The Wall Street Journal, making the case for increased spending on the part of the South Koreans. "As a global economic powerhouse and an equal partner in the preservation of peace on the Korean Peninsula, South Korea can and should contribute more to its defense," they wrote, echoing a talking point about South Korea's economic strength that dates all the way back to Trump's days on the campaign trail. Korean analysts, however, have lambasted that op-ed as "misleading" and even "offensive."
The effects of the funding spat can be seen in South Korean public opinion. A poll from November found that a whopping 96 percent of South Koreans do not want to see an increase in funding under a new agreement, although 91 percent agree that U.S. troop presence on Korean soil is necessary. Luckily, this means that should the two sides find a way to move forward with a new SMA that acknowledges South Korea's contributions both in and out of the agreement itself, the public will likely continue to lend its support. But should furloughs force thousands of Korean workers into unpaid leave, anger over U.S. demands may start to shake that confidence.