What's Next for Vietnam's Maritime Militia?
Vietnam's development of so-called maritime militias continues to surface in the headlines within its wider range of capabilities.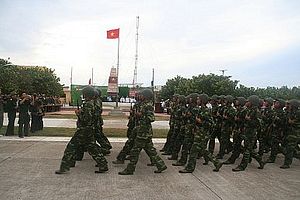 Last week, reports surfaced that Vietnam was looking to build up so-called maritime militias across several provinces in the country. The development spotlighted one aspect of Vietnam's continued inroads with respect to its maritime capabilities amid the range of challenges that Hanoi faces.
As I have observed before, Vietnam possesses one of the most robust defense capabilities in the Asia-Pacific region, and this extends into the maritime realm as well. Beyond its naval capabilities, Vietnam has also invested in other non-military capabilities as well, such as its coast guard as well as fishing fleet, in order to manage a range of challenges in the maritime domain, including gray zone operations from China that challenge Hanoi's claims in the South China Sea.
One of the aspects of this is the development of so-called maritime militias. Though the term was originally popularized to characterize China's capabilities in this regard, it has been used to describe Vietnam's efforts as well even though much less is known relatively speaking. The Vietnam maritime militia had previously operated as an ostensibly paramilitary force with a self-defense function under a 2009 Law on Militia and Self Defense Force which specifies that this force constitutes part of Vietnam's armed forces, and Vietnam's capabilities in this respect had been on display in incidents such as the oil rig crisis in 2014.
The focus on the development of Vietnamese maritime capabilities has continued over the past few years as well. Vietnam has considered or passed a series of resolutions and laws that further clarify the role of various forces including its coast guard, and has also been managing some of the maritime challenges with its neighbors such as illegal fishing. More broadly, the country has also framed the development of its maritime capabilities in terms of broader goals such as developing its economy and protecting its sovereignty, as evidenced in the release of the country's first defense white paper in a decade in November.
Last week, this aspect of Vietnam's maritime capabilities was in the spotlight again with a report about ongoing efforts to further build up its maritime militia. A Vietnamese media report cited an official as saying that Vietnam would look to build maritime militias in several provinces across the country.
Per the report published on Vietnam Net, Colonel General Phan Van Giang, the deputy defense minister as well as the chief of the general staff of the Vietnam People's Army, said at a meeting on December 31, 2019 that Vietnam would build maritime militias in 14 provinces across the country. The militias would first be available in six southern central provinces and then expanding to 14 provinces nationwide, with the stated twin aims of sovereignty protection and economic development.
The report itself comes as no surprise. As noted before, Vietnam has been keen to develop a full range of capabilities in order to strengthen its ability to secure its territory and protect its interests amid growing Chinese assertiveness and also to maximize its flexibility in dealing with gray zone coercion from Beijing. And previous indications were that this was a trend that was set to continue with respect to the development of Vietnam's maritime capabilities.
Nonetheless, the spotlight on the development is not without significance and further progress will be closely watched. While few further specifics were given and we will have to wait and see if these plans translate to reality, given that Vietnam is one of the more capable militaries in the Asia-Pacific and remains committed to protecting its sovereignty against Beijing's maritime assertiveness including in the South China Sea, its capabilities bear emphasis. And with Hanoi in the midst of a busy year – juggling both an ASEAN chairmanship and a non-permanent UN seat while preparing for its critical Party Congress in 2021 – there will be even more scrutiny on the effects of headlines on maritime dynamics and events on the water.