Myanmar's Contested Civil-Military Relations in the Spotlight With New Spat
A recent incident served as yet another reminder of the complex and contested dynamics of civil-military relations in the country and the sensitivities therein.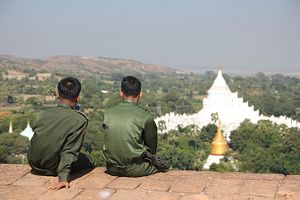 On Monday, reports surfaced that a Myanmar military spokesman had hit out at comments made by a minister in the country about civil-military control. While the incident may appear minor relative to wider developments in Myanmar and Naypyidaw's broader challenges, it nonetheless served as a reminder of the complex dynamics underlying civil-military relations in Myanmar and the sensitivities in navigating them.
As I have observed before in these pages, governance in Myanmar remains a complex and contested affair, with the National League for Democracy (NLD) ruling the country but the military, known as the Tatmadaw, still exercising significant political influence in the country in official and unofficial ways, including a quota of seats in parliament and control of key ministries: defense, border, and home affairs.
Over the past week, we have seen these complex and contested civil-military dynamics at play with a spat in Myanmar's domestic politics. The spat emerged from comments made by Myanmar's Union Minister for Religious Affairs and Culture U Aung Ko, who suggested at an interfaith event in Yangon last month that that the military had control of the police. On Monday, in a sign of fallout from those comments, Myanmar news media outlets reported that military spokesperson Zaw Min Tun had urged the government to take action against the minister and added that the Tatmadaw would file a complaint with the government according to legal procedures.
Few additional specifics have publicly surfaced so far, including how the government may respond. But the incident is not without significance. Like other developments we have seen this year, from the government's response to the international attention to the Rohingya crisis to Naypyidaw's ties with China, this has again served as a reminder of the civil-military tensions at play in the country as it heads for elections set for later this year.
To be sure, the incident we saw over the past week is just one of many that continue to play out within the complex civil-military dynamics in the country, much of which plays out behind the scenes rather than in the headlines. There are other instances that are far more intense than this one. Nonetheless, amid the focus on headline-grabbing developments and individual personalities such as Aung San Suu Kyi, it will be important to pay attention to the more institutional dynamics at play and how they can shape the evolution of Myanmar's domestic and foreign policy.