Rape, Caste, Double Standards, and India's Middle Class
Does India's middle class only empathize with victims who are 'like' them?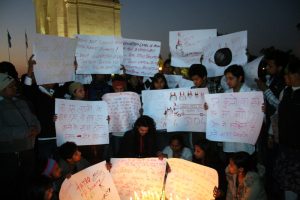 A 19-year-old woman was abducted, gang-raped, and murdered by four men in the western state of Gujarat early this year. They sodomized her, dragged her, and then hanged her on a tree. Her genitals had been torn apart and her rectum was found prolapsed. She was a Dalit, or an "outcaste," and her suffering drew no protest or a debate on women's safety.
The following month, another woman of the same age was raped and a piece of cloth stuffed in her mouth. An iron rod was inserted into her genitals after the rape. She was a laborer in the western city of Nagpur and her suffering didn't cause any uproar either.
It seems the case of "Nirbhaya," as the media had christened a victim who was brutally raped and murdered in Delhi in 2012, was different. Masses came out on the streets to protest and concerns over women's safety dominated newspaper columns. The incident, after all, "shook the collective conscience of the country," as a judge later noted in that case.
If we look at the average number of rapes that year, Nirbhaya, a physiotherapy intern, was just one of the 68 victims that day. But she was different because she was portrayed in the media as a woman living in urban India who was neither a Dalit and nor a tribal. And that pretty much sums up the description of India's middle class.
A simple online search would tell us that Nirbhaya's case was also one of the many rapes that involved brutality.
In the eastern state of Chhattisgarh, the scene of a Maoist-led conflict for over one and a half decades, a 23-year-old pregnant tribal woman was allegedly raped by security forces in 2018. Armed personnel entered her house, groped her, and filmed her being raped.
That year, Chhattisgarh recorded a higher rape "rate" than in the adjoining Madhya Pradesh state, which reported the highest number of rapes. But this was neither in national news and nor did it find any mention when women's safety was debated in national media.
In conflict zones, including in northeast India, the Kashmir region, and the Maoist-affected Red Belt area, women are often raped by security personnel, but these incidents go unreported or without prosecution, suggests a 2017 report funded by the Government of India.
'Collective Conscience'
Newspapers can easily excuse themselves by saying that if they were to cover every rape case in the country, reports of rape would fill up all their pages. But dailies also let go of numerous rapes that deserve coverage given the interplay between sexual crimes and caste dominance. When they do cover such stories, they place the news half-heartedly only to fill empty spaces in a lean news season.
After the Nirbhaya case, no considerable public outcry had erupted until a few months ago, when a 27-year-old veterinarian was raped and burnt to death in the southern city of Hyderabad. The Indian middle class once again could "connect" with the victim, who was neither economically poor nor a member of a "lower-caste" as per India's caste hierarchy, nor from a rural area, nor from a minority community.
Many social activists have expressed concerns over discrimination against Dalit and tribal women in acknowledging their dignity and suffering.
"After Nirbhaya, so many people came forward. Why didn't they do so for rape among Dalits?" asked Sumedha Bodh from the Rashtriya Dalit Mahila Andolan, an organization of 500 women working for the welfare of Dalit women in five states in the central, northern, and eastern India. "We have realized that mainstream feminists are also casteist in some way or the other," she told Indian media outlet Livemint.
"If you are a woman in India, and poor and a Dalit — then there is no position worse than that," said Mariam Dhawale, general secretary of the All India Democratic Women's Association. She cited data from the government's National Crime Records Bureau, which suggested that more than four Dalit women were raped every day.
Over 23 percent of Dalit women report being raped, and many of them report being raped multiple times, according to the civil society group National Campaign on Dalit Human Rights.
Of the 33,000 rape cases recorded across the country in 2018, about 10 percent of the victims were Dalit or tribal, according to the government data, which also showed that the number of rapes of Dalit women had now risen to six a day. But these were just the reported cases; the majority (three-fourths) of Dalit women live in rural areas where many cases go unreported because alleged rapists are mostly from dominant "upper castes" and victims are invariably economically and socially weaker.
"For Dalit women, there is no one to give respect or dignity," said a lawyer, identified only as Savita, in a publication of the National Campaign on Dalit Human Rights. "I don't agree that non- Dalit and Dalit women are the same. Caste makes a difference."
The conviction rate for rapes of Dalit women is under 2 percent, compared to the national conviction rate of 25 percent, which points to a gross imbalance in access to justice.
Empathy
Our responses are imbalanced, too. Our apathy is likely driven by economic and cultural differences with the victims. The psychology behind empathy explains why.
"When given a choice to empathize with strangers, and share in their experiences, people tend to avoid empathy because of its perceived cognitive effort (emotional hard work)," according to a report published in Psychology Today. We empathize easily and naturally only when we have a sense of social, cultural, and economic affinity with a victim.
For example, soon after the Hyderabad rape case, a young urban girl, identified only as Anu, protested outside the Parliament building in New Delhi. "I am tired of hearing about rape cases everyday," she told media. "I want the government to ensure my safety. What if I am also found (raped and) thrown away on the streets tomorrow?"
However, studies also show that it's not impossible for us to seek a larger good, beyond self or intra-group interests.
The amygdala, a part of the human brain that helps us assess a threat to our own selves, is more responsive to others' emotional pain than their physical pain. Research has found that the amygdala gets activated when we see others' emotional pain, but remains largely dormant when we look at others' physical pain.
However, sensitivities require journalists not to even identify a victim, leave aside describing the emotional pain of a victim. Stories of sexual crimes are, therefore, often centered on the "villain," and on physical brutality. We are hardly encouraged to look at the emotional pain of the victim.
So what do we do? Would it be too much for us to imagine the trauma of a rape victim and take a public stand against all rapes, and not just the rapes of those who are like us?