Addressing Race in India and Abroad: Colorism, Surveillance, and Reckoning With Police Impunity
Indians abroad are weighing in whether to attend the Black Lives Matter protests in the U.S.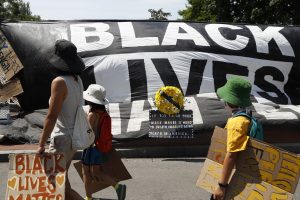 A few weeks ago, Derek Chauvin, a white American police officer, held his knee on George Floyd's neck for 8 minutes and 46 seconds, while three other officers stood guard. Floyd then uttered some of his final words: "I can't breathe." Since then, people across American cities have been protesting against police brutality and racism, demanding that the police stop killing black people with impunity. American protesters have also inspired similar campaigns around the world to address racism and anti-blackness.
In America, more than 10,000 people have been arrested, according to an Associated Press tally of known arrests. Alongside others, Indians abroad are weighing in whether to attend the Black Lives Matter protests in the United States.
"There is very much a real risk that people are taking in participating. I think the response from the government towards the protesters, in particular in DC, really signals the same systems of surveillance and enforcement a lot of immigrant communities experience, that were also originally perfected on the backs of black communities to begin with," said Lakshmi Sridharan, the executive director of South Asian Americans Leading Together (SAALT) on the risk to Indian immigrants involved in the Black Lives Matter protests. "The reality of surveillance is very much true, and it is exacerbated during times of crisis."
The police department has been employing controversial facial recognition software Clearview AI, license plate readers, body cameras, and video analysis tools in the protests in the American city of Minneapolis, where Floyd was killed, reported Buzzfeed News. The use of surveillance technology by the state against people of color is not a new phenomenon in America, from the FBI's COINTELPRO that surveilled civil rights activists from 1965 to 1971 to the post-9/11 surveillance of Muslim communities. Nevertheless, the increased surveillance of activists in the United States and also in other countries like India is cause for alarm and raises questions on who can exercise free speech and what the repercussions are in a consistently surveilled world.
Protesters in India are already familiar with state surveillance technology used to to quell protests, as witnessed in December 2019 with the use of technologies like facial recognition and drones against anti-Citizenship Amendment Act protesters. According to a Compritech, a U.K.-based research firm, India is among the world's top three surveillance states, trailing closely behind China and Russia. In response to the Internet Freedom Foundation's letter to the police of the misuse of the technology, a Delhi Police officer told Economic Times that the police force was "not violating privacy."
India also introduced the controversial Aarogya Setu mobile app for contact tracing of coronavirus cases. However, according to Defensive Lab Agency, a cybersecurity consultancy, the app could be used to access the data and contact information in the smartphones and also switch on built-in sensors like the phone's microphone.
The fear of immigrants to participate in protests is further heightened as immigration agents have been deployed in many cities to assist federal, state, and local law enforcement.
"If they are participating in a non-violent protest, ICE has no ground to stand on because they are not doing anything criminal," said Poorvi Chothani, the founder and managing partner of LawQuest, a Global Immigration and Employment Law Firm. "But, if during the protests they were part of a group that was vandalizing stores or burning cars or effigies, definitely they will be in trouble because there will be criminal action. If arrested on criminal charges and considered to be disruptive to society and/or harmful for the national security, ICE can start deportment procedures."
Chothani further clarifies that the constitutional laws, including the first amendment that guarantees freedom of speech, applies to all those on the U.S. soil, including foreign nationals.
Addressing Indian Hypocrisy and Racism
Like many Asian Americans across America, the Indian community abroad is also grappling with their own racial privilege as a "model minority" and anti-blackness in their surroundings. For some South Asian organizations this has led to questioning their own reliance and belief in policing and police.
"After 9/11, SAALT really galvanized its mission around combating hate crimes against South Asians and at that time the answer really was reporting hate crimes to law enforcement," said Sridharan. "We realize now that we were building a reliance on law enforcement and we are now seeing the impact of fortifying the criminal justice system. That's an important lesson and it really informing our position and evolving our position."
When asked about what the South Asian diaspora could do, Sridharan recommended to start with addressing anti-blackness in diaspora communities saying that "having these really difficult conversations with our family, within our religious institutions, is really critical."
In India, Bollywood celebrities, like Priyanka Chopra, have come under fire for posting about Black Lives Matter on their Instagram while also having a history of promoting skin lightening creams. India has a long history of colorism and racism and a booming skin lightening industry to show for it – 61 percent of Indian women use skin-lightening creams, according to the World Health Organization.
The momentum of Black Lives Matter has not only opened doors for many Indians to confront anti-blackness but also ignited similar movements like Dalit Lives Matter and Muslim Lives Matter. Activists are questioning why Indians talking about police brutality in America had no response when Faizan and four other severely injured men were beaten by policemen and ordered to sing the national anthem in Delhi in February 2020 riots. Faizan passed away on February 27, succumbing to his injuries two days after the attack.
While Indians are joining the global clarion call to rein in high rates of incarceration among Black Americans, few of them are talking about the string of recent arrests of anti-CAA protesters under the controversial UAPA law. For instance, Safoora Zargar, a five-month pregnant student and activist, has been denied bail for the third time by Additional Sessions Judge Dharmender Rana for conspiracy to "organize a roadblock (chakkajam)."
Neither has the pandemic paused growing caste-based violence in India. Last week, four upper caste men shot a 17-year-old Dalit boy in his sleep  for entering a temple in Uttar Pradesh, leaving many shaken and questioning if Dalit lives really matter. The father of the victim has also claimed that the police were informed of a prior fight between the victim, Vikas Jatav, and his alleged killers, but no action was undertaken.
For Indians in America, Sridharan stated that there is also a need to look critically at how they have benefited from institutional racism against Black Americans. "The model minority myth erases the history of what the Black community did to pave the road for South Asians in America, exceptionalizes us and erases institutional racism in this by making it about personal values over systemic problems."
It was the pressure from the Civil Rights Movement to deracialize American politics that led to the 1965 Immigration and Nationality Act or the Hart-Celler Act that got rid of restrictive quotas and opened doors to a majority of South Asian immigration. Sridharan laments the fragmentation of the rich collaborative history of South Asians and the Black community, particularly the Civil Rights Activists and Indian freedom fighters.