Remember the Women Fighting Coronavirus
Female medics are leading the frontline battle in China, but a lack of attention to women's sanitary needs irks rights advocates.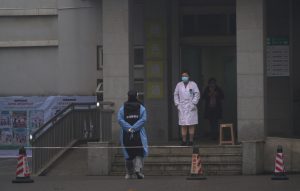 BEIJING — The coronavirus epidemic is showing new signs of exacerbation amid China's relentless efforts at containing its spread. As of the evening of February 12, Beijing time, 44,687 confirmed cases with 1,115 deaths had been reported across China, and the numbers continue to escalate every day. In such dire times, the donations pouring in from across the country and how individuals have extended their support brings a silver lining of hope. However, many feel that there is a stark gender disparity in the public's response.
In combating the deadly virus, women have emerged as the flag bearers. Data released by the Shanghai Women's Federation, a local chapter of the All-China Women's Federation, show a whopping 90 percent of total nurses and at least half of the total doctors at the frontline are female, according to People's Daily. Despite these remarkable figures, when it comes to donations to aid frontline personnel, donors barely take into account female necessities  –especially sanitary essentials — which has irked female rights workers.
Jiang Jiang, aka Liang Yu, a vocal women rights advocate and social media influencer, expressed her concern. "Most of the donated supplies constitute food and protective gear, which are undeniably important, yet there's barely anyone thinking of donating basic sanitary necessities," she said. "When such a considerable percentage of frontline workers are female how could you overlook their menstrual cycles? Just the thought of this is extremely disappointing."
According to Jiang, this is just one example of a larger picture of collective societal ignorance among people, reinforced further by the underrepresented media coverage. Expressing her shock and dismay at the kind of questions several domestic media outlets covering her campaign have posed, she said the thought process reveals an obvious ignorant attitude. "When some of the media houses sought my comments, they were keen to construct a man-women conflict rather than focusing on the actual issue at hand," Jiang said. According to her, not one media house was interested in digging deep into the plight of female frontline medics; instead they asked her questions like "Is it fair to particularly focus only on women while male medics are also in the frontline? Why do you feel so compelled only to focus on the female needs, what's your motive behind this?" Jiang believes this is an attempt to "mislead" the campaign.
Many netizens echoed her sentiments. "The Weibo interface on opening flashes a poster expressing solidarity with the frontline medics, but why do they only depict males, aren't there female personnel in the frontline?" questioned a user on microblogging site Weibo, China's Twitter-like social media outlet.
In a bid to rebut this underrepresentation, several users have shared their own version of posters to celebrate the heroics of female medical personnel serving in the frontline.
Jiang has been trying to raise the plight of women online through her 261,000-strong Weibo following since the onset of the coronavirus outbreak. Speaking exclusively to The Diplomat, she recalled one instance when she reached out to a female medic in the frontline, Wuhan, inquiring about the need for sanitary products. "The doctor was overjoyed to receive my phone call as she couldn't believe someone would even think of it. Besides she also confirmed the dearth of sanitary products," Jiang said.
To mitigate the pressing menstrual issues of the frontline workers in Wuhan, the epicenter of the coronavirus outbreak, Jiang coordinated with a local sanitary products manufacturing company and donated 100,000 pieces of anxinku, underwear-shaped sanitary pads, for female medics. Compared to usual pads anxinku can be worn for prolonged durations, thus minimizing the need to frequently use the lavatory — particularly beneficial for menstruating medics.
There have been relief efforts from different fronts of society too. The Shanghai Women's Federation on January called for donations in the form of sanitary products or cash, which they will use to purchase menstrual essentials for the team of medics from Shanghai scheduled to leave for Wuhan, as well as medical workers in Shanghai fever clinics. Within 24 hours of the announcement, they were flooded with phone calls and messages from individuals and groups who wanted to chip in with donations, reported People's Daily. Citing a spokesperson of Shanghai Medical Federation, People's Daily said that by February 2, the organization received nearly 2 million Chinese yuan ($285,650) worth of sanitary products and cash, surpassing their goal significantly.
Explaining the challenges, a frontline female doctor surnamed Chen noted that irrespective of gender, medics need to endure hardships. "Putting on and taking off protective gear and hazmat suits consumes a lot of time; besides one can't use the toilet when donning the gear, so we wear diapers when on duty."
"Thus, if a female medic is menstruating it tends to be really difficult as we are compelled to wear the blood-soaked pad for prolonged hours, often hindering personal hygiene," she added.
However, the resolute commitment to their duty by female medical personnel has not gone unnoticed, at least on social media. Several viral posts have chronicled their personal sacrifices. An array of photos recently surfacing showed female medics shaving their heads so they can perform their duties with greater efficiency and convenience.
But these images merely strike an emotional chord at the superficial level, Jiang said, as the real issues are still unaddressed. "By solely focusing on the physical attributes, like hair and face, which they are sacrificing you are actually trivializing the issue or looking at women through the lens of beauty, rather than their work and practical problems," she argued.
Citing her conversation with a prominent Chinese sanitary goods manufacturing company, Jiang said, just recently when the company rang up two hospitals in Wuhan expressing an interest to aid by donating pads, the person answering the phone call was dismissive, saying such donations are not needed. "How is this possible?" Jiang rebuffed. "Not only the doctors, but given the magnitude of the crisis even admitted coronavirus patients in isolation are also in dire need of sanitary products."
Jiang's mobilization campaign has encouraged many to come forward with individual contributions, and she continues to disseminate the updates of her work through her social media handle.
Chen, the frontline doctor, said that as Wuhan and the entire Hubei province continue to reel under lockdown, draconian restrictions have been imposed on people and vehicular movements. "You need permits to step out of your homes or venture on the streets. In some residential communities, only one family member is designated to go out and buy daily necessities at a time. Besides, most medics have been drafted in from other cities so it's even more difficult for us to learn about the exact process or find out the relevant person who could grant permissions."
Yet some people still question "why sanitary products need to be sourced from other places, [asking] can't the doctors buy it in Wuhan?" Jiang sighs.
The problems need to be acknowledged first and thereafter addressed with available resources, said Jiang. She believes a larger sense of ignorance and taboo attached to menstrual issues is perhaps one of the deep-rooted causes for this particular issue.
"To admit the need for sanitary essentials is no shame, it's the basic right of a woman that needs to be guaranteed. If you call this fight against the epidemic a war, then you ought to admit both male and female medics in the frontline are equal soldiers and demand equal care."
A journalist and author, Shamim Zakaria is a media professional based and working out of Beijing, China.
Dr. Yan Ni is a former physician, currently working as an editor, gastroenterology section, of a reputed Chinese health news site.