Russia's Defense Ministry to Sign Deal for Ninth and Tenth Borei-Class Boomer
Russia's defense ministry is set to sign a contract this August for two more Borei A-class ballistic missile submarines.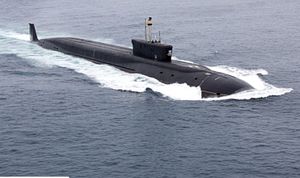 The Russian Ministry of Defense (MoD) is expected to sign a contract this August for the construction of the sixth and seventh Project 955A Borei (A) II-class ("North Wind") or Dolgorukiy-class nuclear-powered ballistic missile submarines (SSBNs), according to a Russian defense industry source.  
"A decision has been made to sign a contract at the Army 2020 forum for building two more Borei-A missile-carrying submarines," the source was quoted as saying by TASS news agency on February 21. "Under the terms of the contract, both ships will be laid down at the Sevmash Shipyard in 2021." Sevmash Shipyard is the part of the United Shipbuilding Corporation (USC).

The two new Borei A-class SSBNs will be built under Russia's state armament program for 2018-2027, the source added. The program document contains reference to two yet to be named Borei A-class SSBNs to be delivered to the Russian Navy in 2026 and 2027. 
The Russian Navy currently deploys three baseline Borei-class SSBNs. The Yuri Dolgoruky is in service with Russia's Northern Fleet, while the remaining two Borei-class SSBNs – Alexander Nevsky and Vladimir Monomakh — serve in the Russian Pacific Fleet.
 The Borei A-SSBN Knyaz Vladimir will likely be commissioned by the end of March. In addition to the Knyaz Vladimir in 2012, four other improved Borei-A-class boomers have been laid down. 
Borei A-class SSBNs feature upgraded stealth capabilities, better underwater maneuverability, and can carry extra submarine-launched ballistic missiles (SLBMs), as I wrote previously:
In comparison to the Borei-class, Borei II[A]-class submarines are fitted with four additional missile tubes, boast smaller hulls and cons, and feature improved acoustics and lower sound levels, next to a number of other technical improvements.

(…) The Borei-class [is] capable of carrying up to 16 Bulava [SLBMs], whereas the improved Borei II[A]-class can carry up to 20 ballistic missiles.
The Bulava SLBM is a a sea-launched variant of the Topol-M and can reportedly be fitted with six to 10 nuclear multiple independently targetable reentry vehicle (MIRV) warheads. 
It remains unclear whether a contract between the MoD and USC will in fact be concluded this August. The ministry has not publicly confirmed plans to do.
In April 2019 the director general of the St. Petersburg-based Rubin Central Design Bureau for Marine Engineering, Igor Vilni, said publicly that the Russian MoD had no intention to build the sixth and seventh Borei A-class SSBNs. Instead, the Russian shipbuilding industry would focus on more advanced projects that reportedly will go beyond the two existing SSBN (Borei and Borei A) designs. 
Defense analysts have speculated that Russia may still be considering deploying an upgraded Borei-class SSBN variant, designated Borei B-class (or Borei III). However, a Russian defense industry source indicated that plans to build Borei B-class boomers were already scrapped in 2018. The state armament program for 2018-2027 also dropped any reference to the SSBNs.
The St. Petersburg-based Malakhit Design Bureau is reportedly also working on a new class of nuclear-powered fifth-generation submarines, designated Husky-class, with the first boat expected to be delivered to the Russian Navy by 2027.