Russia Will Start Constructing New Ballistic Missile Submarine in December
Moscow is continuing building its new fleet of modern nuclear-powered ballistic missile subs.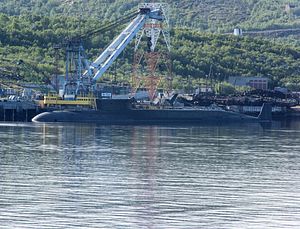 Russia will begin construction of an improved variant of the Project 955 Borei-class ("North Wind") aka Dolgorukiy-class nuclear-powered ballistic missile submarine (SSBN), designated Project 955A Borei II, in late December, according to a Russian defense industry source.
Construction of the Borei II-class Knyaz Pozharsky will reportedly begin on December 23 at the Sevmash shipyard, located in the town of Severodvinsk, a port city on Russia's White Sea in Arkhangelsk Oblast. The ship will purportedly be the last Borei-class sub to be laid down under Russia's ambitious shipbuilding plan. (Plans to build two additional improved Borei II-class submarines have apparently been put on hold.)
The Knyaz Pozharsky will be the fifth vessel in the Borei II-class. The first improved Borei-class sub, the Knyaz Vladimir, was laid down on July 30, 2012 at the Sevmash shipyards and is expected to be commissioned in late 2017 or early 2018. Two other Borei II-class allegedly were laid down in December 2014 and 2015 respectively. The two subs are scheduled to join Russia's Northern and Pacific Fleets by 2020, although delays may occur. The Borei II-class submarine Knyaz Oleg, slated to join Russia's Pacific Fleet in 2019, was laid down in the summer of 2016. (Earlier reports appear to have mistakenly indicated that construction of the sub began in July 2014.)
The Borei-class was specifically designed to replace Soviet-era Project 941 Typhoon-class and Project 667 BDRM Delta IV-class subs.
In comparison to the Borei-class, Borei II-class submarines are fitted with four additional missile tubes, boast smaller hulls and cons, and feature improved acoustics and lower sound levels, next to a number of other technical improvements. Both variants of Borei-class subs will be armed with Bulava (RSM-56) intercontinental ballistic missiles (ICBMs). The Borei-class will be capable of carrying up to 16 Bulava ICBMs, whereas the improved Borei II-class can carry up to 20 ballistic missiles.
The Bulava is a sea-based variant of the Topol-M SS-27 ICBM, armed with six to 10 warheads per missile. That means one Borei-class submarine can carry between 72 and 160 hypersonic, independently maneuverable warheads, yielding 100-150 kilotons apiece.  The Borei II-class boomer, given its four extra missile tubes, will be able to launch somewhere between 96-200 warheads. "The Bulava missile purportedly has range of over 8,300 kilometers (5,157 miles) and is specifically designed to evade Western ballistic missile defense shields," I noted elsewhere.
The Russian Pacific Fleet currently operates two Borei-class SSBNs, the Alexander Nevsky and Vladimir Monomakh. The latter successfully test fired two Bulava ballistic missiles from a submerged position in the White Sea off the northwest coast of Russia in November 2015. The third active Borei-class sub, the Yuri Dolgoruky, serving in Russia's Northern Fleet, test-launched two Bulava ICBMs from a submerged position in the White Sea in September (See: "Russia's Deadliest Sub Test Fires 2 Nuclear-Capable Ballistic Missiles").