Taiwan Delays Spring Semester, Tightens Travel Rules Over Coronavirus Worries
Taiwan has rapidly scaled up preventative measures designed to contain a potential outbreak.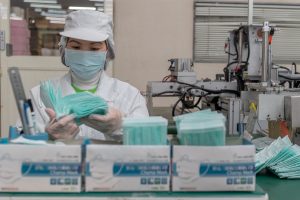 Taiwan's health authorities are stepping up their precautions and continuing to monitor for cases of the novel coronavirus (officially known as 2019-nCoV) due to the high rate of travel in the region as many return from the Lunar New Year holiday. Amid existing confirmed cases entering Taiwan via China, three new cases were reported Thursday night to have been picked up and brought to Taiwan through Macau and Hong Kong. There is an increased worry that imported cases could spread locally.
Taiwan's public schools and universities are a major area Taiwan's Centers for Disease Control (CDC) are paying attention to. To address the concern of the virus' spread, the CDC and Taiwan's Ministry of Education have announced a two-week extension of the New Year holiday, with schools opening two weeks later than scheduled. The two-week delay impacts the island's public school system (elementary through senior high) and universities. As the coronavirus has been reported to have an incubation period of two weeks, the postponed spring semester will enable health officials and individuals to monitor for the virus and hopefully reduce the likelihood of person-to-person communication, reducing the possibility of a local spread.
The island's Centers for Disease Control (CDC) confirmed an additional three cases of imported coronavirus on Thursday night, bringing the total of confirmed cases to 16. The CDC announced that two cases, a husband and wife in northern Taiwan, had transferred in Hong Kong for a flight to Europe. The third case, in southern Taiwan, visited Macau over the holiday. The CDC reports the recent cases first experienced cold-like symptoms. One case entered Taiwan with a fever. All three cases sought medical attention upon returning.
As a result, health and immigration authorities have tightened restrictions in recent weeks. In a post on Facebook, Taiwan's Immigration Agency announced the e-Gate check-in service has been restricted to registered residents of Taiwan. Effective February 7, all nonresidents traveling into Taiwan must be screened by an immigration officer.
As of Friday, multiple universities around Taiwan have begun to ask their students to self-report on their holiday travel itinerary through email announcements. Universities are also asking students who have traveled to Hong Kong or Macau recently, or who had connecting flights in either city, to self-quarantine for 14 days upon arriving in Taiwan. Travelers returning to Taiwan have been encouraged to avoid transfers in Hong Kong and Macau.
Also effective Friday, Taiwan has taken temporary measures to prohibit Chinese nationals from entering Taiwan. Foreigners who have visited China, Hong Kong, or Macau in the past 14 days are likewise temporarily barred from entry. The CDC indicated they will regularly update the requirements according to the situation.
There is evidence that some of Taiwan's civic institutions are independently taking precautions. According to sources speaking with The Diplomat, some universities are providing shuttle services from the airport for students eligible for entry who have transited through China, Hong Kong, and Macau.
Taiwan had classified Hong Kong and Macau as "Level 2" areas on Thursday, warning against traveling to those location due to the spread of coronavirus in the special administrative regions. The CDC's announcement on Thursday night regarding imported cases of the illness has resulted in stricter controls. On Thursday, Taiwan banned all port calls for international cruise ships, after already tightening docking rules on Wednesday.
Japan's health authorities reported on Thursday that a Taiwanese vacationer on board the cruise ship Diamond Princess has been diagnosed with coronavirus and is in quarantine. Taiwan News reports that 61 cases of the virus have been diagnosed on board the ship. Authorities in Taiwan are investigating itineraries of the ship's passengers who disembarked when the ship made a call in the northern port city of Keelung on January 31.
As of Friday evening, the CDC reports Taiwan has 16 confirmed cases, 15 imported via China, Hong Kong, or Macau. One locally transmitted case was identified on January 28, a family member of a confirmed patient. Official statistics indicate a total of 1,369 potential cases were reported to authorities as of February 7; however 1,232 patients have been removed from the follow-up list. Only 16 have tested positive for 2019-nCoV. Taiwan health authorities indicate all confirmed patients are in stable condition.
Late Friday night the CDC issued additional restrictions. Starting from February 10, a 14-day home quarantine will be required for visitors who have transited through China, Hong Kong, and Macau. Direct flights between Taiwan and China will be restricted, with some routes cancelled until April 29.
Taiwan's openness in reporting, proactive approach, and guidelines for prevention are intended to prevent an outbreak on the island of 23 million. The initial slow reporting of the novel virus, which originated in Wuhan, capital of China's Hubei province, in January, has not allayed the understandable jitters. The recent return of travelers to Taiwan this week and the island's reliance on trade links with China naturally bring concerns.
The CDC indicates that travelers returning from China, Hong Kong, and Macau who do not have symptoms should avoid hospitals and health care facilities unless necessary. The CDC also recommends that healthy students in Taiwan do not need to wear masks, but encourages proper hygiene, including washing hands, avoiding crowded spaces, and covering nose and mouth when sneezing or coughing. More information and updates in English from Taiwan's Centers for Disease Control can be read here.