Calls for Amnesty as Undocumented Worker in Taiwan Contracts the Coronavirus
A civic group called for Taiwan to grant amnesty to an estimated 50,000 undocumented workers in the country, citing their fear of reporting COVID-19 symptoms and a workforce shortage.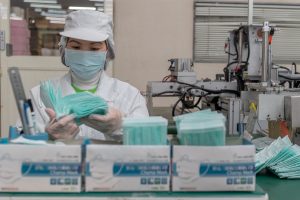 Taiwan was urged by a civic organization on Thursday to grant amnesty to undocumented foreign workers after an Indonesian caregiver working illegally became the country's 32nd patient to contract the novel coronavirus.
The caregiver's case raised concerns over whether the more than 700,000 Southeast Asian migrant workers in Taiwan – including an estimated 50,000 undocumented workers – are being protected from the outbreak of COVID-19, as the virus is formally known.
Undocumented workers who fear being infected with the coronavirus "are very likely to become a loophole in Taiwan's virus prevention network," Global Workers Organization secretary-general Karen Hsu told Taiwan's state-run Central News Agency (CNA).
"Even if they know they're infected with the disease, they'll be afraid to come forward or ask for help, because they don't want to be deported," Hsu said.
Taiwan said on Friday it would begin checking the documentation of all caregivers accompanying elderly patients to the hospital in order to flag undocumented workers, angering rights advocates.
It also said it would hand out instructional leaflets on hygiene practices to foreign workers in the country.
The caregiver, an Indonesian woman reported to be in her 30s, used public transportation frequently in Taipei and had cared for an elderly man between February 11 and 16, according to Taiwan's Central Epidemic Command Center (CECC).
The woman's case is related to a family cluster that was responsible for cases 27 through 31. Health and police agencies began looking for her after the elderly man tested positive. She was found on Monday evening and placed under quarantine, after which she tested positive on Wednesday.
Authorities publicized her movements, along with those of an Indonesian factory worker who had visited her and fell ill herself. The factory worker initially tested negative for the coronavirus.
Taiwan has confirmed 34 cases of the coronavirus as of Friday. One person has died, while six have been released from the hospital.
According to CNA, the caregiver had overstayed her visa and worked illegally in Taiwan. Foreign workers frequently leave their jobs and become undocumented as Taiwanese law prohibits workers from changing employers without government permission. For undocumented workers, the decision to seek medical care – and to protect others from potentially being infected – thus comes with a guarantee of deportation.
Hsu told CNA that granting amnesty to undocumented workers would also help alleviate a workforce shortage in Taiwan, as fewer inbound workers are entering the country during the COVID-19 outbreak.
Migrant workers working legally in Taiwan live at the whims of their employers and third-party brokers, making it imperative that workers are educated about hygienic practices and given face masks if necessary. The Indonesian representative office in Taipei has distributed face masks to students and undocumented workers in Taiwan.
But the risk is even greater among undocumented workers, many of whom work with elderly patients in need of flexible, short-term care rather than the standard three-year contracts given to most legal foreign workers.
Like many foreign workers in Taiwan, undocumented workers often rely on their salaries in Taiwan to send money back home to relatives, heightening the cost of losing their jobs and being deported. It raises fears that undocumented workers who may be infected will not seek medical treatment and could put others at risk of infection.
Despite the large number of undocumented workers in Taiwan – and the well documented problems leading to workers deciding to work illegally, such as the inability of legal workers to seek recourse from dishonest or abusive employers and the prevalence of third-party brokers who charge excessively high fees, leaving workers facing extreme debt – the Taiwan government has never publicly considered an amnesty program.
Foreign workers can face discrimination when working in Taiwan, an issue that was exacerbated earlier this month when the Philippines temporarily banned travelers from Taiwan from entering the country. That ban, announced on February 10 to comply with Manila's interpretation of a "one China policy" (in conjunction with an existing ban on arrivals from China, Hong Kong, and Macau), was reversed four days later after heavy lobbying by Taipei and by Philippine representatives in Taiwan.
Before the ban was overturned, the top Philippine representative in Taipei said the Taiwan government was considering banning Filipino foreign workers from taking jobs in Taiwan.
Some Filipinos in Taiwan were caught up in an online backlash against the country, although many Taiwanese empathized with Filipino workers and many Filipino workers themselves expressed anger at their government's decision to ban travel from Taiwan.
The coronavirus has aroused sentiments of nationalism among some corners of Taiwanese society.
Taiwanese internet users have criticized the government for covering healthcare costs for the infected Indonesian caregiver and have previously been critical of Chinese nationals with Taiwanese citizenship who have tried to leave China for Taiwan during the COVID-19 outbreak.
Earlier this month, the CECC said it would not allow the children of Taiwanese-Chinese couples to be evacuated to Taiwan from China, a decision that was supported by prominent legislators and appeared to be motivated at least in part by political factors.
This piece has been updated to reflect the latest events.